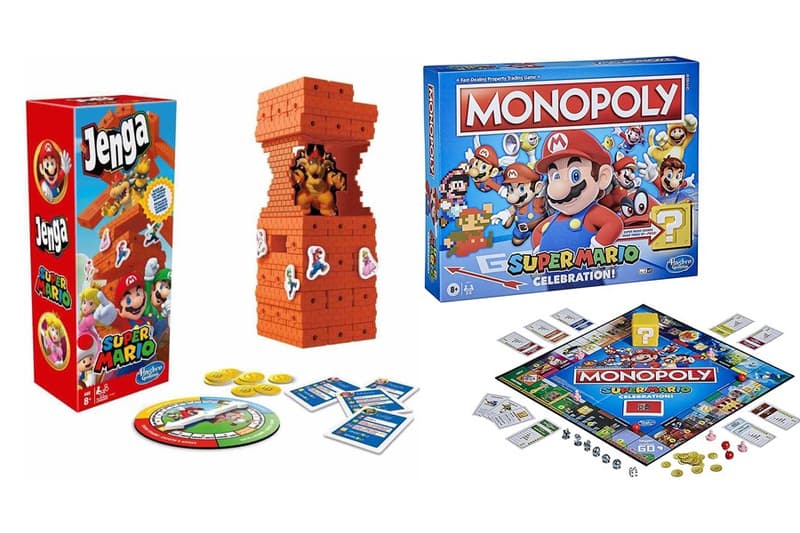 Culture
Nintendo to Release 'Super Mario'-Themed Monopoly & Jenga Games
Celebrating the franchise's 35th anniversary.
Nintendo to Release 'Super Mario'-Themed Monopoly & Jenga Games
Celebrating the franchise's 35th anniversary.
Celebrating the popular Japanese franchise's 35th anniversary, brands such as UNIQLO UT have been rolling out Super Mario-branded goods like T-shirts. This time around, Nintendo has teamed up with Hasbro to unveil special-edition Jenga and Monopoly games.
While a collaboration between Monopoly and Nintendo is not new, the latest Celebration edition features elements of the Mushroom Kingdom throughout, starting off with World 1-1 and ending with Bowser's Kingdom. Player icons are shaped in the form of Yoshi eggs, Koopa shells and more, while houses have been replaced with Toad homes. Additionally, Question Blocks and coins are used instead of the Chance card and dollar bills. As for the new Jenga game, Mario, Luigi, Peach and Toad are placed on blocks to defeat Bowser. The objective of each round is to reach the top first, with turns determined by an accompanying spinning board.
The latest Super Mario editions of Monopoly and Jenga are slated to arrive on August 1 for $30 USD and $20 USD, respectively.
For more collaborative board games, check out this Baby Yoda-themed Monopoly released earlier this year.
Share this article