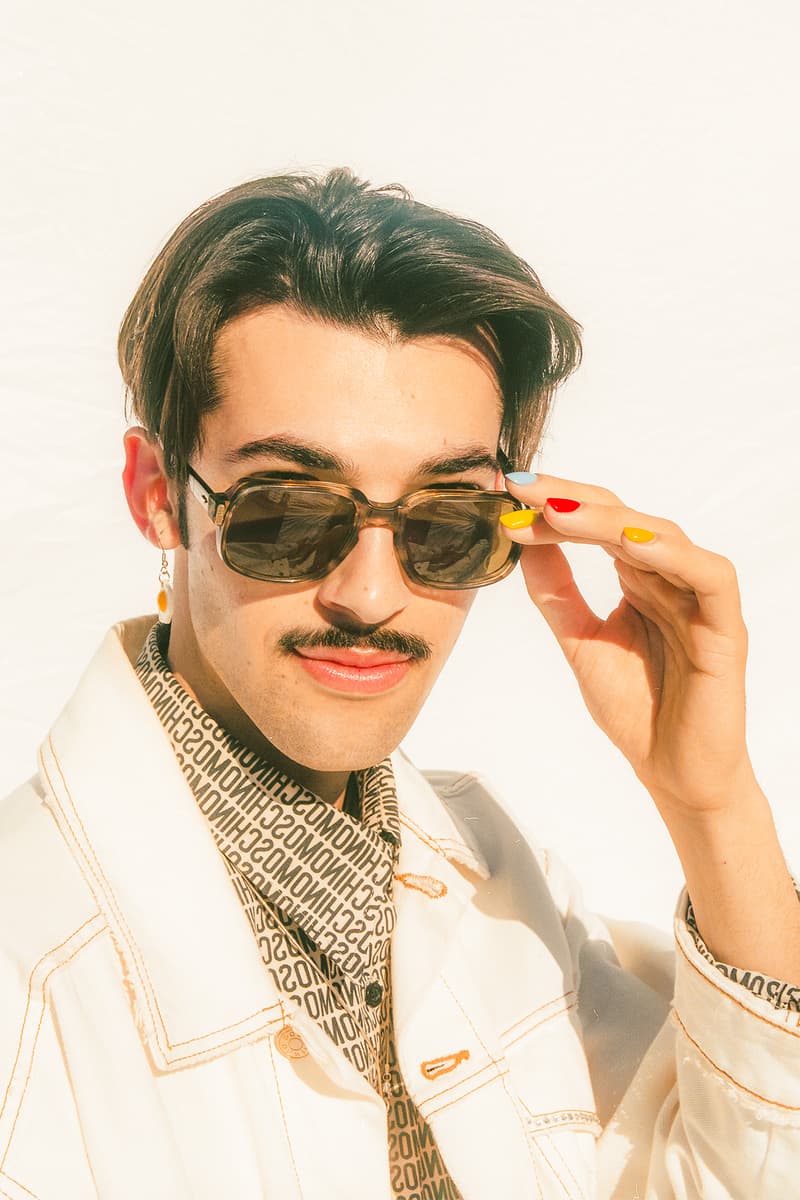 It's LoveLeo Season
The new artist's alternative pop EP, 'LOOK AT THIS MESS I'VE MADE,' is one of summer's best.
Music
It's LoveLeo Season
The new artist's alternative pop EP, 'LOOK AT THIS MESS I'VE MADE,' is one of summer's best.
Like many of his Gen Z peers, LoveLeo (real name Leo Reilly) is a multihyphenate whose creativity knows no bounds. It seems everything that the 21-year-old singer touches turns to art, or at least a viral TikTok moment. On the short-form video platform, montages showing the making of Reilly's eccentric single drop earrings — made with random objects ranging from an old toy phone to a cable adaptor — have attracted millions of views. His music has also gained traction on the app. When his debut single "BOYFREN" released late last year, accompanied by an off-kilter visual that sees Reilly transformed into an egg, the bedroom pop track quickly became a hit on TikTok and it climbed charts. The music video, co-directed by the artist himself, has been watched more than 10 million times on YouTube at the time of writing.
Now, following the release of two equally playful singles, Reilly's first full-length project has finally arrived. Made for summer listening, LOOK AT THIS MESS I'VE MADE is an eight-track EP that encapsulates the artist's eclectic musical tastes. Paired with his clever lyricism about dating and romance in the digital age, the genre-hopping record — with songs like the smooth disco-funk "HEAD OVER HEELS" and the electronic "ROCKBOTTOM" — establishes LoveLeo's quirky, experimental and feel-good sound. His fantastic music videos, including the visual for "LEMONS" that he shot at his downtown Los Angeles apartment during quarantine, further showcases his creative talents.
Here, we caught up with LoveLeo to talk about his newly-dropped EP, dream collaborations and more.
Have you always lived in LA? How has the environment you grew up in shaped your personality and passions?
I've always lived in LA. I went to a very small, progressive school where creativity was built into the curriculum. So from a young age, I was acting in plays, doing wood and stone work, sewing, painting, singing, playing the violin, etc. I'm so grateful to have grown up in an environment that fostered creativity. Those experiences have helped shape me into the dude I am today.
Did you always know what you wanted to be? When did you begin to pursue music seriously?
Well, originally I was gonna be an NBA player, but that dream ended in seventh grade when I realized I was 5'6" and had average basketball skills. I've been making music for four years, but I started taking it seriously about a year ago.
What are some songs or albums that make up the soundtrack to your life?
Pet Sounds by The Beach Boys, Crazy Frog Presents Crazy Hits, 1000 gecs and the Tree of Clues, Swimming by Mac Miller, Demon Days by Gorillaz and French Exit by TV Girl.
Talk to us about the process of putting together your debut EP, LOOK AT THIS MESS I'VE MADE. 
Whenever I listen to music, I pick what genre I want to listen to. I use that same process when I'm making music. When I sit down to make a song, I choose whatever genre or feeling I want to create. It's a very free way of making tunes that allows me to take on all different kinds of characters when I record. This EP has such a wide range of genres which allows me to express so many different feelings. I had so much f*cking fun making this EP. I freestyled some of the songs on the first take, and some of them took 20 different versions to get right.
From your self-directed music videos to your Instagram collages, there's a strong sense of DIY energy in everything you do. Where do you tend to find inspiration for your creative work?
I just try to think objectively about what I would enjoy as a viewer, then try to execute that idea to the best of my ability. I find inspiration in anything, sh*tty movie posters, editorial fashion shoots from the '70s, funny sh*t my friends say, race cars and Pharrell.
Some of your fans may also be aware that you studied fashion design in college. What does style mean to you?
I think of style as another way to visually represent myself. Everybody says that, but I really believe it. Getting dressed every day is an opportunity to become a different character and represent how I'm feeling that day.
Going back to your music, your work is typically categorized as anti-pop or bedroom pop, but how would you describe your own sound?
The definition of "pop music" is changing to be much more inclusive of weirder, left of center stuff, but overall I guess alternative pop is a pretty easy way to classify what I make. Every time somebody asks me what my genre of music is, I make up a ridiculous genre like "a cappella EDM" or "photosynthesis trap."
Who's your dream collaboration?
The Gorillaz. Demon Days is probably my favorite album of all time. But a Pitbull feature would be sick too…
When circumstances allow us to attend concerts again in the future, where in the world would you most like to perform live?
Goose Pimple Junction, Virginia, USA… or honestly anywhere they'll let me get on stage.
Are you currently writing any new music? What else is keeping you busy these days?
I'm always making new music, but recently I've been into making pillow forts, answering interview questions, playing poker and taking care of my plants.
---
Share this article