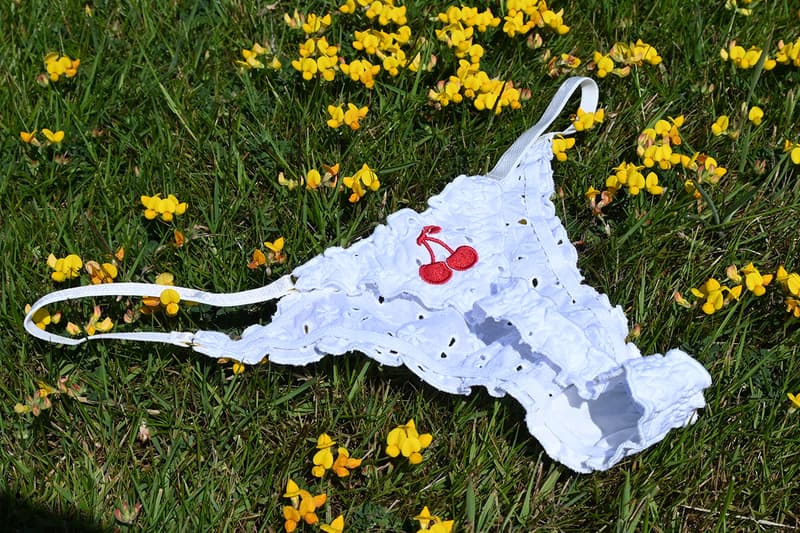 Fashion
This Indie Lingerie Brand Is Our Editor's Stay-At-Home Favorite
Fruity Booty underwear makes quarantine dressing fun and chic.
This Indie Lingerie Brand Is Our Editor's Stay-At-Home Favorite
Fruity Booty underwear makes quarantine dressing fun and chic.
Getting half-dressed has perhaps never been more in fashion than it is right now. Whether it be pairing a cashmere bralette with some slouchy sweats, or wearing a T-shirt with no pants on (not when it's time for a video conference, of course), many have gotten used to this new way of dressing over the past few months of quarantine. I too have embraced living in pajamas, alternating between button-up shirt dresses and a linen housecoat these days.
What I've been really enjoying wearing at home, however, are the fun lingerie pieces that I've ordered from an independent underwear label called Fruity Booty. A small London business co-founded by Minna Bunting and Hattie Tennant, the brand designs playful-meets-chic intimates that are made with sustainability in mind. Read on to find out more about the lingerie brand, and why one of it's cheeky styles has made this week's Editor's Pick.
WHAT IS IT: Fruity Booty Sweet Cherry Pie Brazilian "White"
WHY IT'S WORTH THE HYPE: With a goal to redefine the notion of sexy, Fruity Booty takes a modern and creative approach when designing lingerie for women. From the brand's daisy-adorned satin set to its tiger print two-piece, these are stylish undergarments with personality. Produced in small batches to minimize waste, each design is limited-edition and more unique than the styles you'd find at traditional, mainstream underwear stores.
As consumers, one of the best things we can do — especially amid uncertain times — is to shop from sustainably minded small businesses like the indie UK brand. I purchased a few pieces myself earlier this spring, including the sheer Flora soft bra and panty set made from 100 percent surplus fabrics, as well as the Sweet Cherry Pie Brazilian in both the white and black colorways. The latter, a broderie anglaise thong featuring a cherry patch on the back, is beautifully sewn with gold hoop details and elasticated straps on the side. Even though summer plans are postponed, at least I can look (and feel) good at home.
WHERE YOU CAN FIND IT: The underwear retails for £22 GBP (approximately $28 USD) at Fruity Booty's web store.
---
Share this article