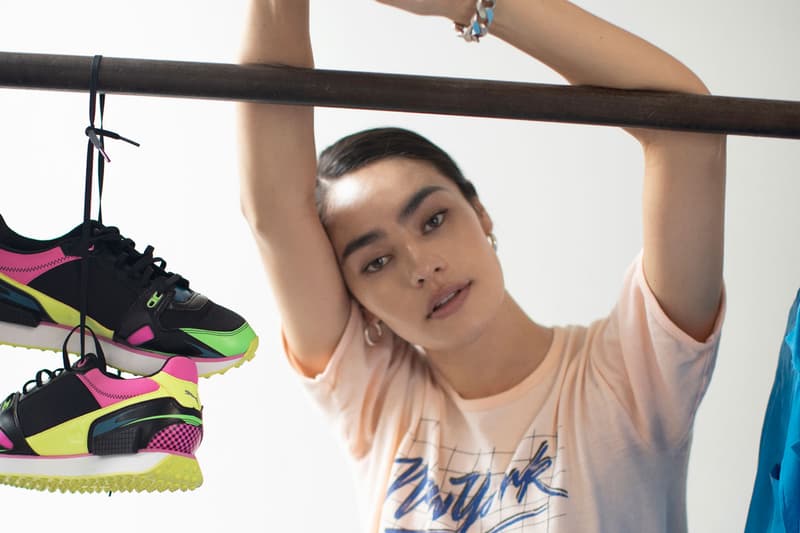 Fashion
Getting Dressed With: How Creatives Kaitlyn Fitzpatrick and Sarah Gorden Harness Personal Style
Showing off fresh, summer-ready ways to style the PUMA Mile Rider.
Getting Dressed With: How Creatives Kaitlyn Fitzpatrick and Sarah Gorden Harness Personal Style
Showing off fresh, summer-ready ways to style the PUMA Mile Rider.
Diane von Furstenberg once said: "Style is something each of us already has, all we need to do is find it." A statement that speaks to the subversive art of dressing and how when harnessed, fashion can be used as a tool for self-expression. To put this notion to the test and demonstrate how the new PUMA Mile Rider can inspire and enhance personal style, HYPEBAE created a new series, Getting Dressed With and enlisted female creatives Kaitlyn Fitzpatrick as well as Sarah Gorden, to showcase how they complemented the bold sneaker with their fresh and easy summer looks. 
Both It-girls opted to give their WFH ensembles a bold touch by outfitting the retro kicks with stylish separates that place emphasis on comfort, vibrant color choices and functionality. For those looking to mix masculine and feminine elements, take your next style cue from Kaitlyn, who stayed true to her sartorial ethos by slipping on a pair of her signature, loose-fitting jeans with a fitted, graphic T-shirt and a silver chain link bracelet and coordinating hoop earrings. "I like that the shoes are really versatile and speak for themselves so I wanted to style them in a way that stayed true to my sense of style and still showed off the sneaker's personality," she says. By playing with timeless, fashion-forward staples, the Mile Rider's nostalgic design motif and colorway act as the perfect accent for this modernized look. 
Putting a colorful, summer-approved twist on sporty style, model and professional soccer player Sarah Gorden opted to experiment with the kick's chunky sole and electric display of color. Taking comfort into consideration, she paired a sheer crop top with a pair of multi-patterned and brightly-hued shorts that subtly nod to the sneaker's nostalgic appeal. "For my finished look, I was trying to do a bright, bubbly summer look. So, I went with my favorite summer shorts, which are total, statement shorts and I wanted to pair it with the bright colors of the shoe which added a nice pop to the look," stated Sarah. Keeping in line with the outfit's fresh, summer theme, she opted to pair the sneakers with a pair of colorful, striped socks and a pale pink bucket hat that make this look ideal for mastering off-duty style. 
Click through the gallery to see how the stylish females interpreted fresh, inventive ways to wear the PUMA Mile Rider and head to Finish Line's website to purchase a pair of the trendsetting kicks now.