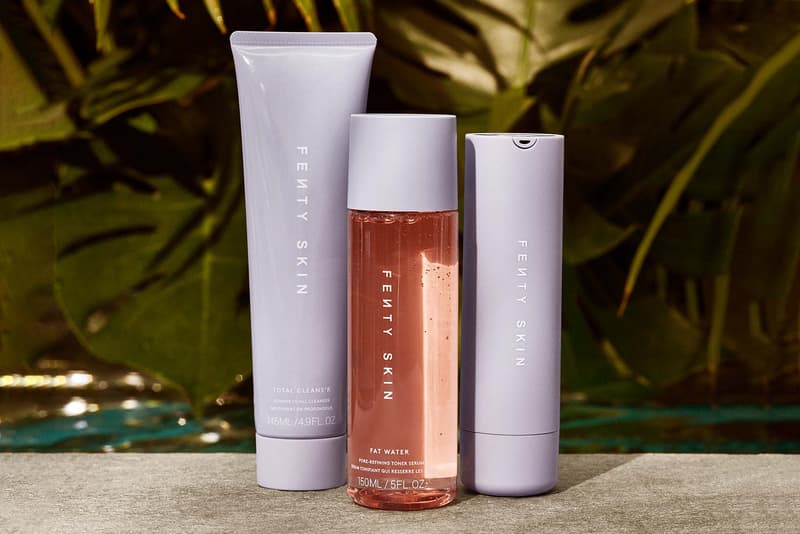 Beauty
Rihanna's Fenty Skin Unveils Its First Range of Products
Along with a step-by-step tutorial of how to use them.
Rihanna's Fenty Skin Unveils Its First Range of Products
Along with a step-by-step tutorial of how to use them.
As we anxiously wait for the official launch of Rihanna's Fenty Skin, the label has shared a sneak peek at its first line of products. The Start'r collection features a trio of skincare goods including a facial cleanser, toner serum and moisturizing sunscreen.
Revealing the new products to the brand's E-mail subscribers, Fenty Skin gives a step-by-step tutorial on how to use each item from the range. The routine begins with the Total Cleans'r, which removes all makeup and dirt from the skin, followed by Fat Water, a pore-refining toner serum. Finishing off the lineup is the Hydra Vizor, an invisible moisturizer with SPF 30. The trio is designed to be used together to reduce pores and target dark spots on the face. All items from Fenty Skin are clean, vegan and eco-friendly.
The Total Cleans'r ($25 USD), Fat Water ($28 USD) and Hydra Vizor ($35 USD) will be available to purchase for Early Access subscribers at 12 a.m. EST on July 29, with a general release at 12 a.m. on July 31. Head over to Fenty Skin's website to get your hands on the products at an earlier date.
---
Share this article