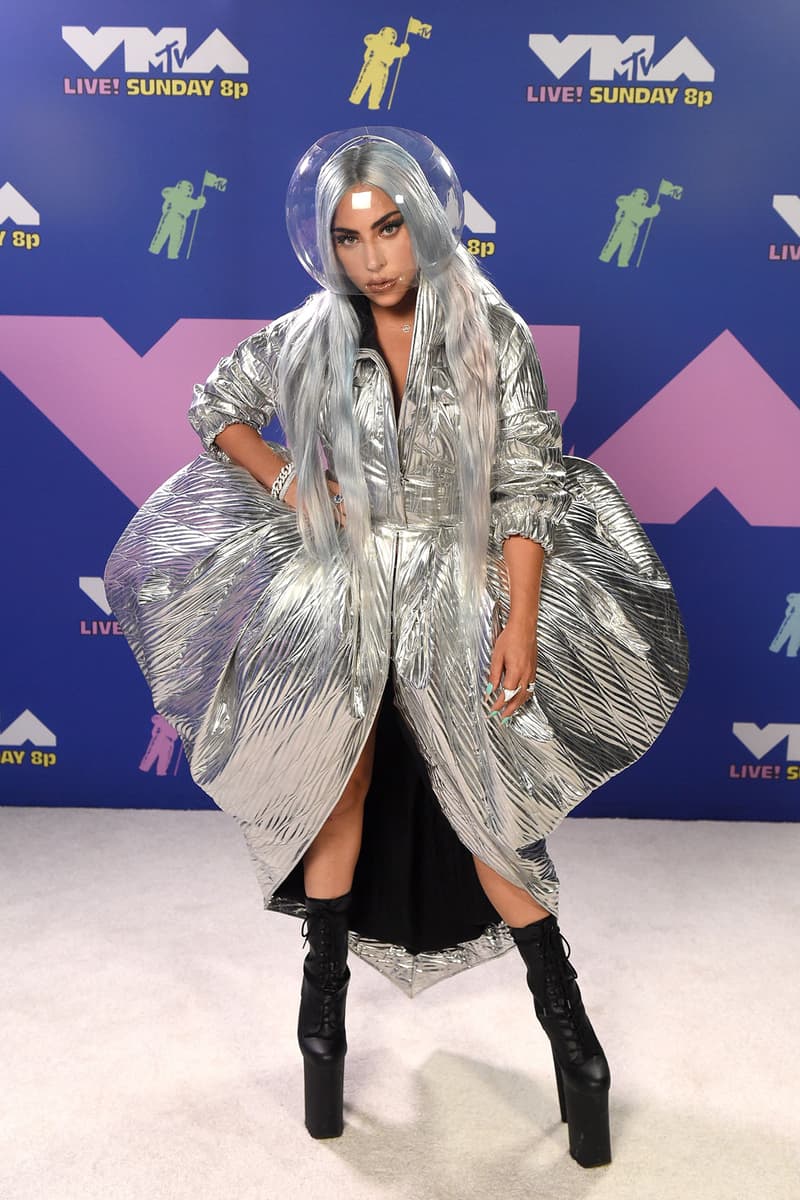 1 of 5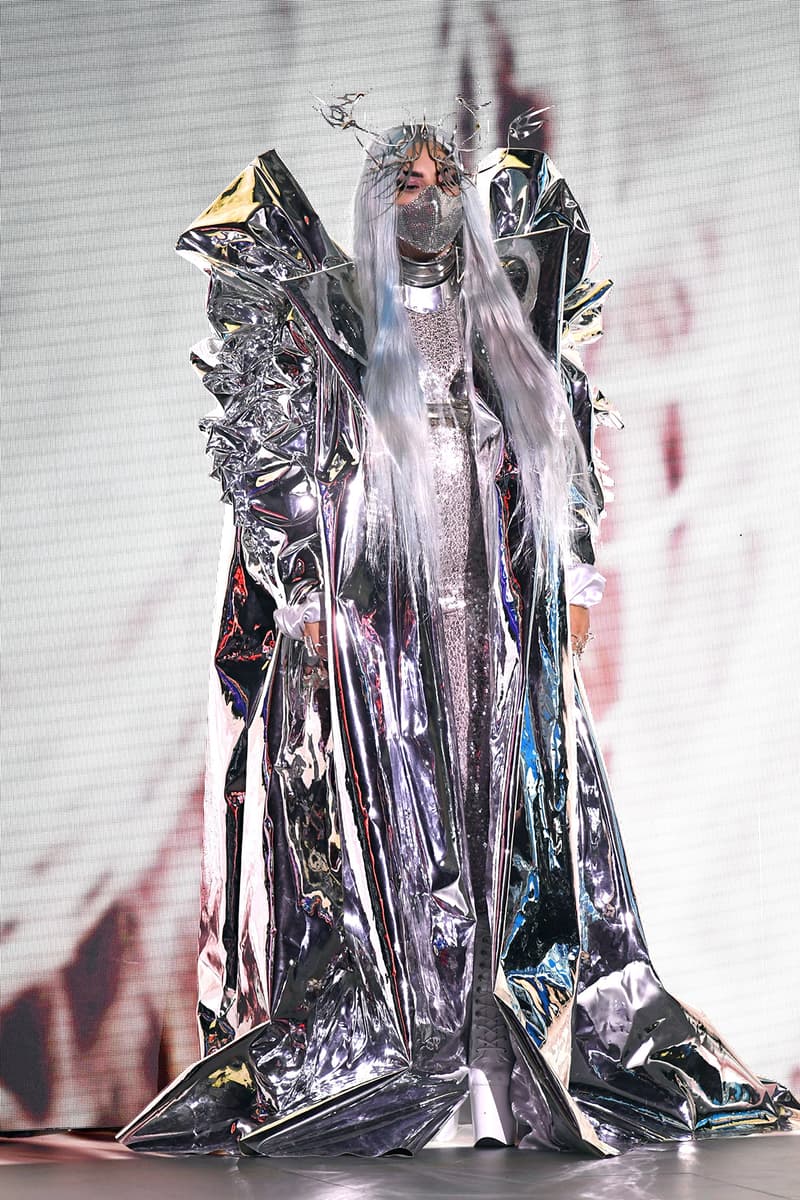 2 of 5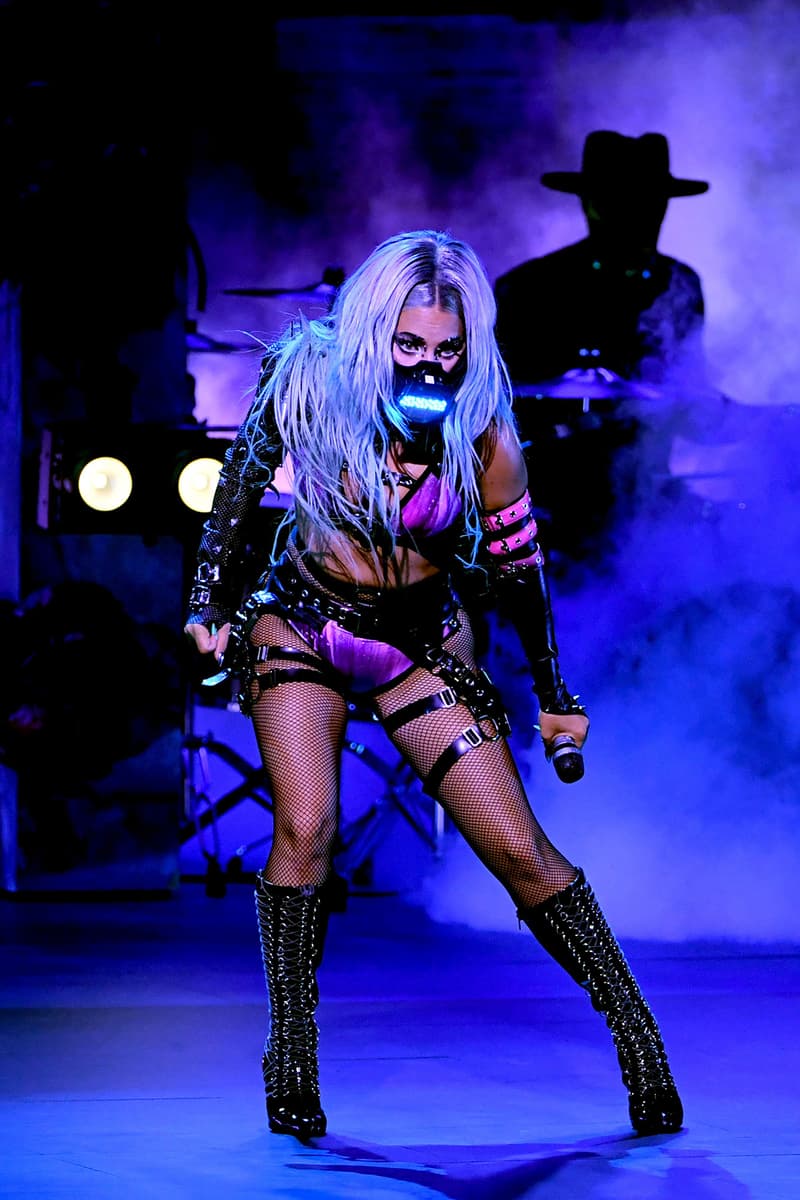 3 of 5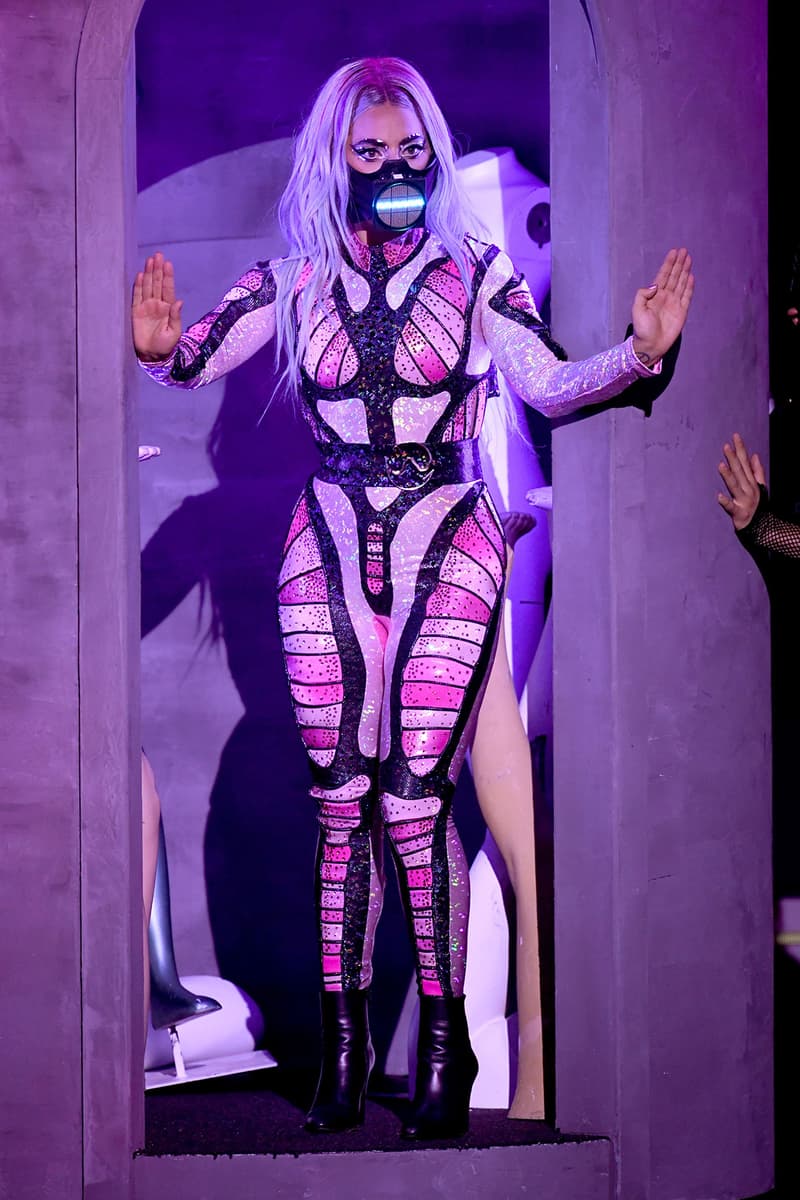 4 of 5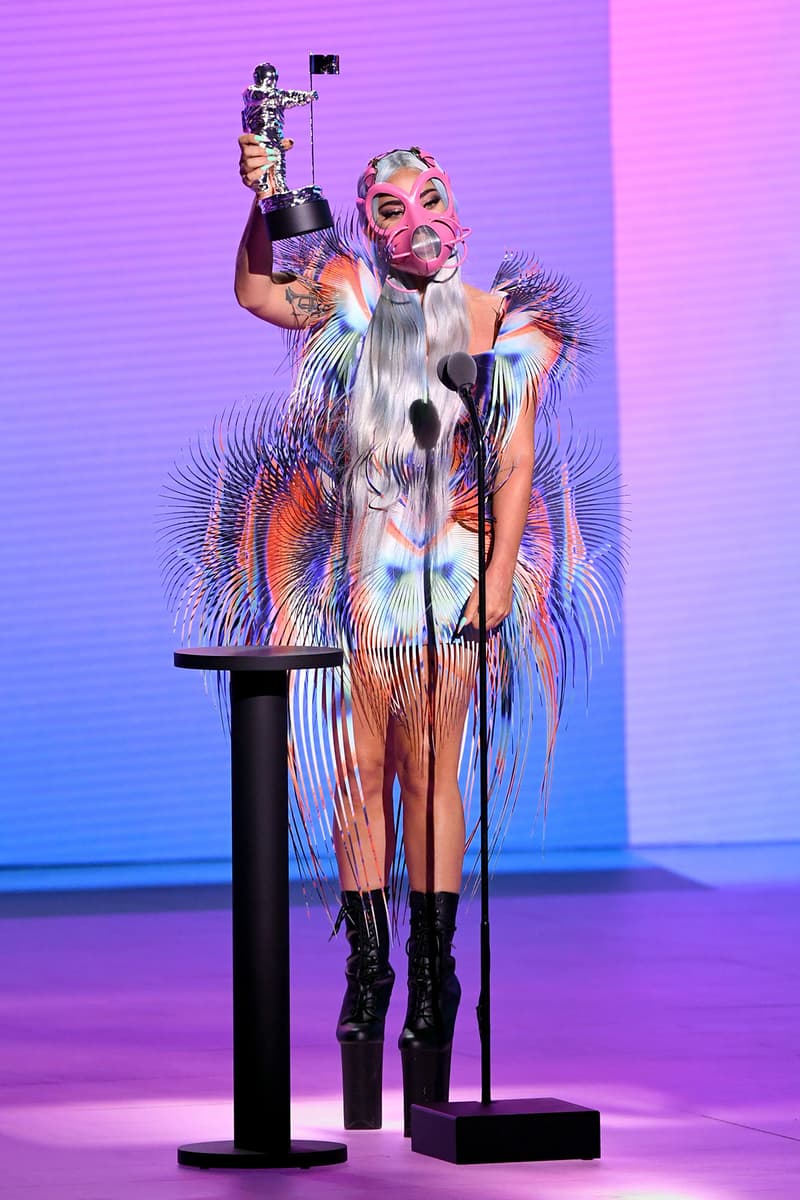 5 of 5
Music
Here's How Lady Gaga Got Ready for the First Virtual VMAs
Hairstylist Frederic Aspiras breaks down the star's watercolor 'do.
Here's How Lady Gaga Got Ready for the First Virtual VMAs
Hairstylist Frederic Aspiras breaks down the star's watercolor 'do.
On Sunday evening, MTV debuted its first-ever socially distant Video Music Awards ceremony, featuring audience-less performances, pre-recorded segments and virtually presented awards. Besides the event itself, elaborately produced despite COVID-19 restrictions, Lady Gaga made history by taking home four awards — the most of any artist of the night — and performing a nine-minute medley of hits from her latest album Chromatica.
The artist, always one to make headlines, also wowed viewers with pandemic-appropriate outfits (we counted seven wardrobe changes) and coordinating face masks. Complementing her statement looks were wavy, waist-length tresses tinted with grey, pink and blue, reminiscent of the hairstyle she paired with her iconic meat dress at the VMAs a decade earlier. Using products from haircare and color brand Joico, Gaga's longtime stylist Frederic Aspiras created the singer's dreamy, mermaid-like locks.
Keep reading for the lowdown on Aspiras' inspiration as well as step-by-step instructions on how to recreate Lady Gaga's 2020 VMAs hairstyle.
View this post on Instagram
What was the inspiration behind Lady Gaga's VMAs hair?
Love inspired the looks. Bringing [together] the elements of earth, wind and fire.
Lady Gaga's journey throughout the years has inspired me to create hairstyles and color combinations that encapsulate this journey. She is tough, brave, a musical genius, visionary and overall kind human being that believes in love and kindness in the world.
How would you describe this look in three words?
Iconic. Pop. Superstar.
Can you walk us through how you prepped and styled Gaga's hair for the night? What key Joico products did you use?
For Lady Gaga's red carpet hair, prepare two color mixtures, the first using one ounce of Joico Color Intensity in "True Blue" and three ounces of Clear Mixer. The second combines two ounces of Joico Color Intensity "Silver Ice" with two ounces of "Violet Pearl." You'll want to work with clean, bright blonde hair using blue tones — shampoo with Joico's Blonde Life Shampoo, followed by the brand's Blonde Life Conditioner. After drying thoroughly, section hair into four quadrants. Starting from the bottom and working your way to the top, slice out large pieces of hair. Alternate the first mixture with the second. Continue until you've completed the full head.
To style hair, apply a heat protectant such as Joico's Dream Blowout Thermal Protection Creme. Comb hair to detangle, and dry using a hairdryer and 45mm barrel brush. Starting from the back at the nape of the neck, create a ripple-like effect using the ghd Platinum+ White flat iron to bend one-inch sections of hair. When you approach the top of the head, stop bending hair about two inches from the scalp. The hair should have no volume on top. Brush out the waves and apply finishing spray for hold and shine.
For Gaga's first performance hairstyle, prepare another two mixtures. Mixture one combines equal parts Joico Color Intensity "True Blue" and Clear Mixer. Mixture two combines two ounces of Joico Color Intensity "Blush" with two ounces of "Violet Pearl." Be sure to prepare mixture two in a clean, separate bowl — do not mix or combine the two shades. Instead, leave it marbled so that hits of both pink and lavender come through. After shampooing, conditioning and drying the hair (again, blue tones work best on bright blonde), part the top section of the head with a zig zag part and clip it away. Do the same for every one-inch parting of hair. This will create a "peek-a-boo" of color that comes through from the roots. Starting  from back of head at the nape of the neck, apply mixture two at the roots, allowing 1.5 inches of spacing from the root. Follow with mixture one and continue until you've completed the full head.
To recreate the color for Gaga's second performance look, follow the above steps and simply add Joico Color Intensity "Hot Pink" to the roots of the hair at the part. This gives a burst of pink on the top of head to mimic the sun going down and the pink becoming more intense in the sky.
To style, apply heat protector and dry using a hairdryer and a large, round boar-bristle brush. Create a sharp center part using a tail comb and, with the ghd Curve Classic Wave Wand curling iron, create loose, tousled waves. To tease hair, use the brand's Rise Hot Brush at the crown of head to get as much volume in this area as possible. Using a nylon-bristle brush, lift hair up under the crown and backcomb to give optimum height and support. Smooth out the surface of the hair using the same brush. (Be careful not to brush out too much of the tease so that you maintain volume at the crown.) Apply finishing spray to hold the tease and center part in place.
What unique considerations go into styling hair for a virtual, rather than in-person, event?
I knew I had to really deliver a look that would bring joy and creative inspiration to millions of people watching the show.
How did you coordinate Gaga's hair with her makeup and outfit?
Gaga is involved in choosing styles that I present her. It's collaborative and supportive. We have meetings with the Haus of Gaga and brainstorm with each department to come up with looks that compliment her ideas.
You've worked with Lady Gaga for many years. How do the hairstyles from her Chromatica era differ from her past looks?
This year's VMAs hair looks were inspired by her freedom to really express her art down to every detail. With the hair color, it was a canvas of watercolors mixed with a splash of a bold color. For the style, I wanted her to show her strength and vulnerability.  This era is much more meaningful than ever. It represents a powerful turning point in her career and life. My responsibility as her hairstylist is to help her vision and message shine through every strand and color of her hair.
Share this article