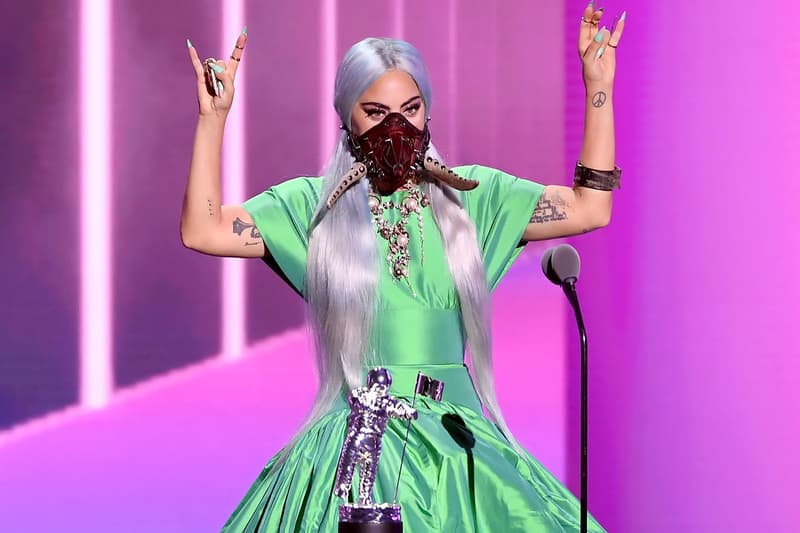 Fashion
Celebrities Show Off Their Best Looks on Socially Distanced 2020 MTV VMAs Red Carpet
Lady Gaga gets creative once again, this time with COVID-safe masks.
Celebrities Show Off Their Best Looks on Socially Distanced 2020 MTV VMAs Red Carpet
Lady Gaga gets creative once again, this time with COVID-safe masks.
Despite COVID-19 restrictions, the MTV VMAs weren't canceled this year — New York City Governor Andrew Cuomo announced that the annual event would be taking place with strict safety precautions. Although the awards show was missing large audiences, celebrities donned some of their best looks on the socially distanced red carpet.
Hosted by Keke Palmer, the VMAs took place in outdoor venues across the city, with performers including names like Lady Gaga, Ariana Grande, BTS, Miley Cyrus, The Weeknd and more. Marking one of the biggest events that haven't been canceled this year, the show was a mix of pre-recorded live performances and real-time red carpet arrivals.
Bella Hadid took the spotlight in a sheer bodysuit with cut-out details, adding to her list of '90s-inspired looks. Lady Gaga created an iconic fashion moment once again, sporting four futuristic looks with space helmets and face coverings that accurately reflect 2020's ongoing coronavirus pandemic. "I was wearing face shields before it was a thing," the star commented as she shared her striking look via Instagram. Meanwhile, Miley Cyrus donned a sheer Mugler gown adorned with reflective decorations.
Keke Palmer kicked off the night in a satin mini dress complete with a large ribbon just above the leg slit, while Madison Beer kept her look simple in Mugler's little black dress with sheer, cut-out details. Joey King arrived in a bold, floral piece by Versace with bold chain necklaces. Bebe Rexha took the cycling shorts trend to the red carpet, styling the versatile item with a black leather jacket and long blue nails.
Catch all of our favorite outfits from the 2020 MTV VMAs below.
Bella Hadid sports a '90s-inspired outfit, featuring a sheer bodysuit with cut-out details.
Keke Palmer takes the mic in a Tiffany blue dress.
Madison Beer opts for a mini black dress by Mugler.
Bebe Rexha takes cycling shorts to the red carpet, along with a black leather jacket and extra long nails.
Lady Gaga dons four looks, all paired with futuristic face coverings.
Joey King arrives in a floral dress by Versace.
Nicole Richie gets red carpet-ready in a light green taffeta dress with a sparkly headband.
Miley Cyrus shows off a sheer, reflective dress by Mugler.
Jaden Smith keeps it casual with a color-blocked jacket and jeans.
Share this article