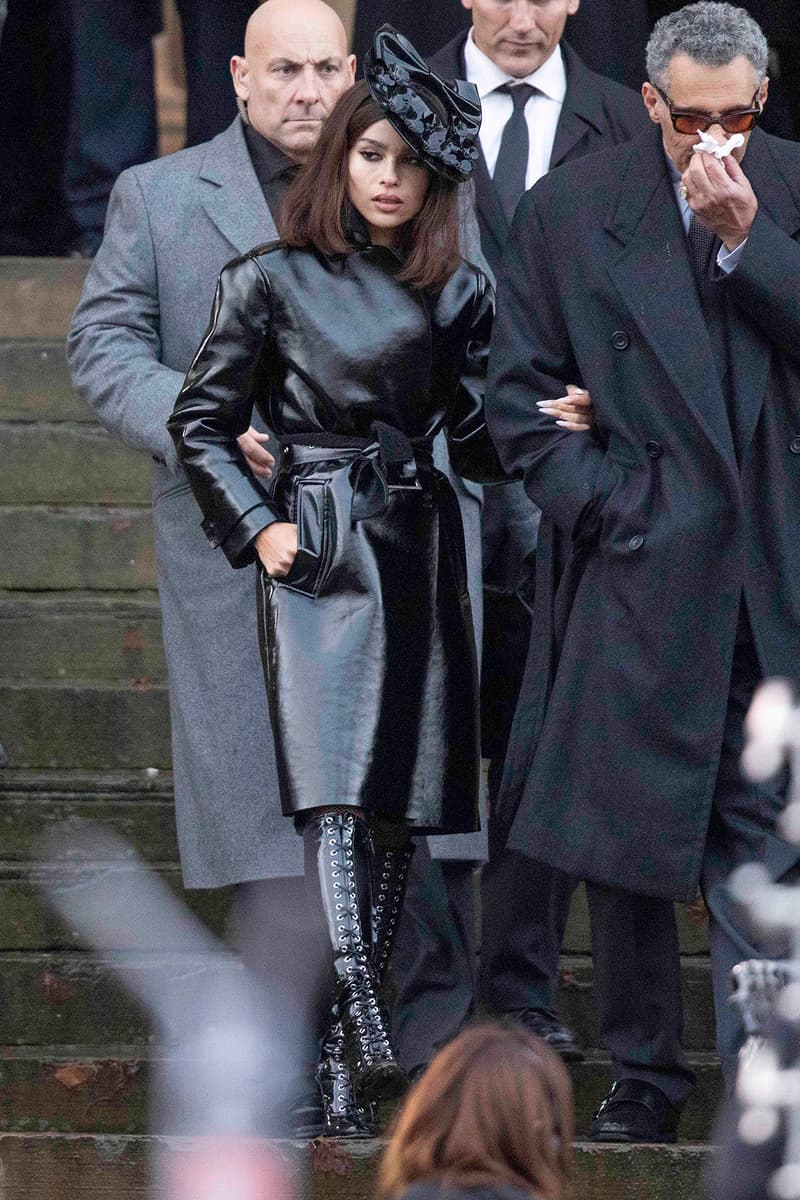 1 of 3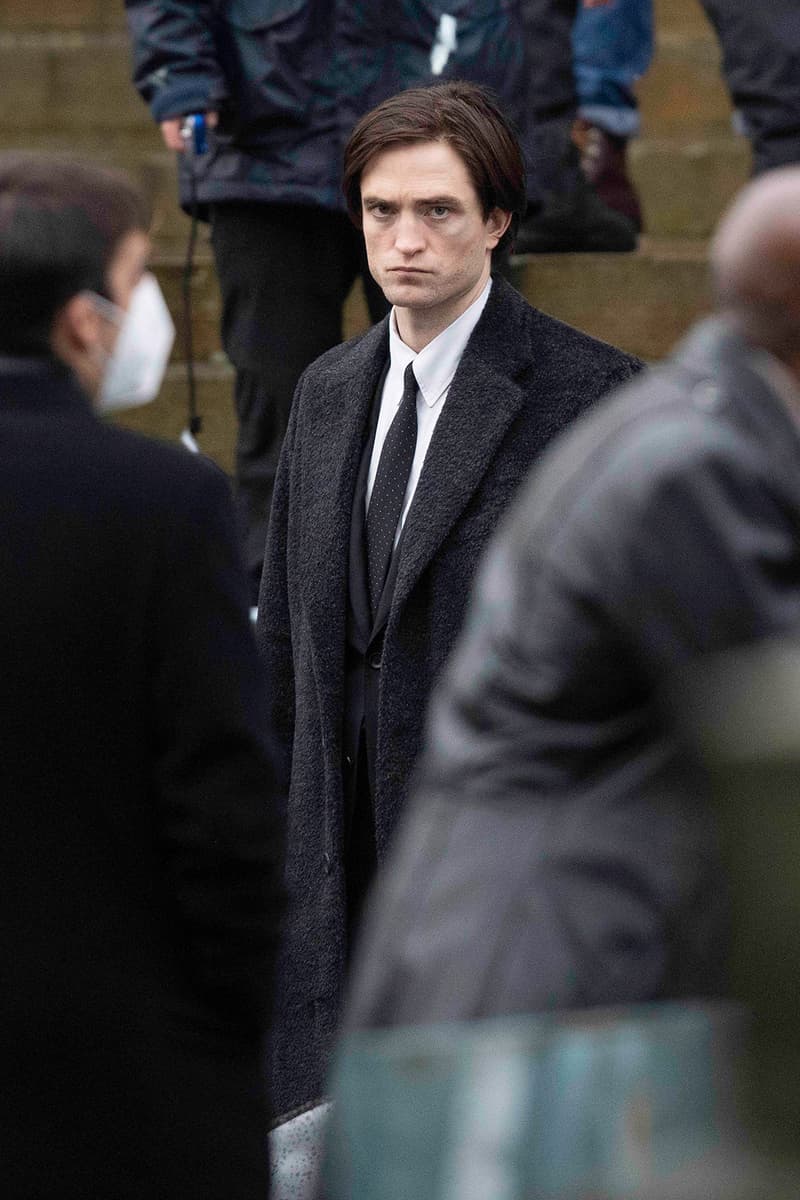 2 of 3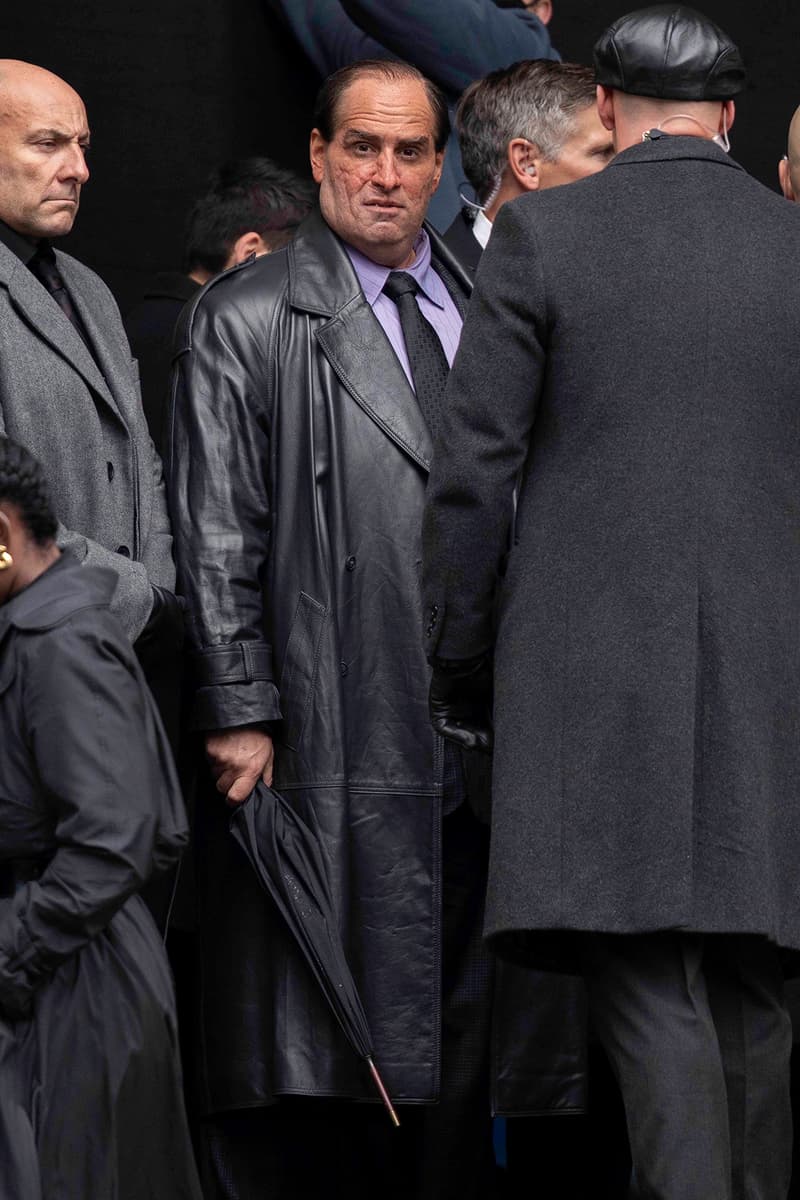 3 of 3
Film & TV
Your First Look at Robert Pattinson, Zoë Kravitz and Colin Farrell in 'The Batman'
In Bruce Wayne, Catwoman and Penguin costumes.
Your First Look at Robert Pattinson, Zoë Kravitz and Colin Farrell in 'The Batman'
In Bruce Wayne, Catwoman and Penguin costumes.
UPDATE (October 13, 2020): New photos from the set of DC Films' forthcoming movie The Batman reveal Robert Pattinson and Zoë Kravitz in Bruce Wayne and Catwoman costumes.
Production of the superhero film has resumed after a brief shutdown over Pattinson's positive COVID-19 test in September. On Monday, the cast was spotted filming outside St George's Hall in Liverpool, England.
Kravitz was outfitted in a black leather trench coat, fishnet tights and chic laced-up boots in shiny patent leather. The actress, who traded her pixie haircut for a chestnut brown long bob, was also styled in a disc hat adorned with an oversized bow. Her co-star Pattinson was seen in character wearing a suit and black wool coat. Colin Farrell, who plays the Penguin, was transformed into the supervillain and was almost unrecognizable with heavy prosthetic makeup. Check out the images above for a sneak preview.
Following several pandemic-related delays, The Batman is now scheduled to premiere on March 4, 2022.
---
ORIGINAL STORY (August 23, 2020): During its online convention DC FanDome held on Saturday, Warner Bros. revealed the first teaser for the highly anticipated superhero movie The Batman, starring Robert Pattinson as Bruce Wayne and Batman. Part of the DC Extended Universe, the forthcoming film is directed by Matt Reeves, who co-wrote the screenplay with Peter Craig and Mattson Tomlin.
The thrilling trailer, set to Nirvana's "Something In The Way," offers an official look at Pattinson in action in his Batsuit. On the virtual panel, Reeves touched on the development process of the costume: "I'd say we spent easily a year to do the Batsuit, and then to get into the Batmobile." On the design of the new Batsuit, the director shared that "it is very practical," and that details like gashes are visible on the cowl to suggest how frequent Bruce would be out at night "looking for trouble." According to Reeves, Pattinson played an important part in bringing the Batsuit to life alongside costume designers Glyn Dillon and Jacqueline Durran.
The two-minute teaser also allows viewers to catch a few glimpses of Zoë Kravitz as Catwoman, Paul Dano as the Riddler, Jeffery Wright as Commissioner Gordon and Colin Farrell as the Penguin. Hit play below to watch the official trailer.
Image Credit

Mega/Gc Images
Share this article