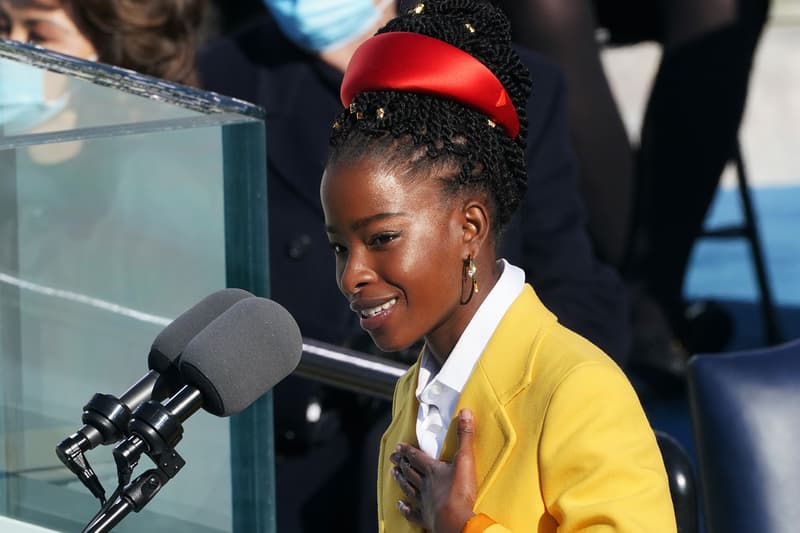 Culture
Amanda Gorman Is the United States' Youngest Inaugural Poet
The 22-year-old delivered "The Hill We Climb" at today's presidential inauguration to call for "unity and togetherness."
Amanda Gorman Is the United States' Youngest Inaugural Poet
The 22-year-old delivered "The Hill We Climb" at today's presidential inauguration to call for "unity and togetherness."
As Joe Biden and Kamala Harris were sworn in as president and vice president of the United States this morning, Amanda Gorman was one of few figures who took the spotlight during the ceremony. The 22-year-old National Youth Poet Laureate made history as the youngest poet to have ever performed at a presidential inauguration.
Donning head-to-toe Prada featuring a satin red headband and yellow double-breasted coat, Gorman delivered a self-penned poem titled "The Hill We Climb." Finished just after the Capitol Hill riot, the poem calls for "unity and togetherness."
The writer began, "When day comes, we ask ourselves where can we find light in this never-ending shade?" as she read her poem for five minutes at the inauguration. She then addressed the storming that had happened earlier this month: "We've seen a force that would shatter our nation rather than share it, would destroy our country if it meant delaying democracy."
The performer, who calls herself a "skinny black girl descended from slaves and raised by a single mother [who] can dream of becoming president, only to find herself reciting for one," was named the U.S.' first National Youth Poet Laureate in 2017.
Watching the performance, figures such as Oprah Winfrey took to Twitter to share their reactions: "I have never been prouder to see another young woman rise! Brava Brava, Amanda Gorman! Maya Angelou is cheering – and so am I." Meanwhile, Sara Ramirez commented: "Amanda Gorman just made this Inauguration Day unforgettably elevated and solidifies our collective commitment to move forward with purpose and courage."
Watch the full performance of "The Hill We Climb" below.
Share this article