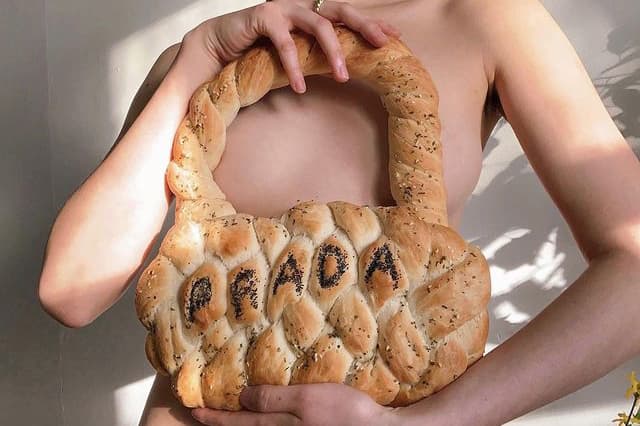 Art
Leah Wei Is the Artist Turning Pastry Into Prada
The young creative weighs in on artistic exploration and balancing online with IRL.
Leah Wei Is the Artist Turning Pastry Into Prada
The young creative weighs in on artistic exploration and balancing online with IRL.
An artist, designer, content creator, and model, Leah Wei is one of many young creatives juggling multiple professional titles. In her recent and ongoing Breadatorial series, Leah braids together her diverse creative practices to produce fashion garments made of bread. Modeling the pieces in images resembling D-I-Y fashion editorials, she juxtaposes the self-serious attitude of luxury brands with the absurd simplicity of bread, simultaneously generating irony and delight.
In fielding social pressures to follow a traditional career path as a recent design school graduate, Leah values empathy and social connection above all. Beyond "Breadatorial," Leah is the founder of projects like Friendly Bureau, a collaborative design platform, and Room Cafe, a simulated micro-cafe experience open to the artist's housemates and, virtually, to her social media followers. "I want to create a physical space where people can come to support one another and feel safe," Leah says of her ultimate creative trajectory. The artist's work demonstrates the diversity of artistic possibilities that emerge when one de-centers commercial productivity and opens oneself up to exploration and child-like play.
Continue reading for our full conversation with Leah about her Breadatorial series and playful approach to artmaking.
View this post on Instagram
How did your Breadatorial project come about?
Breadatorial came out of my quarantine interest in making bread coupled with my intrigue by the Chinese obsession with luxury goods. I was born in China but grew up in Canada, and every time I go back, I am amazed by how much everyone loves flaunting their Gucci, Chanel, Prada… whether it's counterfeit or real. Looking back, Breadatorial was a playful yet ironic project, making bread – something so cheap, universal, and accessible – into a "luxury item."
How did you come to see bread as something that can be art?
During my exchange at Bauhaus, I took a class called Devour, Disgust and Devotion, which dove into the history of food and performance art. I created a performance piece where four of us students in all black, were emotionlessly chewing baguettes into these bizarre sculptures. Although I just wanted to create a jarring performance with my favourite carb, I love that everyone prescribed their own profound meaning to the piece which really feels like the long running joke of my art school experience. But all in all, this class really opened my eyes to how food could become art.
View this post on Instagram
How did your time at Bauhaus influence your approach to making art?
My exchange dramatically shifted my view of graphic design, coming to fully understand the idea of a designer as an author, and experimenting beyond the digitalscape. I also met a lot of people just making things for the pure joy of it. It's sad to think that's such a far-fetched idea for our generation, where everything needs to be "productive" or shared on social media It really inspired me to create things as a way of exploring and understanding myself.
Can you walk us through your process of producing the Breadatorial works?
I think the most important part of my creative process is having free time to feel boredom. It is so undervalued in today's society of instant gratification and constant stimulation. As difficult as it may feel to be spontaneous at times, I'm always most creative when I'm not trying to be. These pieces were born out of me being stuck at home during quarantine with an itch to make ceramics but no materials or space to do so. I saw that a lot of my design friends started making bread and thought it would be a fun opportunity to sculpt with the medium.
Breadatorial was born out of play, a process of discovering a new medium. It brought me back to the tactile, material aspect of creation that I missed in graphic design. I don't think I'll ever be someone who sticks to one medium, so the interest in Breadatorial will fade naturally. I don't want it to become a chore. It's only a small part of the lifelong process of learning through making, of exploration.
Beyond the Breadatorial project, your work is quite diverse. How do your multiple creative pursuits relate to each other?
I think they're all just different ways to explore myself and the world around me. It evolves very naturally based on my interests, my own changing trajectories of where I want to go in life. In terms of my core values, I have to feel like what I'm doing can help others in some way or another. The idea of togetherness and supporting each other is my dream. So Friendly Bureau is an online shop and platform where I can work with my friends on projects that excite us. Room Cafe also started mid-quarantine. I missed the feeling of going to a cafe, so I rearranged the furniture in my bedroom and invited my housemates in, pretending it was a cafe. But YouTube is my full-time gig and allows me the freedom to also take on other work that truly excites me.
I guess all of these pursuits could appear somewhat naive compared to what we feel "growing up" should look like. But that's one thing I want to do more of: embracing childlike ways of making and moving through the world. I love having a handful of different pursuits, I don't want to feel as if I have to focus on one thing just to make money and survive in this world. Embracing one's generalist side can really bring more to the table, merging concepts and ideas from one practice to another and vice versa.
View this post on Instagram
You previously studied graphic design in university. Why not follow the typical path to a corporate design studio job?
For the longest time I thought I would work in a design studio. I fell into these ideas of how my life would be based on my family and peers' expectations. But after spending a summer working at a studio I thought I would love, I realised this type of office environment and monotonous schedule just didn't suit me. Even if it was the dream of my peers, that didn't mean it had to be mine. With the encouragement of one of my closest friends, I decided to revisit the YouTube channel I had created straight out of high school and started making videos for fun. I had no idea it would turn into a "job" in a matter of months, but I couldn't be more grateful and happy with the supportive community I now have who love what I make!
Given your exploratory approach, what does growth as an artist look like to you?
My personal goal is just to know myself in a way that's completely unaffected by the noise around me. I want to do and make things before being paralyzed by overthinking them, making things even when I don't know what I'm trying to make or why I'm making it. The larger goal is just to be able to help others on an emotional, physical or even financial level. I would ideally like to create a physical space where people can come to support one another and feel safe. We all have these interests and we're scared to share them but so much good and connection comes out of pursuing them. So maybe my idea of success is to have a meaningful impact on the people around me. As long as I can do that, it doesn't matter what job title I have.
View this post on Instagram
Editor

Tora Northman/Hypebae
Image Credit

Leah Wei
---
Share this article