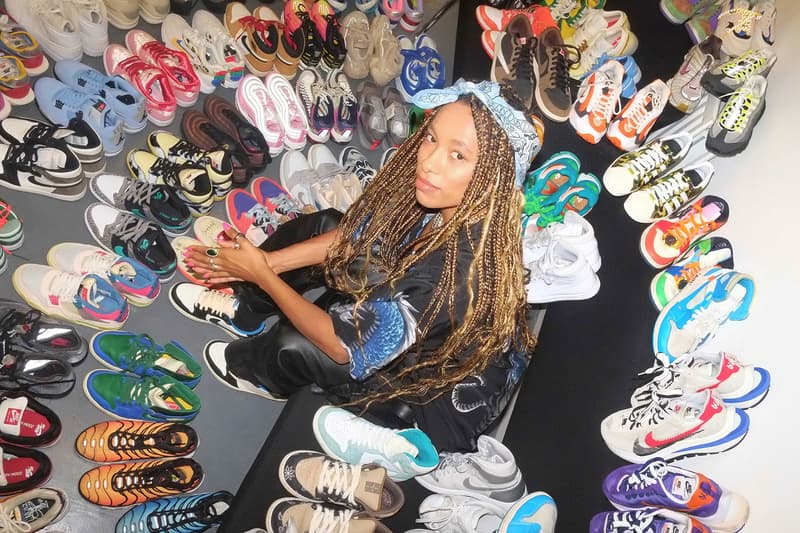 Footwear
Baes With Kicks: Jess Lawrence
The social media maven shares a peek at her collection of over 200 sneakers.
Baes With Kicks: Jess Lawrence
The social media maven shares a peek at her collection of over 200 sneakers.
In the latest installment of Baes With Kicks, we're exploring London-based content creator Jess Lawrence's extensive sneaker collection. The social media maven, who values both aesthetics and style when shopping for shoes, gives us a peek at her lineup of over 200 kicks ranging from coveted collaborations to everyday staples. Constantly inspired by her surroundings, Lawrence incorporates a variety of sneakers into her daily outfits, including cozy sweats and casual chic looks.
Read on for our conversation with Lawrence on her vast sneaker collection, some of her favorite silhouettes and more.
View this post on Instagram
Name: Jess Lawrence
City: London, United Kingdom
Occupation: Social media manager, model and content creator.
How many pairs of sneakers do you own?
I've been into sneakers pretty much my entire life as I grew up playing a lot of sports, so I've been through a ridiculous amount. Before I got into collecting, I'd wear all my pairs to the ground and then recycle or give them away. These days, I try to keep some relatively fresh so I can hold onto them forever, and keep my collection relatively small. I still gift, recycle or sell pairs I'm no longer in love with. Including all my fashion sneakers, sports sneakers and everyday beaters, I'd say I have between 200 to 250 pairs.
What are your top three favorite sneakers? Why do you love them so much?
Of the sneakers I own, my favorites would probably be the Air Jordan 1 Mid "Fearless Ones" by Melody Ehsani, the Sean Wotherspoon's Nike Air Max 97/1 and the Union x Air Jordan 4 Retro "Guava Ice." As you can tell from these picks, I love an aesthetically pleasing collaboration with an inspirational figure or brand. Collaborations, especially with trailblazers in the sneaker and streetwear spaces, make me feel super connected to the culture. You literally have a piece of history on your feet. The same goes for fashion — the merging of long-standing companies and aspirational figures in popular culture reminds you of the power and influence of the industry.
What is one classic pair you'll always go back to?
The Air Max 97. Definitely. I grew up wearing them, and I still love them today. I love the streamlined silhouette and they are ridiculously comfortable. My favorite would have to be the gold and silver bullets, but I also love the collaboration with Skepta so much.
If you could go anywhere in the world to shop for sneakers right now, where would you go and why?
I would love to go back to Japan and actually shop. I've only been once before as a backpacker, so I didn't have the money or the space to add to my collection at that point. So many sick exclusives have come out of the country. The streetwear and sneaker culture, especially in Tokyo, is unparalleled and hugely unique. I know a lot of vintage collectors find their grails in niche places in the city, including some really rare made-in-Japan models. I love Japanese culture, anime, Buddhism, the food, the landscapes and history, so to combine that with my love of sneakers would be a bucket list kinda thing.
Which aspect do you consider the most when purchasing a sneaker?
Aesthetics and comfort take the top spots when it comes to buying new everyday sneakers, along with style, colors and quality. I have different sneakers for different things. I have loads of basics such as Vans Old Skools, Converse Chuck Taylors, Air Max 90s and so on. With my best pairs, I like to look at my sneakers and have them spark joy, so the more unique, the more colorful and stylish, the better. When it comes to coveted drops, they've got to be stunning or be a collaboration that aligns with my journey and sense of self. I want my collection to represent me and my passions.
Where do you find style inspiration?
In real life! I rarely get inspired via the internet but if I do, it is usually from Pinterest these days. I love the mood of American films from the '90s, and I also like to look at street style from Fashion Weeks around the world. Although I love to support and see what my peers are copping on Instagram, true inspiration really only comes from real life. Walking around London, going to events, shopping, traveling and so on. Seeing how the everyday person styles themselves is definitely the best way to get outfit inspo.
What is one pair of sneakers you feel closely connected to and why?
I feel very close to many, but recently, I'm feeling close to the Air Max Uptempo. They are super nostalgic to me. I can remember seeing them in Foot Lockers when shopping in the States during school summer holidays growing up, and have vivid memories (and pictures) of me trying on my older brother's pair in the '90s. I now, of course, own my own pairs and think they have a beautiful history within basketball. Plus, the shape and design are really unique.
Can you name one pair that you wish you copped but didn't?
Travis Scott's Air Jordan 1 OG High. I didn't even go for them. Sounds crazy now to even verbalize it, but I really didn't think they would get as big as they did. At the time I wasn't into Travis' music, and I do like to keep authentic with everything, so it felt wrong to even cop his shoes. The game is always changing. Now, having seen them for years and having tried on some of my friends' pairs, I wish I had copped. And of course, owning a highly coveted pair of sneakers always feels great. A lesson learned!
Share this article