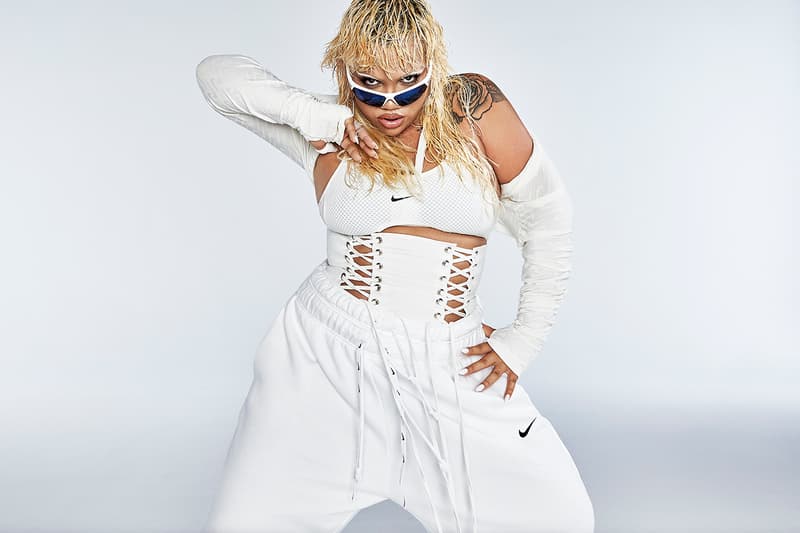 Culture
With Nike, Parris Goebel Expands the Definition of Sport
For the star choreographer, dancers are athletes too.
With Nike, Parris Goebel Expands the Definition of Sport
For the star choreographer, dancers are athletes too.
Parris Goebel, the powerhouse and visionary behind the choreography of your favorite celebrity projects — from Rihanna's Savage X Fenty shows to J. Lo's iconic Super Bowl halftime performance — is embarking on a new adventure with Nike as a global catalyst for dance and sport. Like the sportswear brand, Parris believes that all movement, including dance, is sport. Her partnership with Nike aims to help women build a stronger relationship with sport, by instilling confidence, creativity and self-expression through movement. She owns the floor in her "Dance Declaration" for Nike, a video that reinforces the importance of having your own moment, your own story through dance.
After all, athletes aren't just basketball players or football players, but they are dancers too. Nike wants to expand and celebrate a new definition of "athlete" through the voices and journeys of dancers. For Nike, dance is art and athleticism. It's an inclusive movement rooted in creativity, self-expression and community. It influences culture and propels change.
View this post on Instagram
Dancing is second nature to Parris. "I've been dancing as soon as I could walk. It's one of my earliest childhood memories," she says. "I would be in the living room with my siblings, trying to make my own music videos with my sister. So I always had a calling for dance."
Growing up in New Zealand, Parris had limited access to movies and TV shows, but she was obsessed with MTV and learned the moves as she watched them. From that moment, she knew she fell in love with the art. 10-year-old Parris was determined to chase this dream and over the years, she has honed her craft.
At first, Parris didn't feel like she belonged at some dance studios, but that didn't stop her. With her confidence and motivation, Parris decided to continue dancing in her room and choreographed her own routines. At 15, YouTube came around and changed her life — she went from posting choreography videos for people around the world to view, to getting her first big break as the choreographer for Jennifer Lopez's Dance Again world tour at 19.
"[Nike] has really inspired me and the way I work, the way I dream and the way I train. It just feels like it has come full circle to be dancing in Air Force 1s and Nike sweatpants, and now collaborating with Nike and creating a movement with them as an artist," Parris shares. "My first dancing sports bra was even a Nike one. It's an honor and truly one of the proudest moments of my career so far." For Parris, her values are aligned with Nike's and she knows they will shake the room together, create an atmosphere that inspires people to dance and express themselves — because that's what dance is, a form of expression.
Like dance, fashion is a form of expression. "I'm very passionate about fashion," the star choreographer tells us. "It's like a painting — the clothes are the colors, the movement is the strokes. It's a huge part of my vision and aesthetic."
Nike has been pioneering the movement for inclusivity in sport for young women, something that really resonates with Parris. "Taking up space as a woman and unapologetically doing it is a constant fight for women. Being a woman is what makes me great at what I do, and it also makes me compassionate and creative," she reflects. "Nike has always been so great at celebrating women athletes and women in general. I even saw an amazing commercial on motherhood with pregnant women working out. I don't think there's enough celebration of how strong women are, so this collaboration is just so exciting to me."
Parris has choreographed for numerous celebrities and aims to implement their vision into the dance routines. "My goal is to understand what they want to say for a specific song, video or performance. The most important thing for me is how you want people to feel. And once I understand what the artist wants to convey, it's my job to bring it to life, because at the end of the day, dance makes you move and feel things," she says. "That is my number one thing, to move people and connect." Parris' creative journey doesn't begin and end with choreography, but through it, she has also formed genuine friendships with her collaborators.
Translating rhythms, melodies and beats into the visual form through dance, Parris makes a distinction between dance and choreography. "Everyone can dance. It's a form of expression for you to tell your story and how it makes you feel, but you don't need to be a professional dancer to dance." But choreography is different for her. It's another layer of "dancing and expressing yourself," and ultimately, it's really a more structured way of dancing. "I definitely think it's a God-given gift for me. I love to dance, but when I choreograph, it's a deeper way to express myself."
Everyone has their own path to success. Parris agrees that there's no map or blueprint for it. "I think everyone's journey is so unique, and it's truly about unlocking what's within — one's purpose, dreams and journey. I knew what I was meant to do, worked hard, sacrificed my energy and time and it brought me here." Parris also notes that "following your intuition will help you make the right decision, jobs and opportunities." And ultimately, "you always know the answer within," you just need to follow it.
The Nike collaboration is one of the biggest highlights of the choreographer's career. "The thought of it gives me goosebumps, just to collaborate with Nike, make change and empower dancers around the world," she mentions. "I keep thinking of younger Parris, dancing in her bedroom. And you know, she never saw girls that looked like her being celebrated. She never saw Polynesian women in these global campaigns, and I feel like representation is important." Representation means everything to Parris and she's elated that somewhere, a little girl is going to be inspired by her Nike campaign, chase their dreams and dance their story .
---
Bashirat Oladele is a freelance writer covering pop culture and politics. Her work can be found in Teen Vogue, Stylist, Polygon, Cosmopolitan and more. You can check out her work here.
Share this article