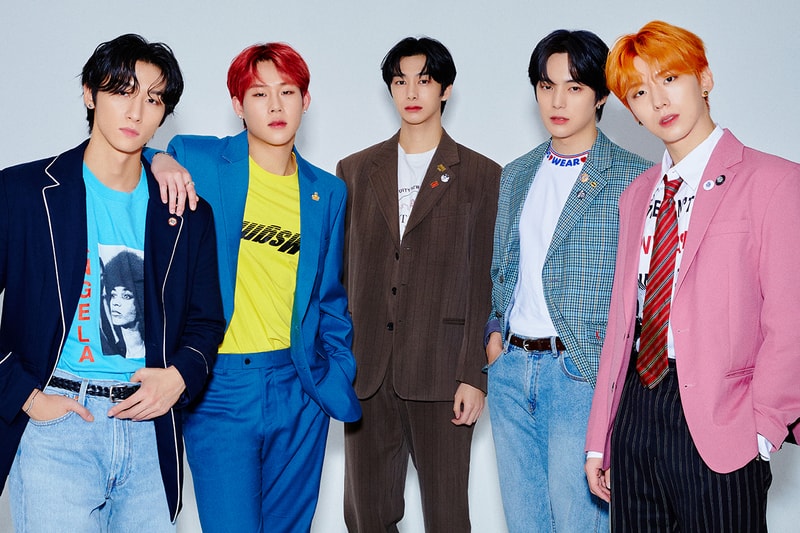 Music
MONSTA X Is the Gift That Keeps on Giving
The K-pop group discuss the making of their new English-language album, 'The Dreaming.'
MONSTA X Is the Gift That Keeps on Giving
The K-pop group discuss the making of their new English-language album, 'The Dreaming.'
As if the anticipation for live concerts and in-person events couldn't get more intense, MONSTA X is ending 2021 on a high note by making sure that their fans MONBEBEs and K-pop lovers alike have something to look forward to, with an upcoming North American tour kicking off in January. One could say that the superstar boy group is the gift that keeps on giving — from their Korean EP No Limit released in November, to their second English-language studio album The Dreaming out this week, to their documentary movie of the same name hitting the big screen. Let's not forget the group's many other releases from the past two years.
"Are we ready for tour?!" MONSTA X's lead rapper and youngest member I.M threw the question back playfully with excitement. "We were ready, like, two years ago. Haha!" It's past midnight in Seoul, and the guys of MONSTA X had been on a marathon of Zoom calls for their press day. Fashionably dressed to complement the studio setup, members Joohoney, Hyungwon and I.M. sat on a sofa, while Kihyun and Minhyuk sat on tall chairs right behind them. While a press day sure sounds tiring, that didn't stop the third generation K-pop stars from joking around and having a casual chat about everything that's been happening on their end with us.
Read our interview below and see what the members of MONSTA X had to say about their upcoming tour, their documentary film and their new English album, The Dreaming.
Your last English album All About Luv was more R&B-leaning, whereas you're serving so much sound and experimenting on The Dreaming. How much do you think you've grown over the last year?
I.M.: Well, I think we are all so good at English now — I mean, we've really had lots of experience. Like, we've had a lot of interviews, we've had a lot of press and we've recorded lots of English tracks. So, when we were working on this second album, I thought, "Oh, I think we're better than before."
What was the process like working on this second English album?
Hyungwon: Before the release of The Dreaming, I personally wanted to challenge myself in producing an English song, hence I made the song called "Secrets." I think our members did really well and I was quite happy and proud that it came out nice.
I.M: If I can add some opinion, I think it was really quite unique — we [typically] sing our English songs when we drop our English albums, but it was kind of a unique experience 'cause ["Secrets"] is on our Korean album, and there's an English track with only English. … We are proud of him [for making] a really good song.
What was it like preparing for The Dreaming alongside the Korean release?
Minhyuk: Usually for Korean albums, we have to finish up all the work six weeks prior to the album release, but for English albums, we have to finalize almost everything three months ahead. For this time, we had to work on three different projects: the Korean album, the English album and the movie.
Kihyun: To be honest, I didn't get confused tackling all of them at once.
Joohoney: The director is perfect. So, yeah, no confusion.
Do you guys have personal recommendations that MONBEBEs should know about?
I.M: My personal favorite song is "Secret." And the reason is a secret.
Minhyuk: He's funny.
Hyungwon: In my case, my favorite song is "One Day." I love that song's vibe and lyrics, and its music video.
Joohoney: My favorite song is "Blow Your Mind," because when I was young, I loved Justin Timberlake's "Like I Love You."
You've done R&B, hip-hop, trap, pop, a bit of rock. What more can MONSTA X offer besides music?
I.M: Well, we filmed our own movie so we're hoping to go to Hollywood — woo!
Kihyun: [Laughs]
I.M: Just kidding. Just my opinion. Just cut it.
Hyungwon: I hope that one day, we could release an album filled with solo tracks written and sung by each of us. It would be like a present for MONBEBEs.
So, will you be DJ-ing at the next concert then, Hyungwon?
Hyungwon: Nope! I'm preparing something else and it's all under control.
Earlier, you mentioned The Dreaming documentary. Are there any highlights you're able to share from the movie?
Minhyuk: It is really [our] reality.
Kihyun: Actually, we're showing our results every day. But in that movie, we can show our process behind the scenes.
Joohoney: Oh yea, the part where I'm directing in my recording studio. It's my favorite but it got edited out.
What would you say is the secret ingredient to your chemistry for so long?
I.M: Being honest?
Kihyun, Joohoney: Yeah! Being honest.
I.M: If we have some uncomfortable feelings, like, [be] honest. Just say it straight. And even if we fight, you just like, do it. You keep continuing. We love to fight. I mean, fighting is not like a negative thing. It might be a positive way to [help us] keep on going as a team. You know what I mean?
You're all beyond ready for tour. Tell us what's the song you are most excited to perform.
Joohoney: Maybe "Gambler."
Kihyun: "Love Killa" and "Gambler."
I.M: "Fallin'"? We wanna throw some water on stage.
Kihyun: That is highlight of our concert. And "Zone."
Hyungwon: Yes, "Zone."
Any wishes for the new year?
Joohoney: Just stay healthy.
I.M: No more [coronavirus]. No more masks.
Joohoney: Drop the new album. Buy a new car. Buy new kicks (holds up custom Air Force 1s).
Best gift you could give yourself right now?
Hyungwon: A vacation.
I.M: Me too. Yeah, me too.
Joohoney: I want to go to Hawaii.
Kihyun: [Laughs] He is almost like an ambassador of Hawaii.
Joohoney: Aloha!
Anything else you'd like to say?
I.M: We put a lot of effort in our [album] The Dreaming, and I hope lots of MONBEBEs love it. And we prepared a movie that is also called The Dreaming. I hope you guys feel like you are dreaming. Thank you.
---
Lai Frances is a social media producer by day, and a freelance multimedia journalist and host by night. Though she often covers entertainment, pop culture and music, Lai is always on the lookout for when and what the next PEACEMINUSONE x Nike sneaker drop by G-Dragon will be. You can find Lai on Twitter and Instagram.
---
Share this article