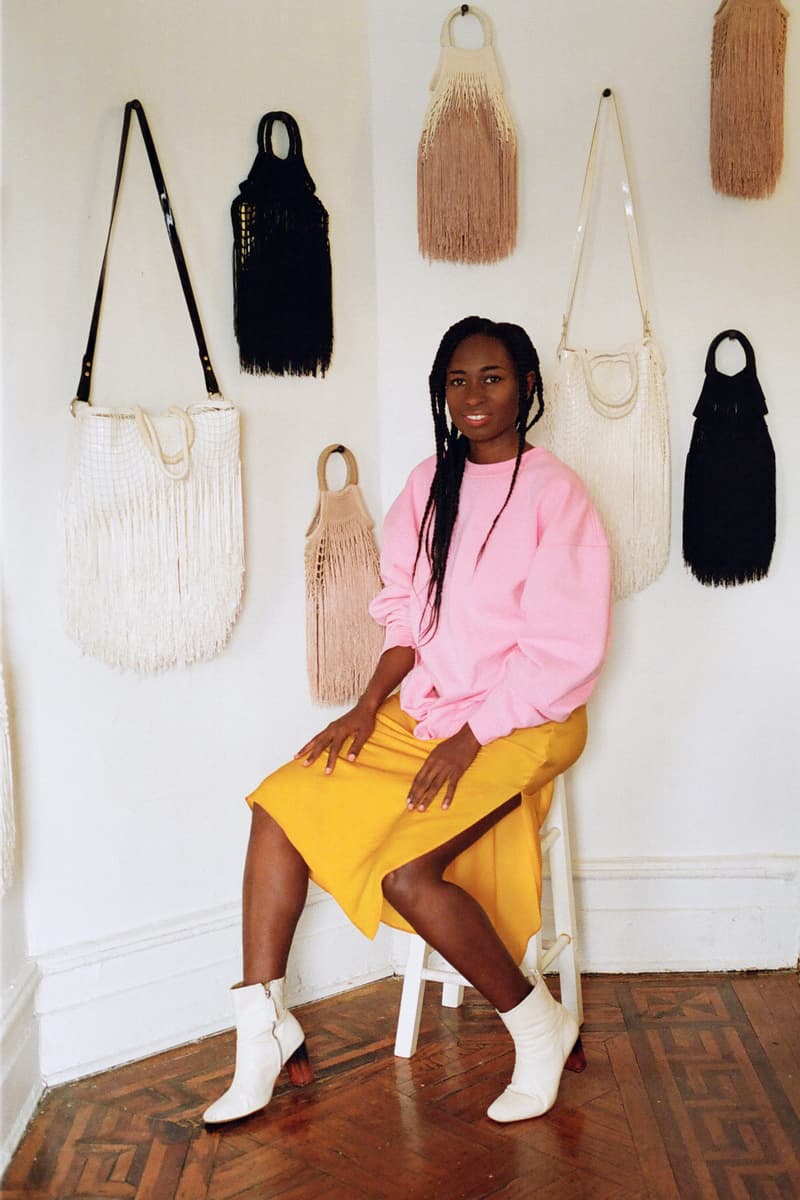 Petit Kouraj Is the Emerging Handbag Label Marrying Whimsy and Sophistication
Designer Nasrin Jean-Baptiste makes a serious case for fringe.
Fashion
Petit Kouraj Is the Emerging Handbag Label Marrying Whimsy and Sophistication
Designer Nasrin Jean-Baptiste makes a serious case for fringe.
"I think there is a dormant designer in most stylists," says Nasrin Jean-Baptiste, founder of accessories brand Petit Kouraj. Jean-Baptiste's observation is one that took years to manifest within herself — she started out as a fashion assistant and went on to work as a celebrity stylist, fashioning clients including Alicia Keys, for over a decade. Struggling to find accessories that reflected her personality and style, Jean-Baptiste casually entertained the idea of launching her own brand. After the birth of her eldest daughter and a trip to her ancestral home of Haiti, two experiences she describes as "pivotal," the Brooklyn-based creative translated her idea to reality and launched Petit Kouraj.
"The birth of my eldest daughter gave me an understanding that there is a difference between my actual ability verses what I tell myself," Jean-Baptiste reflects. "I had always been petrified of childbirth, but after having a natural, unmedicated birth, I learned that my fears can be dismantled and overcome. I used this rule to help give me the confidence to start the brand that I had been too scared to start before," she explains. Things fell into place when, on her formative trip to Haiti, the designer discovered a woman-owned and operated workshop that she would eventually enlist to produce Petit Kouraj's handmade bags.
Three years after that trip to Haiti, Jean-Baptiste's Petit Kouraj — which is Haitian Creole for "little courage" — has paid off. Merging whimsy and sophistication, the brand's signature fringed handbag twists and twirls with the wearer, adding energy and movement to any outfit. Each fine, hand-applied strand whips to and fro like horsehair, expressing a vitality that most bags — static, structured containers or slumped pouches — lack. The hero design is one Jean-Baptiste came up with entirely on her own. "There was a disconnect between what I envisioned in my mind and how the samples would come out," she recounts. "I decided to make a sample of the fringe net bag myself and literally spent hours constructing it by hand. It was such a validating feeling when I had finished…It was at that moment I knew I was holding something special," she says.
After producing the sample, Jean-Baptiste worked with Haitian artisans to devise a plan to replicate the bag at scale. "The fringe is applied and sewn individually, and the handles are wrapped with leather cord. It is a very labor-intensive process and although producing in Haiti comes with many unusual challenges, I think it's worth the extra effort to produce in a way that is slow and meaningful," she notes. As for her propensity for fringe, the designer explains its appeal: "It's mysterious, fun, sexy and most of all, it has life. It has a personality of its own."
Petit Kouraj is, at its core, all about translating the dynamism of clothing into accessories. "I want to create bags that give the feeling of clothing," Jean-Baptiste remarks. "I often take inspiration from womenswear or jewelry and re-imagine it as an accessory. Petit Kouraj is all about the interplay between texture, movement and, being from the Caribbean, I love color." In addition to its fringed offerings, the brand also crafts hand-knit totes decorated with seashell charms and bric-a-brac pendants, reminiscent of tiny treasures caught in a fishing net. It's a product lineup that encapsulates the joy and wonder of discovery without becoming twee or overly precious.
When asked to offer a piece of advice to aspiring designers, Jean-Baptiste urges self-reflection. "Find the thing within you that is uniquely you, and the ideas that refuse to rest. Then double down on them," she encourages. She also advocates for kindness, an asset that often falls by the wayside amidst the frenetic pace of the fashion industry. "Remember your worth and be kind to everyone. You never know who or what will be the person and experience that propels you."
Share this article