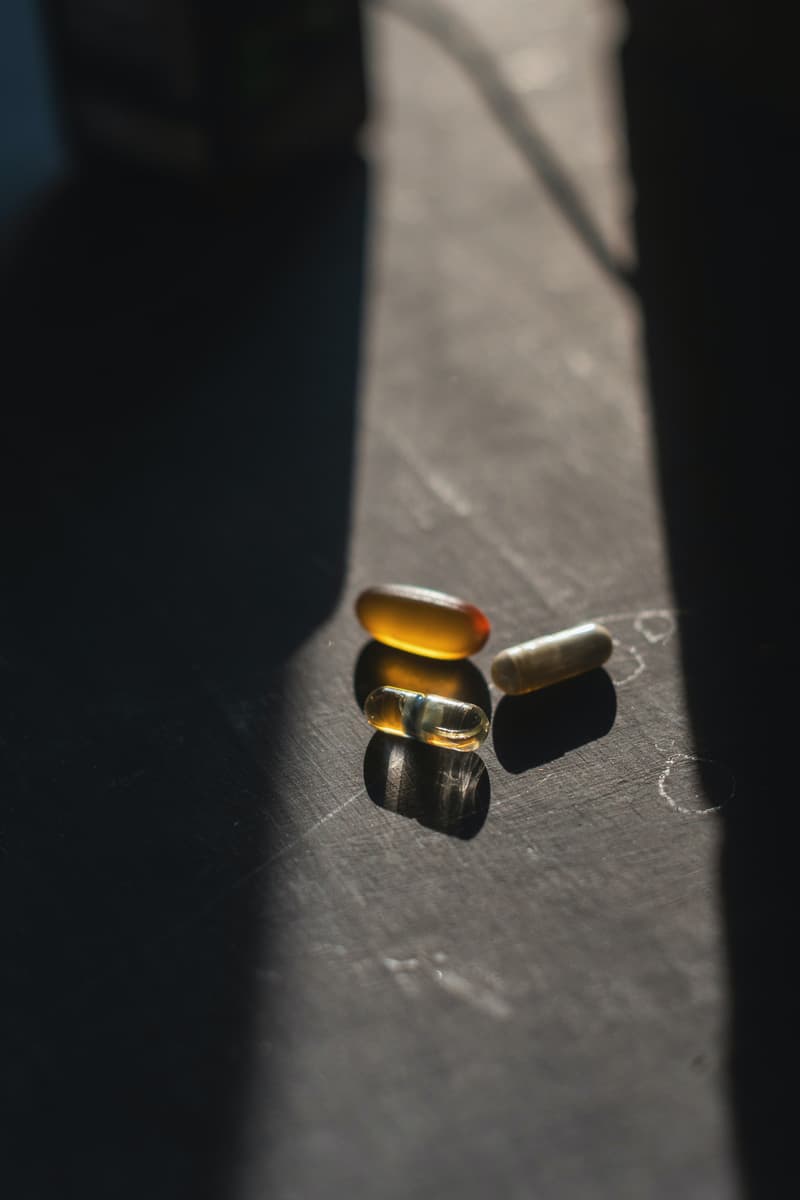 Collagen Supplements: Skincare Superhero or Waste of Money?
Is ingestible collagen really the key to glowing skin? Doctors weigh in.
Health
Collagen Supplements: Skincare Superhero or Waste of Money?
Is ingestible collagen really the key to glowing skin? Doctors weigh in.
It started with SugarBearHair — in 2016, the pastel blue gummy bears began appearing in Instagram posts by the Kardashians, who claimed the chewable vitamins are integral to their haircare and wellness routines. Soon, the bear-shaped supplements began cropping up on the pages of countless other celebrities including Emily Ratajkowski and Vanessa Hudgens.
Attesting to the power of branding and online influence, SugarBearHair sparked a full-fledged wellness trend, fueling customer demand for candy-shaped vitamins and other supplements. Olly, the gummy purveyor that sells vitamins to improve mood, sleep and immunity, exceeds $100 million USD in annual revenue. Then came Ritual, the stylishly packaged, Instagram-able multivitamin for women. In 2020, Moon Juice — the Los Angeles hotspot for uber-healthy juices and shakes — launched an adaptogen supplement meant to "improve energy, mood, focus and beauty," inspiring a host of copycats. (Moon Juice has not gone without controversy — in 2015, founder Amanda Chantal Bacon penned a widely mocked food diary for Elle that, somehow, manages to read like Patrick Bateman's infamous morning routine monologue.)
Unsurprisingly, the health sector's vitamin boom eventually extended to skincare, a market that has continued to thrive during the pandemic. The dietary supplement industry – which Americans pump approximately $35 billion USD into each year — took notice as collagen began creeping into our everyday beauty vocabulary, appearing on labels for creams and serums. Soon, collagen pills, powders and even drinks hit the market. In February 2020, trendy vitamin company Care/of introduced a collection of collagen powders to its lineup. In October, New Zealand-based wellness startup Dose & Co. launched its line of collagen supplements in the U.S. with the help of celebrity endorsement from Khloe Kardashian. These collagen-laden powders and coffee creamers promise a host of benefits including healthier skin, stronger nails and a reduction in fine lines and wrinkles.
Despite the trendiness of collagen supplements — and the willingness of celebrities to embrace the fad — doctors have their doubts. We asked board-certified dermatologists for their honest opinion of collagen supplements, and whether they're really the key to healthy, glowing skin. Keep reading for some surprising revelations.
What is collagen?
"Collagen is a protein, and it's one of the major building blocks that provide the support and framework for our skin," explains Dr. Rajani Katta, founder of Katta Dermatology in Texas. Collagen is actually the most abundant structural protein found in our bodies — it's present in bones, tendons and ligaments as well as the skin. "As we age, our production of collagen slows down, and the existing collagen we have starts to become more brittle and harder to repair. Over time, that leads to sagging and wrinkling," Dr. Katta says, illustrating the role it plays in the appearance of skin.
Ingestible supplements typically contain hydrolyzed collagen. Through the process of hydrolysis, collagen is broken down into smaller protein chains or amino acids, making it easier for the body to absorb. "[Hydrolyzed collagen] is easily dissolved in beverages and in food due to its lower molecular weight and water solubility," Dr. Rina Allawh of Schweiger Dermatology elucidates, adding that the collagen used in supplements is typically bovine and marine-derived (some brands sell plant-based collagen, but more on that later). Dr. Rachel Maiman of Marmur Medical sums up the function collagen of supplements in easy-to-understand terms: "Animal-based collagen supplement powders transform the collagen of animals into mainly tasteless or flavored powders that can be mixed into solids or liquids for consumption. The idea [is] that, by ingesting animal collagen, you can replace deficient collagen in tissues."
Doctors doubt the efficacy of collagen supplements.
Do collagen supplements deliver on their promise of healthier-looking, smoother skin? Doctors think not. "I do not recommend collagen supplements," Dr. Maiman puts it succinctly. "It's important to remember that ingesting a substance subjects it to the highly acidic environment of the stomach and the digestive enzymes of the remainder of the intestinal tract," she flags. "To extrapolate that ingesting collagen will result in greater concentrations of collagen at the level of the skin negates a lot of science." Beverly Hills-based dermatologist Dr. Lisa Chipps makes a similar point. "I do not believe that oral collagen supplements are effective in thickening the skin," she asserts. "When you consume collagen supplements, they are digested into fragments, not deposited in your skin."
In Dr. Katta's opinion, there's simply not enough research to suggest collagen supplements have any meaningful effect on the appearance of skin. The expert cites a recent study that assessed existing medical literature and found 11 randomized, controlled trials in human volunteers — the strongest type of clinical trial, according to the dermatologist. "Of these 11 studies only one actually measured wrinkle depth," she says, acknowledging that others measured collagen density via ultrasound, but did not report on any visible markers of wrinkling or skin quality. "It's just hard to draw conclusions with so little research," she remarks. Dr. Maiman agrees: "Realistically, studies that tout improvement in skin firmness as a result of collagen supplements are small and usually biased."
However, major players in the collagen supplement market maintain that their formulas work. The Vital Proteins website insists that its customer reviews indicate the efficacy of its collagen powders, while Glotrition's displays convincing before and after photos from a clinical trial. However, a deeper dive suggests that Glotrition's results were actually obtained using a combination of ingestible and topical skincare products. Care/of employs a head of scientific and regulatory affairs, Diana Morgan, who says the purveyor employs strict quality standards and a "stringent supplier management program" to ensure the "identity, strength and purity" of its collagen supplements.
Ingestible collagen can cause undesirable side effects.
Though brands advocate for the safety and efficacy of their products, these supplement companies have significant leeway in claiming ingestible collagen can reduce wrinkles and firm skin, among other benefits. There is minimal FDA regulation of dietary supplements, a point that Dr. Katta, Dr. Maiman and Dr. Chipps all raise. "Per current FDA regulations, dietary supplements, including collagen, are regulated as foods, not medications," Dr. Katta establishes. "Anybody, anywhere can bring a supplement to market. They do not have to prove effectiveness, safety or even quality," she remarks, specifying that brands can make any number of marketing claims as long as they do not claim to treat a disease.
Because collagen supplements are not heavily regulated, those will allergies or dietary preferences should tread carefully. Dr. Chipps warns that ingredients including animal bones and fish scales may be present in certain products, and Dr. Katta mentions a study conducted by Consumer Lab, a third-party investigative laboratory, that found cadmium contaminating one brand's collagen supplements.
As with all dietary supplements, taking ingestible collagen can cause undesirable side effects. Dr. Maiman lists dysgeusia (an altered sense of taste), heartburn, stomach upset and sensations of fullness as known examples. 
"Plant-based" collagen doesn't actually contain collagen.
Most brands formulate their supplements using animal-derived collagen, but some offer vegan-friendly alternatives. However, these animal-free alternatives do not actually contain collagen, a fact that companies typically fail to mention. Instead, most vegan collagen supplements are made with a mix of peptides and vitamins, primarily vitamins C and B, that form the building blocks of collagen. In effect, you're not ingesting any collagen when you take vegan collagen supplements — instead, you're consuming vitamins that support your body's intrinsic collagen production. 
Instead of taking supplements, try expanding your diet.
For healthier skin, hit the supermarket instead of the pharmacy. Dr. Maiman recommends eating foods rich in vitamin C and animo acids (specifically proline, lysine and glycine), nutrients that are necessary for the body to synthesize collagen. Fruits and vegetables including mushrooms, tomatoes and bell peppers are prime examples, along with egg whites, shellfish, leafy greens, beans and nuts. Dr. Chipps adds that healthy skincare habits such as daily sunscreen use are also vital to slowing down depletion of collagen levels in the skin.
If there's any lesson to be learned, it's to proceed with caution when it comes to dietary supplements. Influencer endorsements and sleek packaging are undeniably enticing, especially amidst our COVID-era obsession with self-care, but you're probably better off spending your money elsewhere. We all wish there were a magic bullet for flawless skin but unfortunately, that simply doesn't exist (at least not yet). It's wiser take a step back and return to basics everyone can get behind: sunscreen, sleep and a healthy diet.
Share this article