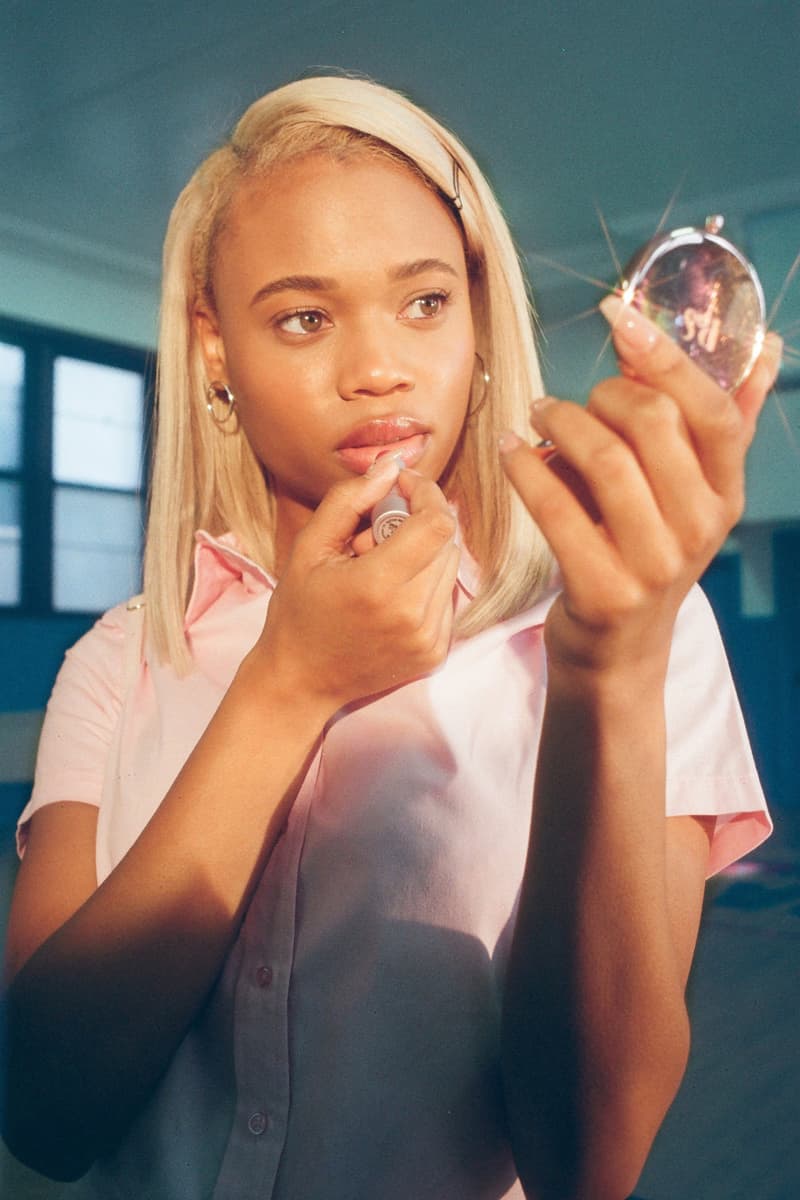 How To Mask-Proof Your Makeup, According to Pros
Makeup artists weigh in on how to apply a bulletproof face.
Beauty
How To Mask-Proof Your Makeup, According to Pros
Makeup artists weigh in on how to apply a bulletproof face.
Believe it or not, an entire year has gone by since the pandemic first hit the U.S. Though we're far from in the clear, we have begun to emerge from hibernation — AKA winter quarantine — as the weather warms up, signaling the return of outdoor dining, sidewalk bars and socially distanced picnics at the park. As we begin to venture back outdoors to catch up with friends and go on IRL dates, many of us will run into to the age-old (or at least year-old) question: how do I stop my makeup from rubbing off on my face mask?
When it comes to applying a budge-proof face, prepping the skin properly makes a huge difference. Makeup artist Florrie White, who counts Rosamund Pike and Alexa Chung among her clients, allows the face to fully absorb any skincare products before going in with makeup. "Excess moisturizer under your foundation or concealer will just help transfer your base onto your mask," she explains. The expert recommends Chok Beauty's Skin Perfector, a chargeable device that primes the skin with heat and vibration, for aiding with product absorption. Once you've applied your skincare and let it set, artist Mollie Gloss — a pro at applying indestructible faces on touring musicians — recommends applying a layer of face powder, followed by foundation and a second powder dusting. "This will lock your foundation down like no other and give you a super smooth finish, as well as boosted coverage," she elaborates.
Speaking of foundation, White says any good formula should be transfer-proof, whether it's matte or dewy. New York-based MUA Jonet Williamson suggests Kat Von D Beauty's True Portrait, a liquid-to-powder formula, and Bare Minerals' Original Liquid Mineral Foundation. Use a synthetic buffing brush to press makeup into the skin, followed by setting powder or spray, two holy grail products when it comes to a bulletproof face. Williamson cites Make Up For Ever's Ultra HD Microfinishing Powder and By Terry's Hyaluronic Hydra-Powder as must-haves. For clients with especially oily skin, she'll layer on Ben Nye Final Seal spray as an added touch. As for White, her secret to long-wearing makeup is Kate Somerville's setting spray. "It has been an essential in my kit around the world on tropical locations," she says. Mollie opts for Blue Marble by PPI, a professional product typically used on film and theater sets.
Wearing a face mask for prolonged periods of time means some amount of makeup transfer is inevitable. For on-the-go touch-ups, Mollie encourages packing blotting sheets, a sponge, a powder compact and concealer. If you'd rather not deal with the risk of makeup rub-off at all, White encourages taking the pandemic as an opportunity to focus on skincare, a choice that may, over time, eliminate your need for foundation in the first place.
White's advice may suit some, but there is an undeniable joy that comes with applying a full face of makeup from start to finish. For many, the practice has become a form of self-care in quarantine. Experimenting with cosmetics is a time to wholly focus on yourself, admire your beauty and get creative. Of course, the ability to dream up and execute full-on looks has been slightly hampered by the fact that most masks cover half the face. COVID-era beauty has pushed the eyes to the forefront, making now an ideal moment to dabble in bold eyeshadow and fluffy lashes.
To make your eyes pop, White recommends using highlighter in the inner triangle of the eye and on the middle of the eyelid (Mollie agrees). A pale yellow eyeliner applied to the waterline will help reduce any redness. Applying primer to the eyelid will help eyeshadow appear more saturated and vibrant — Williamson uses Urban Decay's Eyeshadow Primer Potion. "I like to wet my brush when applying shimmery shadows. It gives great color payoff and won't budge," she advises. Top off your look with a pair of false lashes for an extra-bold look. "It's a great time for a sexy, fluttering lash to catch a cutie with," Mollie proclaims.
---
Share this article