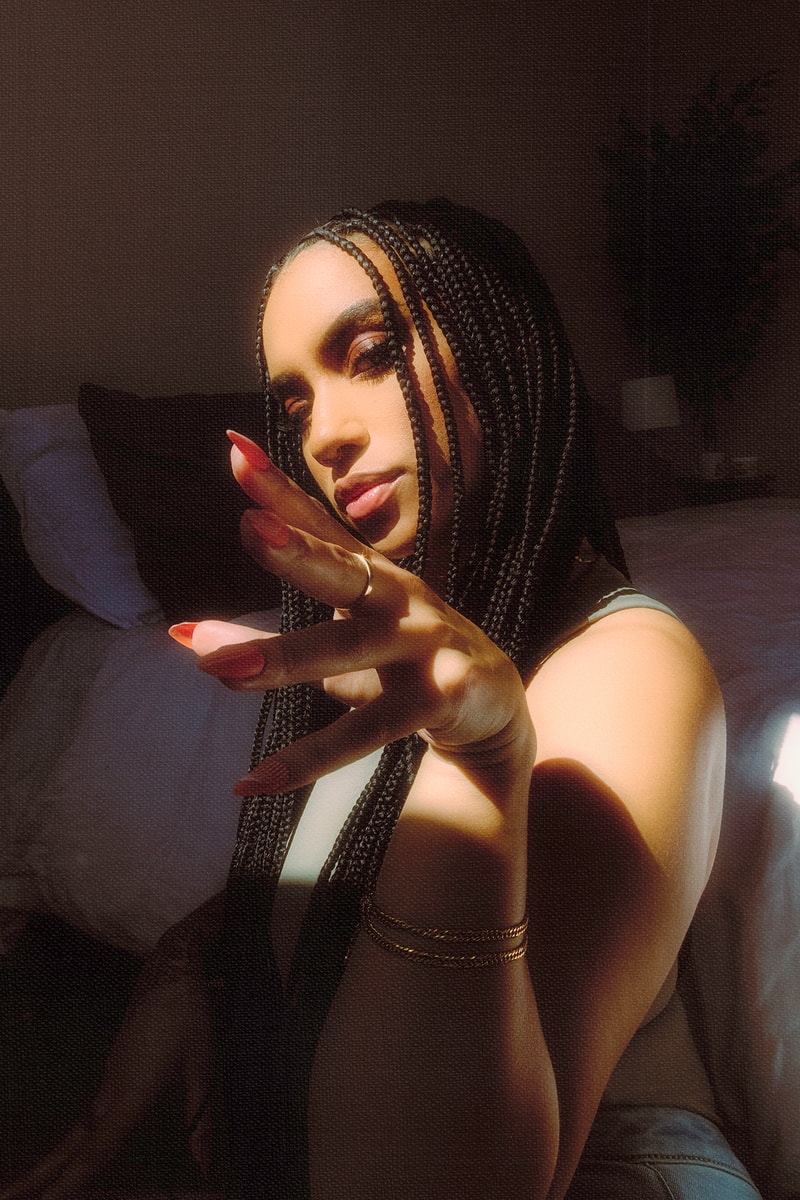 Pear Nova's Rachel James on Her Beauty Essentials and Building Her Nail Polish Brand
The Chicago-based entrepreneur shares her nail care secrets.
Beauty
Pear Nova's Rachel James on Her Beauty Essentials and Building Her Nail Polish Brand
The Chicago-based entrepreneur shares her nail care secrets.
Founded by Rachel James, Chicago-based beauty brand Pear Nova specializes in luxury, vegan nail products that celebrate all skin tones. Since launching her company in 2012, after she gained experience in beauty school and graduated with a degree in fashion merchandising around nine years ago, James has made it her mission to create a brand that combines her passion for both industries. Pear Nova boasts a wide range of nail polishes and luxe nail care products that encourage women to indulge in elegance. "Beauty is everything that is pleasing to your senses. My beauty standards are more about the experience and less about looks," James says.
From her nail care secrets to her definition of beauty, James talks to HYPEBAE about her journey as an entrepreneur and the making of Pear Nova in the latest installment of Beauty Essentials. Read on for our conversation as well as James' go-to skincare, makeup, body and hair products.
Rachel James' Beauty Essentials
Skincare
OLEHENRIKSEN Balancing Force™ Oil Control Toner: I tend to get oily around my T-zone. This toner gives my skin a squeaky clean, fresh feeling without making it too tight.
Trilogy Very Gentle Moisturizing Cream: I'm so in love with this that I use it year-round in the morning and at night. It has a medium to thick consistency and absorbs so well into the skin, making it plump but never greasy.
Drunk Elephant T.L.C. Sukari Babyfacial™ AHA + BHA Mask: If you want to upgrade your at-home facials, you need this. When I'm being faithful to my DIY facials, I use this once a week. There is a slight tingle, but nothing over the top.
Laneige Lip Sleeping Mask: At night, after I exfoliate my lips by gently rubbing my damp face towel across them, I slather this lip mask on. I lay it on so thick that my son [often] asks me where I'm going with pajamas on and shiny lips. The light vanilla scent is yummy and I wake up with the softest lips.
Fenty Beauty Pro Kiss'r Luscious Lip Balm: I'm a gloss girl, but I hate wearing lip gloss under my face masks nowadays. This balm is moisturizing, gives just enough shine and doesn't stick to the inside of my mask. I have all the balm shades Fenty Beauty offers.
Body Care
Kiehl's Creme de Corps Soy Milk & Honey Whipped Body Butter: I'm a sucker for luxurious body products, so I have to keep this one in my cabinet. The smell is godly.
L'Occitane Almond Smoothing and Beautifying Supple Skin Oil: This is another body product that just makes me feel and smell like I'm the rich auntie. The moisture this oil delivers is unmatched, and the scent is perfect for the days you don't want to wear perfume but you still want your scent to be noticed.
Makeup
NARS Soft Matte Complete Foundation: It's like a real-life blur filter and actually looks natural. I tend to stay away from full coverage foundations, but NARS nailed it with this one. The matte finish keeps my shiny T-zone in check all day.
Benefit Cosmetics Precisely, My Brow Pencil Waterproof Eyebrow Definer: On most days, I just like to focus on brows, lashes and lips. I love how easy it is to make realistic-looking hair strokes with this pencil. Add the Benefit Gimme Brow+ Tinted Volumizing Eyebrow Gel after and your brows will be the last one standing.
Nail Care
Pear Nova Glass Nail File: I love this nail file because it's gentle on my natural nails. Rough nail files tend to make small tears in the nails and can cause splits and breaks. Another plus is that it's easy to sanitize. Simply wash it with soap and water and let it air-dry.
Pear Nova Growth Green Tea Cuticle Oil: This has been keeping my nails and cuticles healthy, especially since quarantine started last year. I made a point to use it nightly and even without a manicure, Growth will have my nails still looking presentable.
Haircare
Pattern Edge Tool: I wasn't too blessed in the baby hair department, but I have to make sure the edges I do have are neat, especially when I wear my hair in a bun or braids. I'm a fan of Pattern's Edge Tool, because the bristles aren't too rough and it's a three-in-one tool. I was still using a toothbrush some months back, so this was the tool I didn't know I needed.
What inspired you to pursue a career in beauty, specifically in nails?
I've always been a nail polish fanatic since I can remember — giving manicures to my mom, my friends and even my baby dolls. It just felt natural.
How did your brand Pear Nova come to be?
It was my last week in college studying fashion merchandising. I had just presented a marketing plan for a fake nail brand and my professor told me I should go work for OPI. That day, I went home and googled, "How to create a nail polish brand?" I went on to hand mix the polish in my parents' basement and never looked back.
Can you walk us through the creative process when it comes to putting together a nail polish collection?
I used to feel pressured to create new collections every season. Now, I create only when I'm inspired. The light bulb can click at any time, but it mostly does while I'm traveling, listening to music, reading, admiring fashion or even just during conversations with my peers. I'm big on putting lists of ideas in my notes on my phone. When I feel something sticks, I go with the flow and attempt to share what I've experienced through a color palette. My favorite part is naming the nail shades. My sister-in-law and I will normally sit with the colors over drinks, figure out the story they are telling and say different names until we both agree.
What are some nail care tips and tricks you live by?
Cuticle oil is my nightly go-to. We have a green tea oil that not only smells lovely, but it also keeps my cuticles, surrounding skin and nails healthy.
In what ways does Pear Nova stand out from other brands?
We're meshing beauty and fashion into a simple accessory that can be used as plainly or loudly as you'd like. We're also making sure the health and quality are just as important as the pretty colors. Lastly, we're celebrating all skin tones.
How would you describe the beauty scene of Chicago?
I think Chicago gets slept on when it comes to beauty, but a lot of the female owners and brands defining beauty are from or based here, including Ulta, Luster Products, KNC Beauty, Mielle Organics, H2O+ and Pear Nova just to name a few.
Do you plan on expanding your brand and making it available in other countries anytime soon?
Yes. We plan to offer shipping to Canada this year.
How important is it for Pear Nova to engage with and give back to its community? Are there any upcoming initiatives you can tell us about?
Extremely important. For the month of May, Mental Health Awareness Month, we will be hosting live mental health talks, donating a portion of proceeds to a Chicago-based mental health awareness program and offering giveaways. I'll also be sharing my journey on entrepreneurship, motherhood and mental health. In the past, we have supported domestic violence awareness survivors by inviting them into Pear Nova studio for fellowship, free services and support.
How has your skincare and makeup routine changed since becoming a mother?
I became a mom a little over 13 years ago, so my beauty routines have changed a lot since then. As a new mom, I didn't have a routine — finding time to shower every day was the goal. Now that my children are older, I'm able to set aside time for things that are special to me. I play with makeup way more now than when I had babies.
How do you interpret the concept of beauty?
Beauty is everything that is pleasing to your senses. My beauty standards are more about the experience and less about looks: familiar smells from my childhood, loud belly laughs, the sun's heat on my skin, food that makes me dance in my seat and conversations that shift my way of thinking.
What are some projects you're working on this year that you can share with us?
We're launching Pear Nova self-care products at the end of May along with new classic, gel and nail care products this summer.
---
Share this article