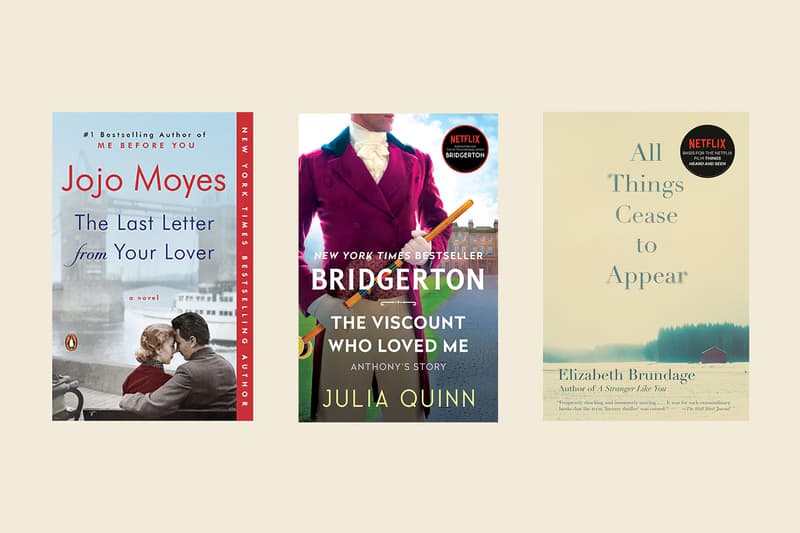 Culture
9 Books That Are Being Made Into Netflix Shows and Movies
You might want to pick up these novels after a binge-watching session.
9 Books That Are Being Made Into Netflix Shows and Movies
You might want to pick up these novels after a binge-watching session.
World Book Day (April 23) is almost upon us, and what better way to celebrate than to add a few new novels — and might we suggest titles that have been adapted for Netflix — to your home library? The streaming platform has been picking up a number of novels and reimagining them into TV series or film adaptations. Some noteworthy projects include You, The Queen's Gambit and Bridgerton, three popular shows that have earned the steaming giant millions of views and have even increased book sales.
Below, see a list of upcoming Netflix shows and movies based on books such as Shadow and Bone by Leigh Bardugo, All Things Cease to Appear by Elizabeth Brundage, The Woman in the Window by A.J. Finn and more. Read on to discover literary works worth reading after a binge-watching session. ​
While you're at it, here are some of the best books to read in 2021.
Shadow and Bone by Leigh Bardugo follows teenage orphan Alina Starkov who grows up in a Russia-inspired land called Ravka. When her best friend gets into trouble, Alina unleashes a power she never knew she had, changing her fate forever. 
Release Date on Netflix: April 23 | Trailer
The Clares family have moved into their new home in the small town of Chosen, New York. Little did they know that their current house, a former dairy farm, is haunted by a sinister darkness.
Release Date on Netflix: April 30 | Trailer
Anna Fox lives alone in her home in New York City and suffers from agoraphobia due to a traumatic car accident. However, things take a turn for the worse when the Russells — a father, a mother and their teenage son — move in next door. One evening, Anna witnesses something horrific from her window, causing her to go question what's real and what isn't.
Release Date on Netflix: May 14 | Trailer
Bridgerton, Netflix's latest hit, is set to return to the streaming platform for seasons two, three and four. Season 2 will be based on Julia Quinn's The Viscount Who Loved Me, centered on Anthony Bridgerton who is searching for a wife. The problem is, he can't seem to get Kate Sheffield off his mind.
Release Date on Netflix: TBC
Set in two different timelines, The Last Letter From Your Lover tells the story of Jennifer in 1960 and journalist Ellie in 2003. After a tragic car accident, Jennifer wakes up in the hospital and can't remember a thing. However, after coming across a letter at home signed by "B," asking her to leave her husband, Jennifer slowly starts to recall her secret affair. Fast forward to 2003, Ellie discovers the letters in her newspaper's archives and becomes captivated by Jennifer and B's story.
Release Date on Netflix: TBC
Picking up where the sequel left off, Elle spends her summer at her family's beach house with her boyfriend Noah and best friend Lee after graduating high school. Elle must also make an important decision: to go to Harvard with Noah, or UC Berkley with Lee.
Release Date on Netflix: TBC
After moving on from Love Quinn, Joe lands a job at the local library where he meets librarian Mary Kay DiMarco. Having decided that he is done with his old tactics, Joe tries to win Mary over the old-fashioned way despite her being a mother with a busy schedule — but you know what they say, old habits die hard.
Release Date on Netflix: TBC
Nightbooks by J.A. White is a modern take on the story of Persian queen Scheherazade from One Thousand and One Nights, a collection of Middle Eastern folk tales. Imprisoned by a witch named Natacha, Alex must tell her a new scary story every night in order to stay alive — but will he have enough to satisfy the witch's needs?
Release Date on Netflix: TBC
Maid, a New York Times bestselling memoir, highlights the life of author Stephanie Land. At the age of 28, Stephanie wanted to attend university and become a writer. However, all her life plans changed when a summer fling turned into an unplanned pregnancy.
Release Date on Netflix: TBC
Share this article