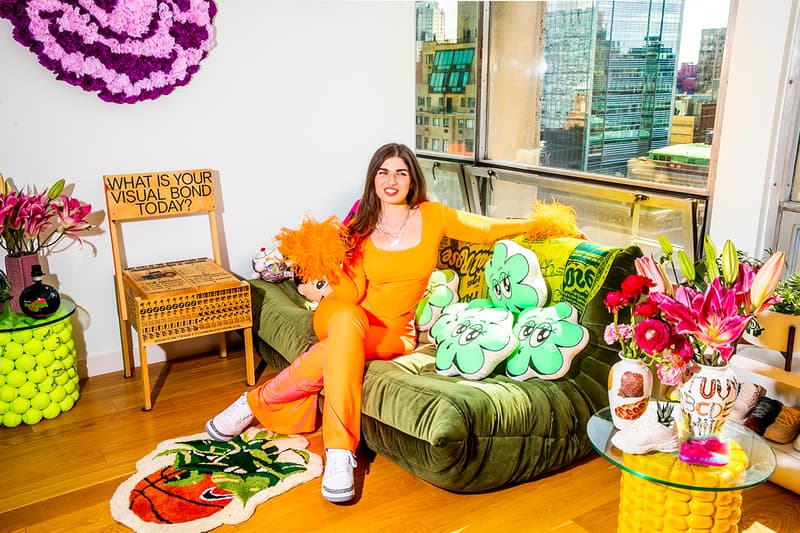 Home
Tour the Eclectic New York Apartment of Olivia Rose, Artist and Founder of Original Rose
Filled with classic furniture and self-designed homeware, the space almost feels like a gallery.
Tour the Eclectic New York Apartment of Olivia Rose, Artist and Founder of Original Rose
Filled with classic furniture and self-designed homeware, the space almost feels like a gallery.
HYPEBAE Home Tour is a series that takes readers inside the homes of tastemakers and creators from around the world. Beyond showcasing the unique character and design of each abode, through conversations and interviews, the series also highlights the creative endeavors of the homeowners.
For the second installment of the series, plant design studio Original Rose founder Olivia Rose takes HYPEBAE inside her playfully decorated NYC home and shares her favorite objects in the space — from timeless furniture, to sneaker-shaped vases designed by herself.
Upon entering the apartment of New York-based artist Olivia Rose, it's hard not to be charmed by the whimsical, creative energy of the unit — after all, the home doubles as a working space for the Original Rose designer. Like a mini art gallery, Rose's stylish pad offers a glimpse inside her innovative mind, with cheerful homeware pieces — many of which are designed by Rose herself — filling the brightly lit living room. Among these decorative objects, unsurprisingly, are two upcycled, hanging basketball planters — a signature Original Rose design that the artist first created back in 2017.
Inspired by the everyday life of the city she grew up in — by her trips to the corner stores, to the basketball courts and to the parks — Rose began experimenting with any material she happened to have on hand. That was four years ago, when the designer used to work on landscaping for high fashion brands and modeling agencies, while doing another job focused on urban design and planning. "In New York, even the most mundane things can turn spectacular, so I started playing around and making planters with dead basketballs I found on the streets," Rose says, reflecting on the beginnings of her brand. When Rose's friend and owner of Chop Suey Club, Ruoyi Jiang, invited her to host a pop-up at the boutique on her birthday, it finally pushed the artist to create her first range of products — including her now-popular planters. "These are objects that have really resonated with people, and I think it's because I'm taking ordinary things and re-contextualizing them, making them fun, playful and hopefully beautiful."
As Rose's project continues to evolve (the brand has even welcomed a new name and identity this year), her collection of handmade vases has also expanded. On a neatly arranged bookshelf in her home, you'll find planters arriving in fashionable shapes of footwear and accessories like the Nike Air Force 1 and Prada logo plaque bucket hat. With her aesthetically pleasing creations, Rose says the ultimate goal is to make the plant world more accessible to everyone, and in the process, introduce the spirit and drive of New York to the plant world.
Below, we talk to Rose about building and growing with Original Rose, fellow independent NYC designers whose work she admires, as well as inspirations for her home interiors.
What did you envision your brand to be in the beginning, and how has it evolved over the last few years?
When I first started the brand, I wanted plants and flowers to take center stage in popular culture, be more widely accessible [especially] to a younger audience who may not have a garden or a private outdoor space. I distinctly remembered walking into the big Nike store in SoHo and saying, "My plants are going to be in this store." Within a few months, I hosted my first workshop there.
Now, I'm allowing my brand to speak true to all my passions, which are really embedded in the creation and tactile nature of a project. I am working on creating a line of DIY kits for all different home goods and accessories. I want to keep reinventing my brand and don't want to be stuck creating the same things and doing the same approach.
With a new name and a revamped website, Original Rose is embracing a fresh start. What are you most excited about this next chapter of your brand?
We love a fresh restart! I feel like I don't need to stay in a box of what Bodega Rose was, or any expectations of what my brand is. Sometimes, we slip and design ourselves into a box and think we need to live up to this identity. Having this new chapter makes me feel unbound and free to explore all things that drive me. I'm most excited to teach and share how to make things. My greatest happiness is when I'm creating and I want to share that with others. I also want to continue to push material use and venture into more home pieces.
Socially conscious home design has become more appealing than ever, as consumers seek out brands that align with their values. How does social responsibility factor into your work, and why is that important to you?
Understanding the craft of your work allows you to make the best practice choices. It's important to me to keep everything [made in] small batches. I know where all my materials are sourced from, who makes them, and I am always reusing and upcycling materials as much as possible. I'm drawn to creating items that serve multiple purposes as well. Most of the items I create are made with secondhand materials.
You're born and raised in New York City. How does this place, its energy and the people here inspire you even amid these challenging times?
New York will always be the most fabulous place with the most incredibly resilient people. The way New Yorkers rally and make things happen for ourselves even in the face of incompetent politicians, closing businesses and a pandemic [is admirable]. We don't wait for anyone to save us. We band together and make sh*t happen. I think New York will usher in a new era of creativity which it's been in need of for a while. New York had become overstuffed with bank chains and Starbucks. As rent prices drop, there's finally opportunity for a new emergence of small businesses again. I'm hopeful for it.
What does "home" mean to you?
I see home, at least my home, as a revolving stage. When I wake up, it becomes my favorite café. By 9 a.m., it's a pilates studio; by 11 a.m., it's a photo studio; and by 3 p.m., it becomes a library. I see my home as a transformative space that allows me to be inspired and create freely. I keep very animated and fun pop pieces in my home to keep me happy. They make me laugh and smile — when I enter my space, I'm immediately pepped up. I also have incredible light, which is a very hot commodity in New York. I love my floor-to-ceiling windows and looking out into the city without being seen.
How do you decorate your space? 
My approach to design for my home is storytelling and creating characters. I set an intention for the design, develop a dynamic story around that and from there, the character lends itself to design choices. I love mixing materials and found objects, bright and bold colors, and drawing inspiration from many eras and fields of work.
What are some of your favorite items in your home? 
Togo sofa: I love my green velvet Togo sofa. I wanted a very non-fussy sofa that would be very casual, and be a more structured bean bag lounger that I can plop on while I do my crossword puzzle. It is so easy to slide and move around when I need to rearrange my space. I want to be ensconced in velvet!
My air fryer: Obsessed. A must-have item for everyone. Why does everything taste so delicious out of the air fryer? I got the smallest, cheapest one and it's absolutely perfect. Everything comes out so crisp and cooks in minutes. I'm currently going through a spaghetti squash cacio e pepe phase. I pop my vegetables in there and pouf — a fantastic healthy meal. It's effortless and makes me feel like I can conquer the world.
Tennis ball side table: In 2019, I made a tennis ball ottoman for my FILA collaboration in Japan. Ever since then, I had been craving a tennis table for the house. From the color, to the texture, to the shape, tennis balls are so enticing. I love a good sport ball. I was able to purchase used tennis balls from the USTA tennis tournament. Tennis balls cannot be reused for tournaments and they get warehoused and sit. I bought 200 tennis balls and assembled the table over an afternoon and added a glass table top.
Hello Kitty Sweet, Happy, Fun Book!: My building has a community library and I always have a revolving door of books that come in and out of my apartment. I found Hello Kitty Sweet, Happy, Fun Book!: A Sneak Peek Into Her Supercute World, and anytime I feel down or uninspired, I can flip through the pages and go through the top Hello Kitty collaboration over the last 40 years. It's very inspiring. I think Sanrio is one of the strongest brands. You know exactly what kind of music Hello Kitty would listen to, what she would smell like, what kind of snack she'd make herself and everything in between. To create such a rich fantasy world is what I aspire to do.
Original Rose vases: I am obsessed with my Original Rose vases. Every Monday, I wake up early to go to the market and buy flowers for all my vases. I always need to be around fresh cut flowers, especially those that give my apartment a strong perfume scent. My vases bring me such joy. I think as a designer, it's important to love what you make, or else it's like, what are you doing? Why are you bringing this into the world? The Louis Vuitton vase is absolute perfection, I'm still in awe of it.
What are some homegrown, independent homeware designers or businesses that you think everyone should know?
Coming Soon: This New York store has the most fun curation of gifts, homeware and furniture.
abc carpet & home:  An institution. I love walking through the floors of this store to see how they mix new furniture with vintage and reworked materials.
Manila Mixtape: He can make you any mirror your heart desires.
Fatima Nieto: Another artist to follow for beautiful custom mirrors.
Delphine Dénéréaz: I came to know her work through a collaboration we did with Gucci. She makes the most incredible tapestries.
Victoria Rose Adrian: Her rugs are absolutely phenomenal and her skill level is unparalleled.
Olivia Rose's Wish List
A work table: I need to make a great, big work table. I've been using a foldable table to work at for over a year, but have recently invested in some tools and equipment that need a larger and more stable table. I haven't seen anything in the market that fits my needs, and I generally try and make things myself before looking to purchase.
Vintage mugs: I'm starting to collect vintage mugs. They are truly the T-shirts of the homeware world. They're rather inexpensive and are a snapshot into a time, place and moment — I love it. I do deep eBay perusing and if I'm feeling crazy, I go on other countries' auction websites (proxies are everything!).
Share this article