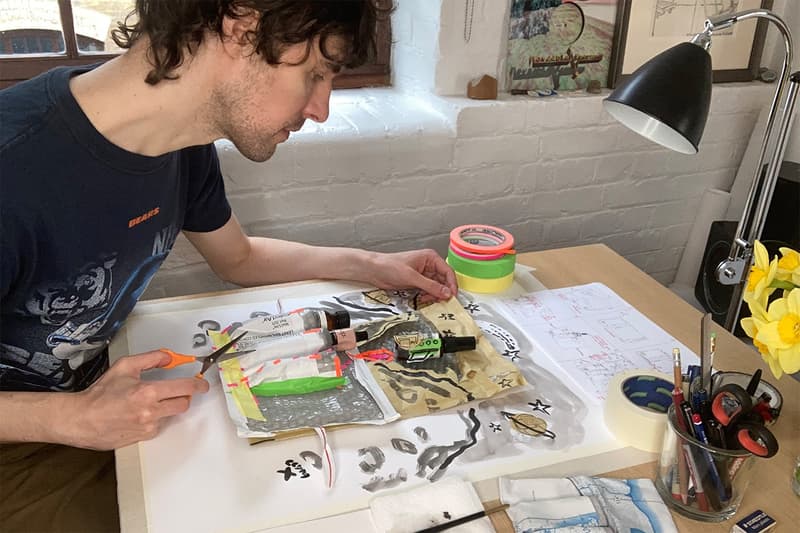 Beauty
Aesop and RÆBURN Tap Global Artists To Rework Custom Care Kits
The Adventurer Roll Up becomes the artist's canvas.
Aesop and RÆBURN Tap Global Artists To Rework Custom Care Kits
The Adventurer Roll Up becomes the artist's canvas.
To encourage the practice of reclaiming materials in our own homes, the global skincare brand Aesop has come together with British responsible fashion designer Christopher Raeburn of RÆBURN to give our hands some much-needed relief from frequent exposure to harsh sanitizers. The collaboration now invites artists from the UK, Japan, South Korea, Hong Kong and China to rework their own custom Adventurer Roll Up, showcasing their distinct approach to sustainable design.
Award-winning artist and art director Clym Evernden garnered acclaim for his signature ink-based aesthetic, leading to partnerships with the likes of Christies and Hermès. For this project, Evernden creates a space-inspired pouch — "The inspiration for my Adventurer Roll Up first started when I saw the incredible photos taken of Mars this year by the NASA Perseverance Rover."
The other four designers bring their unique disciplines to the sustainable mission. Following the store transformation project in NeWoman Yokohama, the Japanese indigo dyer and farmer BUAISOU used its production scraps to recreate the Adventurer Roll Up with the upcycled and natural ingredients colored in the company's signature indigo dye. Describing the process "First, overlock sew the edges and scour in the boiled natural wood ash water. After that, it will be dyed with indigo (all ingredients are natural) and sewn, and the string will be colored with boiled indigo stems that are discarded in the process of making indigo dye 'Sukumo'."
South Korean, Jeju Island-based illustrator Kwak Myeongju covers the pouch with her trademark line drawings with the theme of going back to nature in memories, telling a story about the inspiring experience from her childhood living in the natural world. "I was born in a rural town where I could reach mountains as well as green fields all the time and live with a variety of trees and tiny animals." Myeongju continued "This inspiring experience reflects on the pouch I have re-created and I used old fabric I have kept for a long time."
Hong Kong-based upcycling advocate and designer, Toby Crispy remains true to form by also utilizing recycled fabric, adorning the pouch with natural collectives such as dried bark, leaves and flowers –"Making things with heart are worth seizing every opportunity for more people to see and appreciate, or to be passed on for generations." Whilst founder of the architectural office, archive, Shanghai-based Shen Li explores various possibilities among materials to create an industrial-inspired Roll Up constructed from the unused materials found in the architect and photographer's studio — "I hope we can inspire others to create their own one with unexpected materials."
The Adventurer Roll Up Travel Essentials Kit features a custom carry pouch by RÆBURN, containing three of Aesop's hero hand products: Resurrection Rinse-Free Hand Wash 50mL, Resurrection Aromatique Hand Balm 75mL and Resurrection Rinse-Free Hand Mist 50mL, arriving in recyclable PET plastic containers. The Adventurer Roll Up, available in navy blue, is made from pre-consumer recycled cotton with prominent dual branding on its taped fastening. The limited-edition RÆMADE Adventurer Roll Up is handcrafted using original reclaimed 1960s aeronautical navigation maps with only 300 units available.
For those interested in creating their own Adventurer Roll Up, the open-source pattern is available for download from the Aesop and RÆBURN websites. The Adventurer Roll Up is available for purchase on Aesop's website, retailing for $65 USD with the limited-edition RÆMADE Roll Up available exclusively on HBX for $93 USD tax excluded.
Share this article