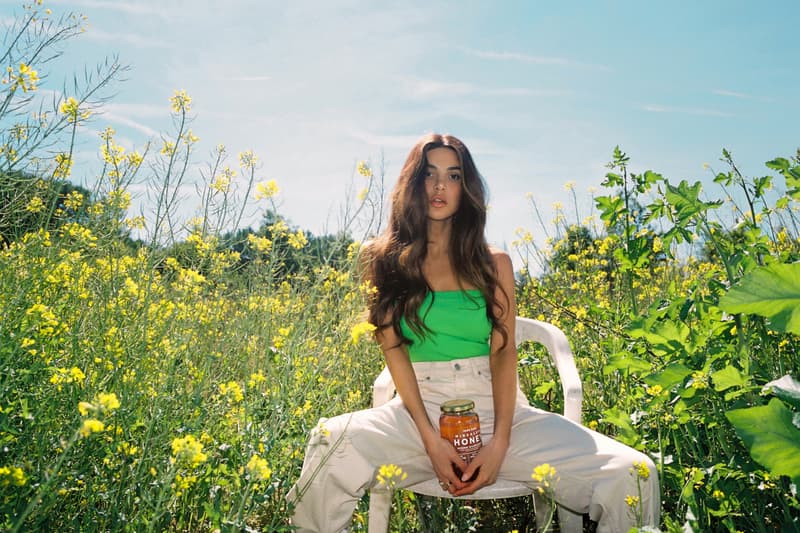 Beauty
Gisou Is the Honey-Infused Haircare Brand Changing the Game
We spoke to founder Negin Mirsalehi prior to the label's UK launch.
Gisou Is the Honey-Infused Haircare Brand Changing the Game
We spoke to founder Negin Mirsalehi prior to the label's UK launch.
The COVID-19 pandemic means we've all spent a significant time at home, and some of us have focused on nourishing our hair back to health after highlights, bleaching and coloring. Now that we're slowly and surely re-entering the world, we need to maintain the health of our hair, and that's where Gisou comes in.
Funded by Negin Mirsalehi, Gisou has become a cult-favorite brand for everyone looking for top-tier products. Growing up, Mirsalehi's mother was a hairdresser and her dad a beekeeper, and after years of using honey for the hair, Negin's mother created a honey-infused Hair Oil which is now Gisou's hero product.
Ranging from shampoo and conditioner to hair oil and hair perfume, honey used in Gisou products all comes from the brand's own Mirsalehi Bee Garden, and contains a blend of minerals and vitamins. The brand is now launching in the UK, and prior to its launch, we had the chance to try out some of the products as well as speak to founder Negin Mirsalehi about her own routine, challenges she's faced and more.
Keep reading for our full interview.
Do you think the pandemic and lockdown made us more aware of hair care?
I definitely think the pandemic and lockdown have made us more aware about a lot of things, including the way we take care of ourselves and our hair. Personally, lockdown gave me more time off from travel, which gave me more time at home to spend on masking, trying out different DIY hair styling techniques, and sharing tutorials to care and style your hair with my audience through Instagram and Tik Tok. It's via these platforms that I noticed I'm not the only one spending more time on my hair! I get so inspired on a day-to-day basis by the haircare tips, tricks and how to's I see from other users.
What are the key steps to finding a good hair routine?
A healthy haircare routine involves being gentle on your hair, protecting it from daily exposure to heat styling tools and UV light with a heat protectant (like our Gisou Propolis Infused Heat Protecting Spray), and nourishing it with lots of moisture and antioxidants (like our Gisou Honey Infused Hair Oil does). Above all, limit washing your hair to up to 3 times a week. When you do wash and condition, use a sulfate and paraben-free shampoo and conditioner (like our Gisou Honey Infused Hair Wash and Conditioner). Lastly, I recommend treating your hair to a hair mask 1-2 times a week (like our Gisou Honey Infused Hair Mask).
How has your routine changed/developed since launching Gisou?
Since launching Gisou, I have become even more diligent about my haircare routine. One perhaps more obvious change is that my routine is now full of Gisou products! I use our first-launched product, the Honey Infused Hair Oil throughout the day to nourish my hair, tame frizz and add shine. I also sometimes add it to our Honey Infused Hair Mask for a double dose of honey. The Honey Infused Hair Oil is the multipurpose haircare staple I recommend for all hair types – it nourishes and hydrates hair to the core, repairing damage and split ends. The key ingredient: Mirsalehi Honey from my father's bee garden. Honey is an antioxidant-rich natural humectant that will bind moisture to your hair to keep it hydrated! Because I believe so deeply in the power of honey, Gisou has a full line of Honey Infused products – all focused on nourishing from the inside out. The key ingredient in our Propolis Infused styling line is Mirsalehi Propolis. Propolis is produced and used by bees to strengthen the walls of the beehive. Due to its strengthening properties, propolis is nature's best-kept secret for an optimized styling routine. For instance, before going out in the sun or heat styling my hair, I use the Propolis Infused Heat Protecting  Spray, which has a UV filter to protect against sun damage. Another essential is our Propolis Infused Polishing Primer, just one pea-sized amount is all you need to enhance hair texture and definition, maximize volume and prevent frizz and dehydration post-styling. Then there's our Honey Infused Hair Perfume, which refreshes and scents my hair with our signature Honey Infused fragrance. I'm also a devoted user of our Honey Infused Hair Wash and Conditioner, which we launched a few years ago after carefully formulating it without sulfates and parabens.
What has been the biggest challenge growing and scaling Gisou? How does it feel to have an international presence?
Going into launching Gisou as new founders, we didn't have much of an idea of what to expect. Neither Maurits nor I had ever launched a company before, let alone a beauty brand. It's been the greatest adventure of my life! And, to have met all the milestones we've had and to be able to interact with a community that is just as passionate about our products as we are – it's the most humbling and satisfying experience. Don't get me wrong, launching and growing Gisou has involved countless hours of work, but it's so worth it!
What are you most excited about for the coming months?
Where should I start? I'm so excited about all of the different projects we're working on, I truly can't choose. The community initiatives that are especially close to my heart are those centered around our mission to raise awareness for the importance of bees. For bee season this year, all orders placed via Gisou.com will include our Wildflower Seeds, so that our community can grow bee-friendly flowers and support the honey bee-like cycle with us. I gain so much joy and pride from seeing our community share their growing wildflower gardens with us. All I can say is that there is a lot more to come. For now, I'm just really excited about launching Gisou for the first time in the UK, exclusively at Selfridges!
Share this article