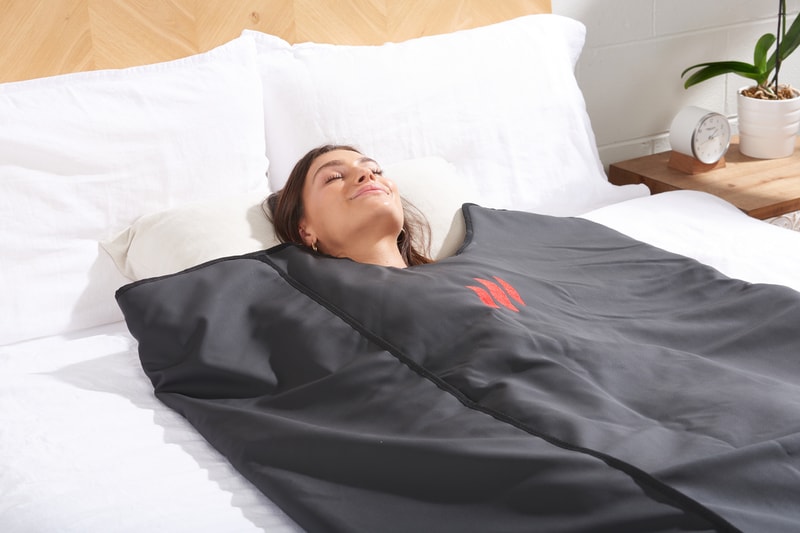 Culture
I Tried an Infrared Sauna Blanket—Here's What I Think of the Sweaty Health Trend
An editor puts the MiHIGH Infrared Sauna Blanket to the test.
I Tried an Infrared Sauna Blanket—Here's What I Think of the Sweaty Health Trend
An editor puts the MiHIGH Infrared Sauna Blanket to the test.
Infrared saunas are hot, literally and figuratively. In 2016, Vogue posed the question: "can an infrared sauna change your life?" (Yes, the publication suggests.) Infrared rooms have become a fixture at spas and gyms, including the ever-popular Equinox. Wellness spots that specialize in the infrared experience are found across New York City and Los Angeles, from Brooklyn's HigherDOSE to Santa Monica's Shape House. Celebrities including Jennifer Aniston and Lady Gaga sing the praises of infrared heat.
While traditional saunas heat the air, infrared saunas use — you guessed it — infrared heat to generate warmth within the body, helping users sweat more at lower temperatures. Proponents also claim that infrared heat is incredibly detoxifying, as it boosts the amount of toxins expelled from the body in sweat (more on that later). Glowing skin, better sleep and reduced joint pain are among the additional benefits that reportedly accompany regular infrared sauna use.
Of course, COVID-19 stifled the sauna craze — a hot, sweaty room isn't exactly the most appealing place to be during a pandemic. Enter the rise of the infrared sauna blanket. Essentially an electric blanket that swaddles users in a cocoon of infrared heat, the product is an easy way to reap the benefits of a sauna without leaving home. As someone who has dabbled in sauna use and found the experience surprisingly relaxing, I decided to give the heated blanket — specifically, the MiHIGH Infrared Sauna Blanket — a shot. Keep reading for my take on the buzzy health product.
How does the blanket work?
MiHIGH's blanket is electrically operated — it comes with a controller that you plug into the wall. Using the controller, you can adjust the temperature level of the blanket anywhere from 95 to 165 degrees Fahrenheit (the company recommends starting out at level 4, or 120 degrees) as well as the duration it stays heated. Once you choose your desired setting, simply climb inside the sleeping bag-like apparatus and relax — it begins heating up immediately and reaches peak temperature quickly. Before using the blanket, which you can place on any heat-resistant surface including the floor or your bed, be sure to read MiHIGH's accompanying booklet of safety precautions. The rather long list of measures stipulates wearing long-sleeved workout clothing, with socks, while using the blanket. Users must also remove all jewelry before jumping in.
What does the blanket feel like?
You'll feel like a toasty hot dog wrapped in phyllo dough, slowly baking in an oven. It's a zen experience, especially when paired with music or your favorite podcast. I tried the blanket at heat levels 4 and 5 — surprisingly, my forehead and neck didn't get as sweaty as they usually do in a sauna, leading me to wonder whether I was actually sweating at all. (Was I dehydrated? Was the blanket broken?) However, when I emerged from the steamy shell, I immediately noticed my leggings and top were soaked. Ostensibly, I couldn't feel myself sweating because my clothes immediately absorbed any moisture that leaked out of my body. As the cool air hit my soggy thighs and swampy armpits, I felt…exhilarated. Was this the sweat-induced "high" MiHIGH so cleverly refers to into its name?
Did the blanket improve my skin? Did I lose weight? Did I detox?
Though some people attribute their smooth skin and boundless energy to the power of infrared heat, I cannot report the same. Perhaps I would emerge healthier if I used the blanket more frequently, but I'm not sure I'm ready to do so — science does back up the claim that infrared saunas can help with chronic joint pain and high blood pressure, as well as improve heart health, but there isn't much evidence that they aid with weight loss (a frequently cited "benefit") or detoxification (no, infrared heat does not make you sweat more toxins).
For those who frequently patronize infrared saunas, MiHIGH's blanket could be a money-saving option. Spas and gyms can charge as much as $65 USD for a 60-minute session so, over time, MiHIGH's $499 price tag could end up paying for itself (that being said, $499 is a substantial out-of-pocket cost). The blanket might also be helpful for sufferers of chronic pain, which infrared heat is said to alleviate (of course, you should talk to your doctor first). Personally, I'll stick to plain old exercise to get my health kick.
MiHIGH's Infrared Sauna Blanket retails for $499 USD at the MiHIGH website.
---
Share this article