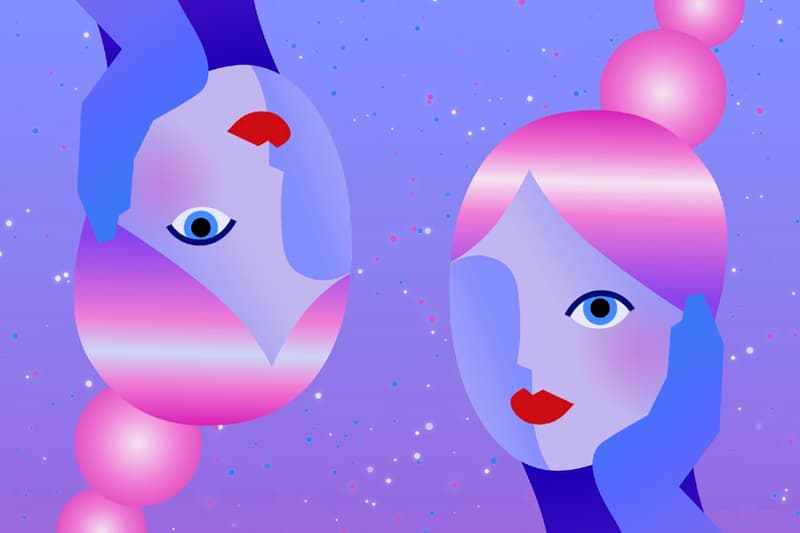 Culture
Zodiac Love Compatibility: The Signs That Go Well Together in Romantic Relationships
Astrologers discuss whether the "perfect match" exists.
Zodiac Love Compatibility: The Signs That Go Well Together in Romantic Relationships
Astrologers discuss whether the "perfect match" exists.
Many of us have — at least once in our lives — googled whether the person we're interested in dating, or currently in a relationship with, is compatible with our zodiac sign. While astrological compatibility is often reduced to questions like, "Is my lover's Sun sign compatible with mine?", according to Oromoon's resident astrologer MaKayla McRae, it is far more complex than that.
When it comes to determining the compatibility of a pair of signs, astrologers consider both individuals' entire natal chart, including the couple's personal planets and how they match or mismatch. "Sun (identity), Moon (disposition), Mercury (communication), Venus (love language) and Mars (chemistry) are the baselines to consider," McRae shares with HYPEBAE.
Oromoon's founder and CEO Stephanie Whaley Vinitwatanakhun further explains, "One main priority when pairing individuals is to understand their motivation via their romantic and platonic preferences. This includes synastry and composite charts that do not determine but rather aids the dynamism that is destiny." For those unfamiliar, synastry charts are a comparison of two charts and how each participant influences the other, while composite charts reveal the midpoints between two people and focus on the dynamism of the relationship itself.
"The descendent is another educating sign in astrology that helps us discover what we seek in our partnerships, the elements missing from our own identity (our shadows), and the complements to our identity that we command in relation to our intimate commitments," Vinitwatanakhun adds. "With descendent signs, opposites very much do attract."
Other factors taken into consideration when pairing potential partners, whether platonic or romantic, are various transits and planetary aspects. "One of our favorites is one's Saturn Return, where karmic lessons of responsibility challenge you to understand what works and what does not, ultimately preparing you for the next phase of your life," says Vinitwatanakhun. This new chapter opens the door to newfound commitments and stability, "while reinforcing the innate authenticity in who we are and what we are destined to create on Earth."
Below, Vinitwatanakhun and McRae break down which signs are considered the most compatible. Read on to find out the best signs to date each other.
While you're at it, here are some major dating predictions for all zodiac signs in 2021.
The Most Compatible Signs
Earth (Capricorn, Taurus, Virgo) and Water (Pisces, Cancer, Scorpio): A garden with plenty of water and nurturing not only thrives but survives.
Earth and Earth: An abundance of soil creates the blueprint for an ever-expanding garden.
Water and Water: Every drop in the ocean counts.
Air (Aquarius, Gemini, Libra) and Fire (Aries, Leo, Sagittarius): Fan the flames – the bigger the fire, the bigger the heart.
Air and Air: Let your dreams get carried away with a gust of fresh air.
Fire and Fire: The illumination of fire allows us to see more clearly.
Does Being Compatible Equate to a "Perfect" Relationship?
Compatibility is in the eye of the beholder. Two partners can be compatible on paper, yet perhaps the timing prevents these two incredible matches from deepening such a connection. The notion of perfection does not exist, in fact, it's the beautiful imperfections (in astrology and beyond) that bring two people closer together.
Astrological compatibility is strengthened when you ask the following of yourself, how much effort and investment are you willing to nurture for your relationships? Instead of subscribing to the notion of falling in love, I believe in surrendering to it. Love is a choice, and we're here to help complement your journey of putting in that beautiful work. After all, we believe genuine connections are fostered through self-discovery and reflection. Matchmaking is not only about finding your match through the stars, it's also about making space to understand just what that entails.
The Least Compatible Signs
The least compatible zodiac signs would be signs that are not complementary elements. Fire and Air get along well with one another, while they may be more apt to find obstacles connecting with Earth or Water signs. That means that Fire and Air signs (Aries, Leo, Sagittarius, Gemini, Libra and Aquarius) are more likely to be incompatible with Earth and Water signs (Taurus, Virgo, Capricorn, Cancer, Scorpio and Pisces).
Can Two Signs Make It Work Despite Their Differences?
Contrary to popular belief, difficult aspects are opportunities to understand the strengths and challenges of two charts and how to nurture them. "Come as you are," and the rest will flow naturally. It's rewarding to acknowledge that healthy, sustainable relationships have their fair share of conflicts, for this is where each is invited to grow and heal with one another. That's truly where the magic happens when both individuals hold space to heal and grow together, even when times get tough. And remember, life is tough but so are you. The experiences and lessons we learn from our relationships, past and present, are worth noting for they have shaped us to be the resilient individuals we are today.
Share this article