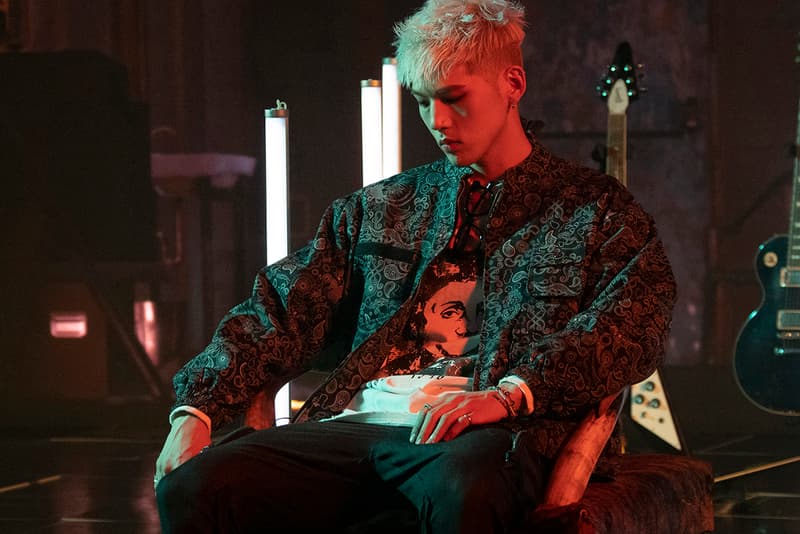 Music
BM Shares What To Expect From His Upcoming Single Album, 'The First Statement'
Fresh off the release of "Broken Me," the Korean-American rapper talks to HYPEBAE about his solo project.
BM Shares What To Expect From His Upcoming Single Album, 'The First Statement'
Fresh off the release of "Broken Me," the Korean-American rapper talks to HYPEBAE about his solo project.
"The name of the album, I'ma drop it here first, is The First Statement." The first statement of an artist's career is the most important, Big Matthew says matter-of-factly. Also known as BM, the Korean-American rapper is an open book. He's been known to speak his mind, crack jokes, and is just as liked for his heavy-hitting verses as he is for his big personality and giving heart. After creating the notorious "Big Tiddie Committee," a cohort of idols who like to work out, he dropped a corresponding merch line to donate to Breast Cancer Research Foundation with his clothing line Staydium. The musician has also been a huge contributor to his group KARD's discography, and now, after another member J.Seph is enlisted in mandatory military service, he's geared up for a perfectly timed solo debut.
The last time I interviewed BM, he and his co-ed group, a unique force in an industry dominated by single-gender acts, were promoting their Way with Words single album. When the Zoom call connects, he immediately recognizes me, making small talk before we dive into the music. Sipping on water, relaxing on a couch, there's a clear sense of comfort and a laid-back energy that can be hard to find in idols. Still, when it comes to the moment he's been working on since August 2020, he harbors the same excitement and anticipation most idols do.
Detailing the album drop, he explains, "The EP is going to be a triple-single. It's going to consist of three songs and they all have a very different vibe, so they contrast each other heavily. We have rock, we have hip hop, and we also have a deep house song as well." Though the project covers a wide range of genres, BM had to narrow down from a bigger pool. "I wrote some [songs]. I got some beats from other producers. Also, you know, just sending DMs — like 'Aye, you're a producer. Let's work. Let's try this.' I was able to gather around seven songs, but within the label, we cut it down to three." Despite loving everything he's created, BM is confident in their picks.
He breaks down each song, labeling the pre-release as the most emotional. "I feel like the rock song, "Broken Me," touches upon a more intimate, hurt BM. I feel like anyone who's been going through any type of internal struggle can really resonate with the song." He channeled emotions from his days as a trainee when doubt was constantly creeping up on him, hoping that listeners will find strength in the fact that they came out of their struggles, whatever those may be. There will be an English and Korean version of "Broken Me," and it was chosen as an OST for a short film called The Brave New World with actor Park Eun-Seok from The Penthouse. Though "Broken Me" is dropping first, the rest of the album can be expected to release in early July.
"The deep house song touches more on the little playboy side of BM, the little sexy side that I feel can resonate with people when they want to feel sexy." He hopes to expand more on this in the future, "I really want to do a Magic Mike concept, you know, obviously something topless, doing what I do on a stage, something really just sexy for the fans."
The title track, which he'll be filming a music video for in addition to the video for "Broken Me," is a real standout. "The title song, [which is] the hip-hop song, is the perfect introduction to BM as an artist, and BM as a hustler, as a character of heavy work ethics," he boasts. The song is so good he says everyone who heard it, including the other KARD members, can't stop humming it, and he hopes the world responds in the same way.
While he's understandably hyped for The First Statement, BM emphasizes his pride in being the "main navigation" for this project, and how it's given him the chance to explore the behind-the-scenes side of the business. Despite all this hustle, he has no expectations, instead focusing on the journey of crafting the music from scratch, which has clearly been a rewarding one. "As far as goals, I feel like the fans are setting them right now. I've seen pictures saying, 'Let's get it to a million in 24 hours, let's get it to X amount of numbers by a week,' and I feel very lucky to have that as well. As far as putting goals on myself, all I want is the people I work with to get their credit." From production house 8PEX, which he joined as a songwriter, to dance crew We Dem Boyz, who he calls himself an unofficial member of, BM has handpicked a creative team he's proud of. Last but not least is Vive Studios, whose impressive tech he used for filming, and who were also responsible for the hologram of Suga during BTS' performance at MAMA 2020. All of them are the best of the best, as he puts it, and capable of world wide domination in their respective fields.
Compared to his work with KARD, he says the only difference is the team he's working with. "When we work as KARD, we ultimately come to a consensus between the four us of what we want to portray as artists. [I feel like] having a group of people that work together can always bring a very strong result — stronger than one, obviously. One of my performing directors, he always says, 'One plus one doesn't equal two. One plus one equals ten.'" Community is clearly important to the artist, who goes the extra mile to be a good human in addition to inspiring his fans and supporting his collaborators.
As we can expect from BM, he doesn't shy away from being himself, while constantly highlighting those who've helped him get this far. He did all the legwork from finding middle ground with his label and producers, to being the main source of communication amongst the creative teams — things that are normally handled for him. It was a challenge, and one that few artists are willing to take on. "It makes me nervous because all of the responsibility is on me at the end of the day. Whatever numbers this project hits, there's no one to blame except for myself. So I got to come three times, four times as hard as I've ever been." No matter what the outcome, it's clear that this is a new chapter that's helped him grow and gain a newfound confidence in his craft, and that's something that should be celebrated.
---
Ashlee Mitchell is a US-based freelance writer with a focus on Asian and Black pop culture. Her work can be found in Teen Vogue, i-D, Dazed and others. You can connect with Mitchell on her website and Instagram.
Share this article