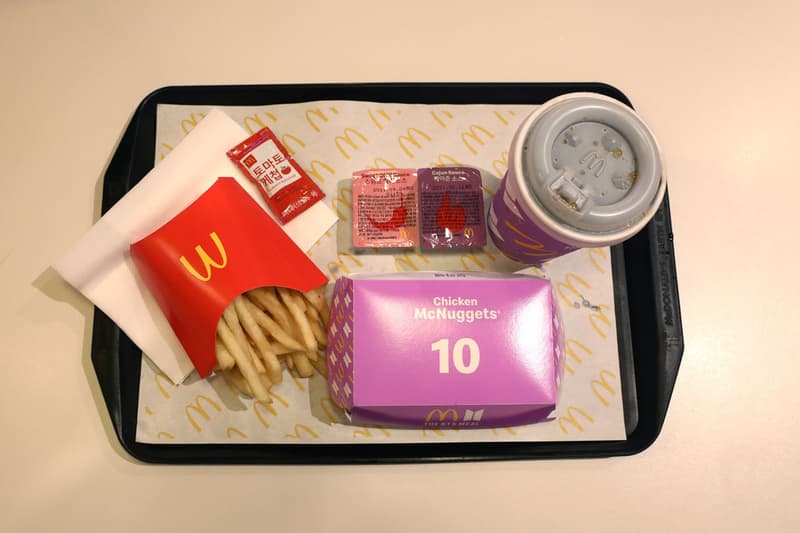 Food
BTS Meal Mania Temporarily Closed Dozens of McDonald's Stores in Indonesia
The chaos for the K-pop meal deal sparked COVID-19 fears.
BTS Meal Mania Temporarily Closed Dozens of McDonald's Stores in Indonesia
The chaos for the K-pop meal deal sparked COVID-19 fears.
Over a dozen McDonald's outlets in Indonesia were forced to close this week due to COVID-19 fears, as a surge in BTS meal orders led to overcrowding and chaos across the country.
Stores in Jakarta, as well as several other cities, closed their doors after being inundated with delivery drivers picking up the BTS/McDonald's collaboration, which includes a 10-piece Chicken McNuggets, medium fries and a medium Coke, alongside sweet chili and cajun dipping sauces.
According to the BBC, a number of drivers were said to have waited more than two hours for their orders, and police in Jakarta issued a statement, explaining that 32 McDonald's locations had been temporarily shut due to COVID-19 restrictions in the capital.
"I don't want Semarang to be in the COVID-19 red zone again," said Fajar Purwoto, the head of the public order agency in the Central Javanese city, according AFP.
Photos taken at McDonald's locations everywhere revealed the frenzy. It may come as no surprise that the BTS meal was an instant global hit, as K-pop fans scrambled to participate in the super-group's latest venture. Some have even been selling the McDonalds x BTS packaging online, while a chicken nugget shaped like an "Among Us" character was sold for more than $50,000 USD.
More than a dozen Indonesian McDonald's outlets were temporarily shuttered Wednesday over COVID-19 fears as the chain's new BTS meal deal sparked frenzied buying from fans in the K-pop mad country. (AFP photos) | via @AFP pic.twitter.com/2PNE5AtfOO

— The Philippine Star (@PhilippineStar) June 10, 2021
Share this article