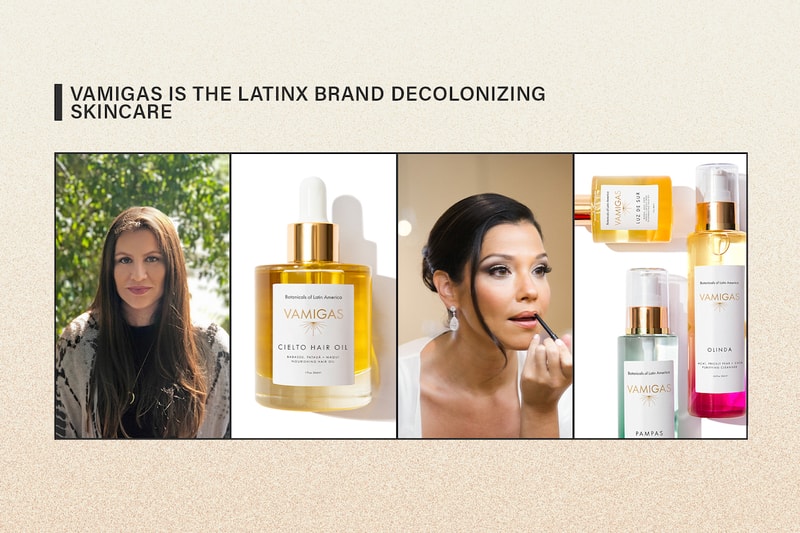 Beauty
Vamigas Founders Ann Dunning and Christina Kelmon Explain What 'Decolonizing Skincare' Really Means
"Recognize and be respectful of the folks you're taking ingredients from."
Vamigas Founders Ann Dunning and Christina Kelmon Explain What 'Decolonizing Skincare' Really Means
"Recognize and be respectful of the folks you're taking ingredients from."
In 2021, most of us realize the importance of giving credit where it's due. Whether it's acknowledging streetwear's roots in Black culture or respecting the history of Mahjong, paying heed to the origin and context of the products we purchase, wear and use is imperative. A white person wearing a durag or launching a line of "trendy" Mahjong sets are fairly obvious examples of things not to do, but when it comes to beauty, the line between appropriate and appropriative becomes less clear.
Ann Dunning and Christina Kelmon, founders of Latinx skincare and haircare brand Vamigas, want the beauty industry to recognize the cultural context of the ingredients it so often hails as miracles or cure-alls. It's no secret that the market is saturated with fads and "it"-products, and very rarely do the brands marketing them acknowledge the history and provenance of the materials they're using to craft the latest serum, moisturizer or supplement. Instead, purveyors often advertise non-European ingredients — whether they're from Asia, Africa or Latin America — as "exotic" luxuries, a way for consumers to dabble in other cultures on a purely surface level. For Dunning and Kelmon, this is where the concept of "decolonizing skincare" comes in.
We spoke with the entrepreneurs about what decolonizing your skincare routine really entails, the industry's exclusion of the Latinx community and how consumers can make more informed beauty purchases. Keep reading for our conversation.
How did you two meet and decide to launch Vamigas?
Dunning: We met thanks to a women and femme investment network called Pipeline Angels where we were investing in incredible women founders, particularly Black and Latinx founders. At the time, we were two of very few Latina angel investors in San Francisco, so we gravitated towards one another. Christina already had a successful beauty line (Belle en Argent) and I had a PR practice where I helped startups with growth, so we both connected as entrepreneurs. Christina had huge insight into the beauty industry — one of [the] ideas we talked about was that she saw a huge gap in the clean beauty and wellness space, where very few brands are targeting Latinas. On the other hand, brands that did target us didn't know how to speak to us. We were left with tropes and stereotypes…We didn't see ourselves in any wellness brand.
Kelmon: There was also a problem I saw with ingredients [originating from] Latin America –  like Rosa Mosqueta — being diluted, simply to use the ingredient as a marketing tool. Brands that offer undiluted ingredients are super expensive. We wanted a pure, botanical-focused formula that was affordable. So we decided to team up to show the world what Latinas are really all about — we are not a monolith; we are not stereotypes. We have gigantic purchasing power, and we should have a stake in the wellness space. We think the world is ready for the rise of Latina skincare.
Can you define the concept of decolonizing skincare?
Dunning: To believe in the broader concept of decolonization means to acknowledge that, one, some societies were built on the backs of other cultures and countries (not just the USA, of course — our own homelands as well) and two, this means that much of the modern world was built on oppression. Three, as a result of this, artifacts that were taken from other cultures or other lands [aren't credited] or [provided] any type of benefit.
In the wellness space and specifically in skincare, you have ingredients that are a huge part of the modern "wellness brand experience," like prickly pear, chia, acai and maqui. These are all ingredients taken from other cultures but the general public — customers — have little to no idea where these ingredients come from: Mexico, Brazil, Peru. Furthermore, there is very little Latinx representation in leadership within clean beauty space.
The cultures and people who come from the areas where these ingredients are being sourced are not benefiting at all from the sale of these products. At the very least, you could donate to non-profit organizations that help their local communities thrive. The historical context of these ingredients are erased. Not on purpose, of course, but [companies] can do better with some simple actions.
Put together with the fact that there are so few clean beauty brands targeting Latinas, the question becomes: how are you going to take ingredients from our homelands and then exclude us from the wellness conversation and clean beauty space?
Big beauty brands market to [Latinas] as though we are a monolith and clean beauty brands almost ignore us." – Christina Kelmon
For readers who are unfamiliar, can you explain how the skincare industry has historically excluded non-white consumers?
Dunning: There was a crisis of inclusion in the makeup industry that became well-known just a few years ago: Black women spend $7.5 billion [USD] annually and studies routinely show that Black women are willing to pay more for high-quality brands, but very few beauty brands would add darker shades. Those that did had issues with lack of diversity of undertone, making it hard for multicultural women to find a powder with the proper color, for example. The breakout success of Rihanna's Fenty Beauty had big beauty corporations following, and there is now this incredible network of indie entrepreneurs who have truly disrupted the beauty game by creating makeup that uniquely caters to Black women. Yet today in the clean beauty space, there are very few brands that target Latinas. The major beauty brands who do really don't know how to market to us and our level of complexity. For example, in the past, you see brands turning to soap opera stars to market their beauty lines to Latinas, or they target us only in Spanish. There is nothing wrong with soap operas or Spanish radio, but we are so much more varied.
Christina: Latinas come from multiple countries and have multiple languages and skin tones. There's something like 30 countries where Latinos are from, and there are also varying generations — I am a third gen Mexica-American and Ann is an immigrant from Chile. Many of us don't even speak Spanish. There is so much variety, yet the big beauty brands market to us as though we are a monolith and clean beauty brands almost ignore us.
These days, it's easy for brands to promote inclusivity on social media without actually putting those values into practice. How can customers make more informed choices about the skincare products they're buying?
Kelmon: For customers, it's to simply be more conscious of the ingredients and beauty products they use. Read a little bit about Rosa Mosqueta and where it comes from, for example, or Maqui. Who was originally behind the practices you're using for self-care? Of course I am not just talking Latinx cultures but practices taken from cultures all over the world; for example Asian American beauty rituals and ingredients. Become a more aware and conscious consumer. Pick brands that give back to the cultures where the ingredients or rituals they promote come from.
For brands, it can honestly be as easy as "give credit where credit is due." Recognize and be respectful of the folks you're taking ingredients from. I don't think this is very hard at all for brands to do, to be respectful of the things they are selling and mindful of the ways in which they are selling them.
What change do you hope to see in the wider beauty industry going forward?
Dunning: We want to create some ownership; to decolonize ingredients by encouraging other Latinas to own part of this huge clean beauty market. It's already starting to happen with new indie brands launching, and what seems to be movement [towards reclaiming] ingredients and being influenced by "ancestral beauty."
Kelmon: We know brands aren't purposely erasing the historical context of ingredients, but there is an easy fix for them. In an ideal world, they would educate their customers and put more weight behind where these botanicals are sourced from and the cultural history of the ingredients. Encourage consumers to make conscious purchasing decisions — to know where their products come from, who makes them, where they are sourced from. That should be an important part of the entire clean beauty space. Customers are starting to pay a lot of attention…they are listening closely now.
---
Share this article