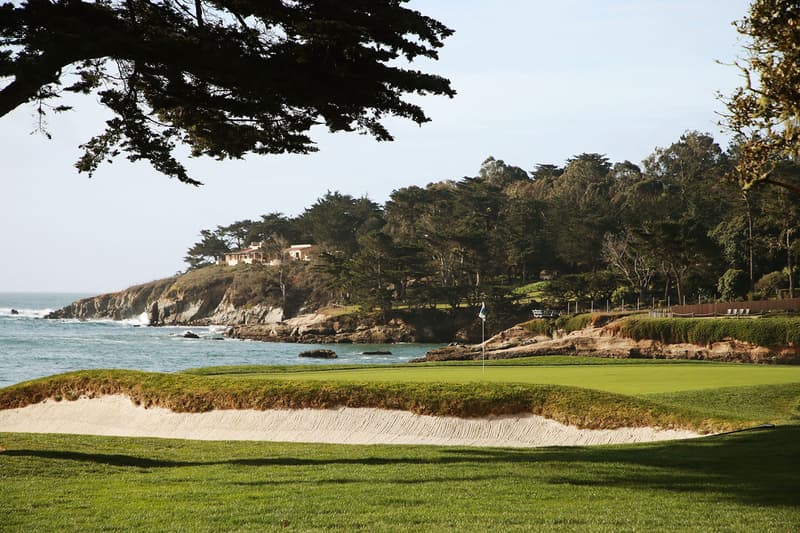 12 Most Scenic Golf Courses and Resorts in the World
Dream post-pandemic destinations.
Thanks to its socially distanced nature, golf is one of the sports that saw a surge in popularity throughout the pandemic. According to the National Golf Foundation, over 50 million rounds were played since last June in the U.S. Moreover, consumers are taking more interest in purchasing golf-related apparel and accessories. The boom only seems to continue as travel restrictions are slowly being lifted in certain regions for those who are vaccinated. Here, we've gathered a list of some of the most scenic golf courses and resorts to visit when the pandemic is over.
From Thailand and Mauritius to Northern Ireland and Bulgaria, scroll down to see the world's most beautiful golf courses.
Hua Hin, Thailand
Built on a former pineapple plantation, Banyan Hua Hin's golf course is known to be the most natural in all of Thailand. You'll find breathtaking mountain and ocean views as well as six tee boxes for each hole, allowing for fair play among all skill levels.
Bridport, Australia
One of Australia's best-known attractions, the Barnbougle Dunes is a traditional Links course with a stunning landscape view. Situated along the northeast coast of Tasmania, the game's highlights include the fourth hole, which features the largest bunker in all of the Southern Hemisphere.
Banff, Alberta, Canada
The Fairmont Banff Springs course in Alberta is located in Canada's Rocky Mountains. In addition to the astonishing view, golfers head to the location for its well-thought-out layout designed for amateurs and professionals alike.
Mauritius
Designed by star German golfer Bernhard Langer, the Ile Aux Cerfs Golf Club is catered to players of all skill levels. At this 19-hole situated on the east coast of Mauritius, which is accessible only by designated shuttles, golfers can enjoy views of volcanic rocks and beautiful lakes.
California, USA
The Monterey Peninsula Country Club is home to two golf courses designed by architect Mike Strantz. Golfers will find fairways filled with trees and natural rock formations, making each hole different from one another.
Portugal
Widely accepted as the top golf course of Portugal, Oitavos Dunes offers views of the Atlantic Ocean and the Sintra Mountains. The par-71 game, designed by Arthur Hills, features sand dunes as well as unique layouts of pine trees.
California, USA
Pebble Beach Golf Links is arguably one of the most renowned in the world, having hosted numerous U.S. Open games and PGA Tours. Boasting a history of over 100 years, all 18 holes feature stunning views of the Californian sea.
Punta Cana, Dominican Republic
Envisioned by Jack Nicklaus, Punta Espada Golf Club is situated in the Punta Cana region of the Dominican Republic. Designed to provide a pleasurable experience for golfers of all levels, the par-72 course is placed along the coast for eight holes as visitors indulge in sceneries of the Caribbean.
Northern Ireland
With the Mountains of Mourne serving as the backdrop, Royal County Down Golf Club is home to links courses placed along the Dundrum Bay. The ninth hole of the Championship Links holds the record as one of the most photographed holes in the world of golf.
Nevada, USA
Designed by renowned architect Tom Fazio and opened in 1989, Shadow Creek is an 18-hole course that stretches roughly 7,560 yards. The course is known for Tiger Woods and Phil Mickelson's famous match in 2018 and also for being one of the most expensive courses to be built in the United States.
Namhae, South Korea
Placed off Korea's southeast Namhae county, this Kyle Phillips-designed course offers an ocean view at all 18 holes. In addition to the beautiful fairways, South Cape offers the full golf experience with its 72-par course and luxury resort, as well as its in-house golfwear brand displayed in its artistic Cheongdam flagship in Seoul.
Bulgaria
This dreamy golf course in Bulgaria sits on the edge of a cliff looking out at the Black Sea. Conceptualized by Gary Player, the 85-hectare design is popular for the sixth hole, which boasts a wide view of the ocean.
Share this article