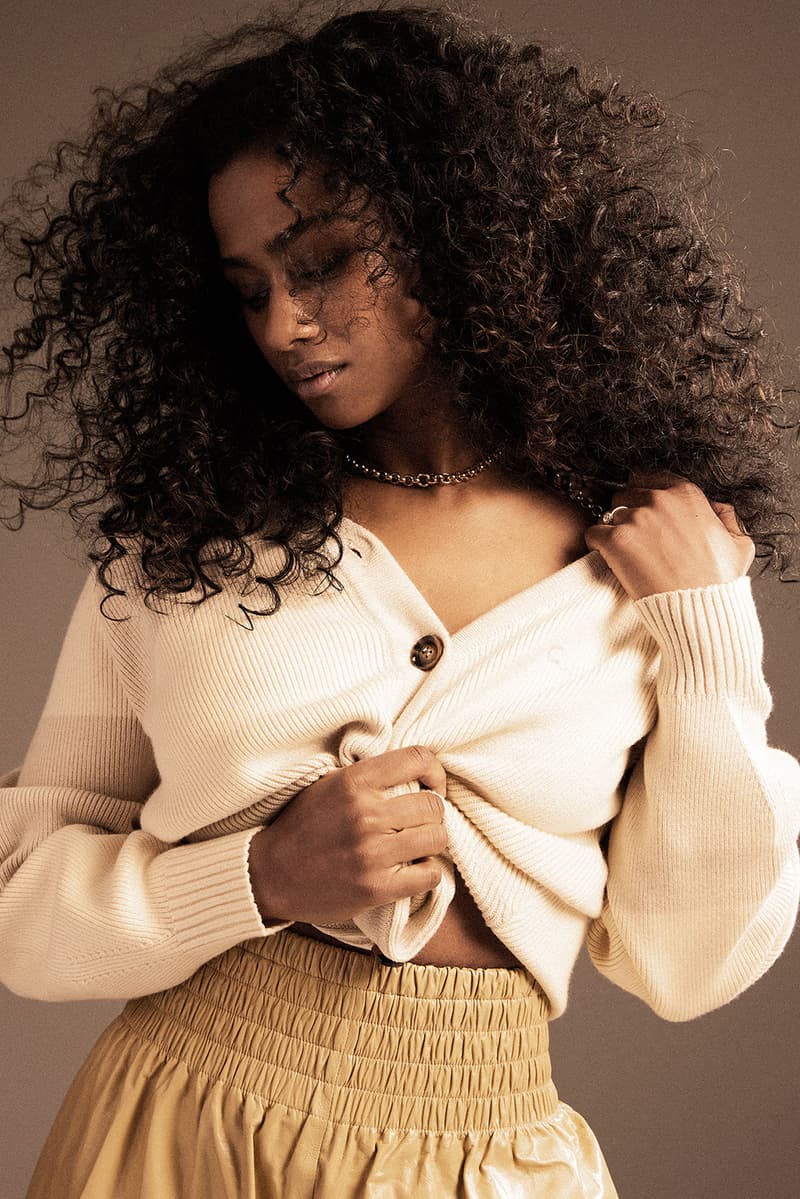 DJ and Designer Vashtie Does Cool Mom Style
The Violette founder shows off her sharpest looks in this editorial.
Fashion
DJ and Designer Vashtie Does Cool Mom Style
The Violette founder shows off her sharpest looks in this editorial.
Since establishing her brand Violette in 2008, DJ and designer Vashtie has been a key contributor to cultivating Downtown Manhattan's fashion scene. Growing up, Vashtie was inspired by the style of her favorite musicians like Aaliyah, The Notorious B.I.G. and Kurt Cobain, but everything changed when she moved to the Big Apple in 1999. Her aesthetic became heavily influenced by the streets' emerging trends. Most recently, her new lifestyle as a mother has once again altered the way she dresses on a daily basis.
In continuation of HBXWM's Female Series, we spoke to Vashtie about the evolution of her style, as well as the new habits she's picked up since becoming a mom. Read on for our conversation and head to HBXWM to shop Vashtie's outfits, including pieces from Prada, Burberry, Nanushka and more.
Tell us about your style. How has it evolved since you became a mom?
I am such a creature of habit and routine. My style has always been of a tomboy nature, mostly because it's how I dressed when I was a kid, and it's comfortable. I love wearing vintage T-shirts, baggy jeans and sneakers. Of course, when I DJ or do more on-camera work, I play up my style. On a casual day, I'm very relaxed and comfortable. Becoming a mom has really left my style unchanged, but it has increased my interest in "serving a look." I think it's because I really want my kid to be able to look back at old photos of me and say, "Wow, my mom really had great style," and not see me wearing the same old comfy outfits all the time.
What are some staple pieces you always keep in your rotation?
White Nike Air Force 1s, black Carhartt pants, dark blue Dickies and a few good oversized vintage tees.
You've been focusing a lot on health and wellness. What has inspired you to explore this topic?
I began a vegetarian diet while I was in junior high and at the time, it was for my love of animals. I eventually became vegan and started to feel the difference when I ate fresh vegetables and fruits as opposed to processed food. I thought I felt fine before I went vegan, and when I did go vegan, I experienced a lightness and clarity that I can't quite explain.
I grew up eating fast food, tons of candy and drinking a lot of soda. Now, I start my day with lemon water and celery juice. It took some time but I cannot imagine eating any other way. We only have one body and taking preventative measures now is so important for anti-aging and wellness.
I think I started to explore this topic more as I got older, because I was interested in taking every step to improve myself for life and work. To me, being great at all the things I want to succeed in meant getting my mind, body and soul to be healthy.
What are some of the biggest changes you've made to your lifestyle?
I'm fully vegan and try to eat gluten-free. I only buy organic produce to avoid pesticides, synthetic fertilizers and genetic modifications. I also eat a ton of fruit and vegetables on a daily basis. I've also been following Anthony William, also known as the Medical Medium, for many years now and sticking to his protocols. By following his information, I've also healed myself of hypothyroidism.
What was your experience like being pregnant during the pandemic?
I was pregnant right when the pandemic began, which made for an interesting time. It was scary because no one knew what was going on and the experts kept updating the public with new, and oftentimes, conflicting facts. I knew that I needed to keep myself safe for the baby, so my husband and I stayed indoors, quarantined and never saw friends or family. It was also a sad time because of not being able to see friends and family, but being safe was the main priority. Now, we are starting to see everyone and they are finally meeting our baby. I guess all we can do is make up for lost time and celebrate as much as we can.
What advice would you give to new moms? What has been your biggest learning experience?
No exaggeration — you are doing superhero work! It's a rollercoaster ride, but just know that it's all temporary. The hard times won't last, but the good times also become memories very quickly. Time will fly by, so make sure to soak in all the moments. Be good to yourself, because you can't take care of another person if you are not whole. Sleep whenever you can — the difference between a rough day with no sleep and just a rough day is monumental.
My biggest learning experience is to let go. I've always been the type of person to "will" things to happen, but with a baby, you sometimes have to accept that certain things may or may not happen — and that is okay. You do what you can and celebrate the wins of that day.
How has music influenced your personal style?
New and evolving musicians had a huge impact on my style as a kid. Artists like Nas, Aaliyah, Kurt Cobain, The Notorious B.I.G., Mobb Deep and Weiland really shaped me when I was growing up. However, I currently don't find inspiration for my personal style through music as much. Maybe it's because I live in New York City and get to see emerging styles on the street. Where I live, Two Bridges/Chinatown, is super exciting because the young people here have such a diverse and interesting style, and it's definitely inspiring me.
How have you seen the streetwear scene evolve over the past few years? 
I feel like it's evolved exponentially. It went from being a small space of few pioneering brands and designers with diehard fans, to a never-ending list of brands being born every day and full of trend-hungry consumers. I'm excited that the world has fully recognized the power of streetwear, and I love that it's growing.
What changes would you still like to see?
I'd love to see streetwear really become more eco-friendly and earth-conscious. It would be nice to see sneaker brands utilizing non-animal skins, and clothing brands to embrace recycled fabrics.
What are you most excited about this year?
I'm most excited to see friends and family and watch the world open back up, but most importantly, continue to see us as people evolve. The pandemic was a major shift for all of us and I think as much as we want things to go back to "normal," we have created a better vision of what "normal" means. I feel like as a whole, we are starting to understand how our thoughts, words and actions impact others and that we need to be involved in our communities, whether it's to speak for the Black Lives Matter movement, demanding representation, supporting the LGBTQIA+ community, ending animal cruelty and suffering, or stopping anti-Asian hate. Our lives are not singular on this planet.
Interviewer

Tora Northman
Photographer

Jack Waterlot
Photography Assistant

Shane Rooney
Make-Up

Dotti
Hair Stylist

Rolando Beauchamp
Stylist

Jean Chung
Style Assistant

Charlie Kane
Model

Vashtie
Share this article