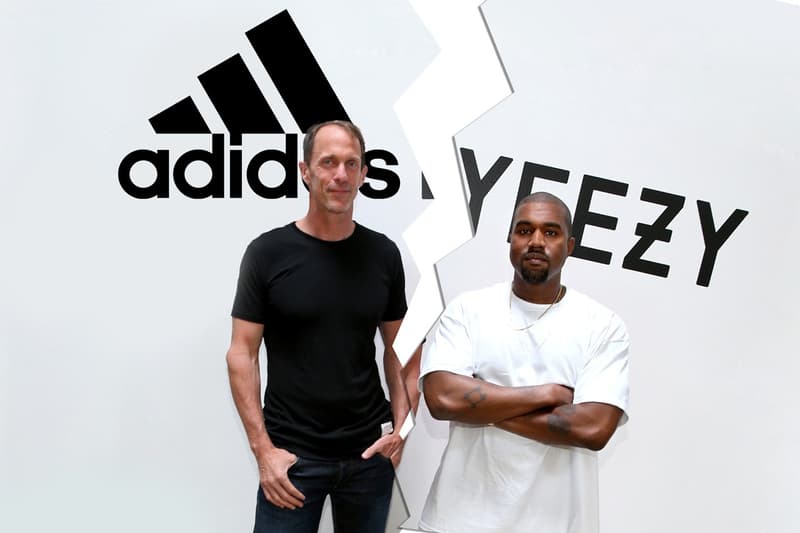 Fashion
All the Brands and Companies That Have Dropped Ye (So Far)
Brands continue to cut ties with the rapper due to his problematic behavior and remarks.
All the Brands and Companies That Have Dropped Ye (So Far)
Brands continue to cut ties with the rapper due to his problematic behavior and remarks.
Ye, formerly known as Kanye West, is no longer a billionaire after major partners like adidas have dropped him. Brands and companies are continuing to cut ties with the YEEZY founder following his problematic behavior and remarks, including antisemitic comments and the "White Lives Matter" tee he wore at his recent show at Paris Fashion Week.
The rapper's YEEZY products, previously highly coveted and resold for prices much higher than retail, are now hitting resale platforms as consumers look to get rid of the pieces from their wardrobes. Companies like The RealReal and Rebag have expressed that they will no longer accept products related to Ye, while other websites like eBay and Vestiaire Collective seem to accept listings from YEEZY owners.
Those who have been following the story on social media are probably already aware that adidas — Ye's main footwear partner — has dropped the musician. The same goes for Balenciaga and Demna, who have worked with Ye on "Engineered by Balenciaga" drops, as well as Gap, which initially signed a 10-year deal with the artist.
Fashion brands are not the only ones who have announced to cut ties with Ye. Record labels, law firms, entertainment companies, magazines and banks have shared that they will stop working with him.
Continue scrolling to see all of the companies that have dropped Ye. While you're here, read more about his problematic behavior here.
View this post on Instagram
adidas and Ye go way back. The rapper first debuted his design for the footwear brand — the YEEZY 750 — back in 2015 at the Grammys. He then showcased his first-ever presentation for YEEZY which included the adidas YEEZY BOOST 350, marking the beginning of a long-term partnership. Throughout the years, Ye continued to work with adidas to roll out coveted sneaker releases, debuting innovative designs like the FOAM RNNR.
Seven years in, following Ye's problematic behavior, adidas finally announced that it would stop working with the artist. "After a thorough review, the company has taken the decision to terminate the partnership with Ye immediately, end production of Yeezy branded products and stop all payments to Ye and his companies," the company said in a statement. "adidas will stop the adidas Yeezy business with immediate effect. adidas is the sole owner of all design rights to existing products as well as previous and new colorways under the partnership." The final decision was revealed after an adidas employee called the company out for staying silent regarding Ye's antisemitic tweets.
View this post on Instagram
Balenciaga was another one of Ye's biggest partners in the fashion space. The rapper worked closely with Demna on the three-way Yeezy Gap Engineered By Balenciaga drops, and even opened the fashion house's most recent runway show.
The brand was one of the first names in fashion to drop Ye. Following his unforgivable actions, Balenciaga subtly removed its image of Ye walking the runway at Paris Fashion Week, while also pulling the "Engineered by Balenciaga" collection from its website. Kering later confirmed in a statement to WWD, "Balenciaga has no longer any relationship nor any plans for future projects related to this artist."
Cohen Clair Lans Greifer Thorpe and Rottenstreich is the law firm that represented Ye during his divorce from Kim Kardashian. Attorney Robert Stephen Cohen wrote in a statement to The Washington Post, "I can confirm we are no longer representing Ye."
In addition to being dropped by his law firm, Ye's former wife Kim Kardashian showed support for Jewish people after his antisemitic remarks. "Hate speech is never OK or excusable. I stand together with the Jewish community and call on the terrible violence and hateful rhetoric towards them to come to an immediate end," she wrote.
Following his problematic actions, Creative Artists Agency — which had been representing Ye since 2016 — ended its relationship with the musician on Monday, October 24.
While Foot Locker has not issued an external statement regarding Ye, it did instruct employees across 874 stores to remove all YEEZY products. The stores now do not sell any more Ye-related products, including on the retailer's website. "Foot Locker, Inc. does not tolerate any form of antisemitism, or hateful and discriminatory behavior. While we remain a partner with adidas and carry a wide assortment of their collections — we will not be supporting any future Yeezy product drops, and we have instructed our retail operators to pull any existing product from our shelves and digital sites," the company reportedly wrote in an internal message.
Shortly after Balenciaga and adidas' statements, Gap, which initially signed a 10-year deal with Ye, released an official statement regarding its partnership with the artist. "In September, Gap announced ending its Yeezy Gap partnership. Our former partner's recent remarks and behavior further underscore why. We are taking immediate steps to remove Yeezy Gap product from our stores and we have shut down yeezygap.com." It added, "Antisemitism, racism and hate in any form are inexcusable and not tolerated in accordance with our values. On behalf of our customers, employees and shareholders, we are partnering with organizations that combat hate and discrimination."
With this announcement, the retailer removed all YEEZY Gap products from its websites and additionally closed related stores. The move comes after the latest YEEZY Gap campaign that featured Candice Swanepoel.
Earlier today I learned that @kanyewest was officially kicked out of JP Morgan Chase bank. I was told there was no official reason given, but they sent this letter as well to confirm that he has until late November to find another place for the Yeezy empire to bank. pic.twitter.com/FUskokb6fP

— Candace Owens (@RealCandaceO) October 12, 2022
Candace Owens, who wore the controversial "White Lives Matter" tee with Ye at PFW, took to Twitter to note that Ye was rejected by JPMorgan Chase. "I learned that Kanye West was officially kicked out of JPMorgan Chase bank. I was told there was no official reason given, but they sent this letter as well to confirm that he has until late November to find another place for the Yeezy empire to bank." The letter read that the bank decided to end all banking relationships with YEEZY, LLC.
MRC Entertainment, which already completed a documentary on Ye, announced that it would cancel its release. "This morning, after discussion with our filmmakers and distribution partners, we made the decision not to proceed with any distribution for our recently completed documentary about Kanye West. We cannot support any content that amplifies his platform," the company stated.
View this post on Instagram
The RealReal is one of the resale platforms that are no longer accepting Ye-related products. The brand wrote on Instagram, "Since our founding, we've been committed to creating a safe space for every employee, consignor, and customer – regardless of age, gender, religion, sexual orientation, or race – and we will not tolerate remarks that demonstrate discrimination or call for violence." It did note that out of fairness, any products that were listed prior to the announcement would remain on the site until they were sold.
Rebag is another resale platform that will be rejecting any products related to Ye. It confirmed, along with The RealReal, that it removed all YEEZY products from its site.
Ye reportedly showed up at Skechers' offices unannounced and uninvited, seemingly with the purpose to propose a footwear partnership after he was dropped by adidas. According to TMZ, a spokesperson said, "Skechers is not considering and has no intention of working with West. We condemn his recent divisive remarks and do not tolerate antisemitism or any other form of hate speech. Again, West showed up unannounced and uninvited to Skechers corporate offices." The rapper was escorted from the premises after a "brief conversation."
Prior to CAA, Ye was represented by United Talent Agency for a brief period of time. The company's CEO Jeremy Zimmer sent out an internal memo to make it clear that the rapper wasn't welcome back. "Regrettably, antisemitism, racism and many forms of hate and intolerance are part of the fabric of society. Generally, they live as a plague eroding the health of communities and are combatted by understanding, tolerance and the general goodness of most people. But throughout history some have used their public platform to spew the plague out loud and spread the contagion to dangerous effect. Kanye is the latest to do so, and we're seeing how his words embolden others to amplify their vile beliefs."
---
Share this article