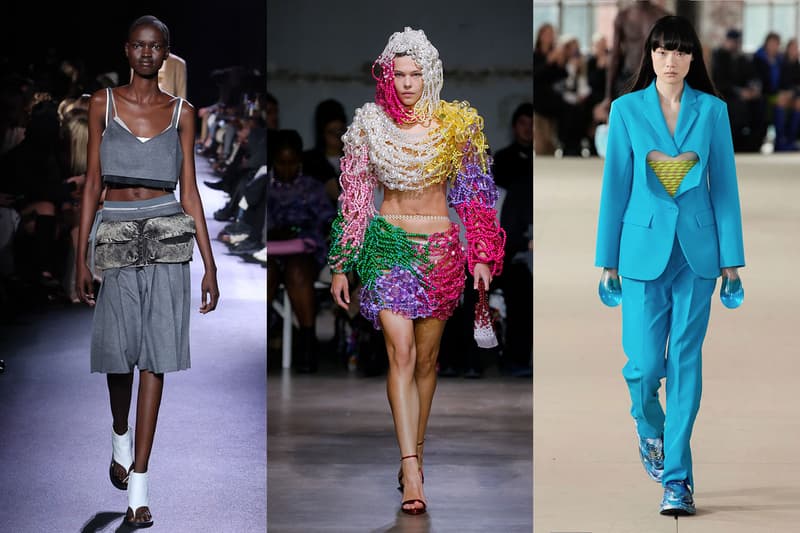 Fashion
The 5 Key Trends from Paris Fashion Week SS23
Say hello to low-rise layering and glittercore.
The 5 Key Trends from Paris Fashion Week SS23
Say hello to low-rise layering and glittercore.
Paris Fashion Week's Spring/Summer 2023 showcase has officially come to an end, along with this season of "Fashion Month" altogether. As always, there are a number of key trends that pop up in more than a few showcases, from established brands like Balenciaga and Givenchy to emerging designers like T LABEL and HODAKOVA.
London Fashion Week SS23 gave rise to trends like motorsports and metallics, both of which made their way to Paris in some capacity, thanks to Junya Watanabe and Sacai. The overarching trends however, included the likes of a glittercore resurgence and an increase in resourcefulness, alongside new developments within the low-rise trend.
Read on to find out more about the five key trends that dominated the runways this season at PFW.
Glittercore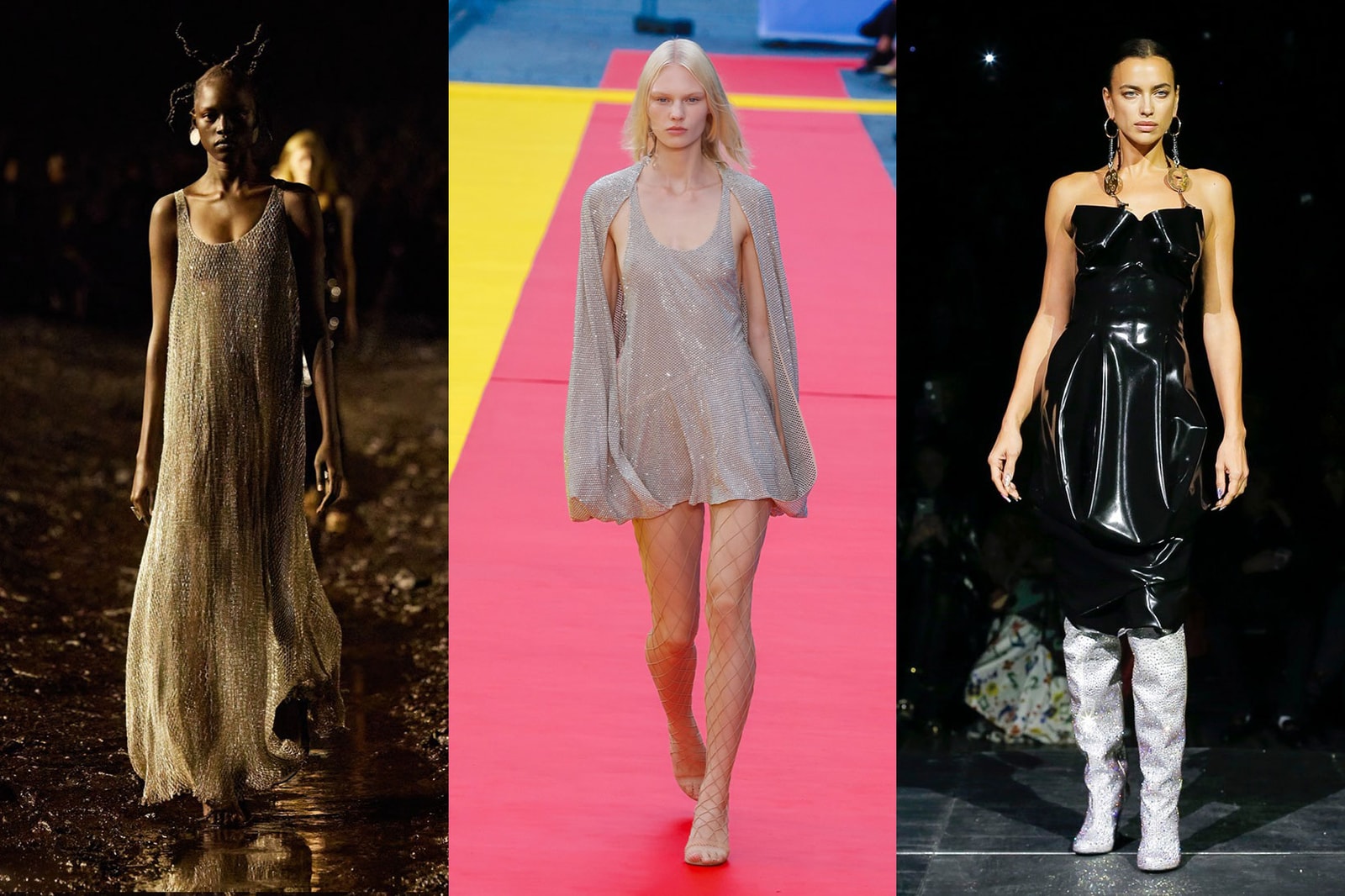 If London Fashion Week was all about silver, then Paris Fashion Week's rebuttal was silver and then some. Glittercore is back with a vengeance, characterized through Vivienne Westwood's knee high boots and two pieces, Stella McCartney's cape dresses and Balenciaga's draped gowns. Brands like Givenchy and Ester Manas featured glittery pieces in their SS23 collections too, and as we approach party season, we expect to see a lot more where they came from.
Low-Rise Layering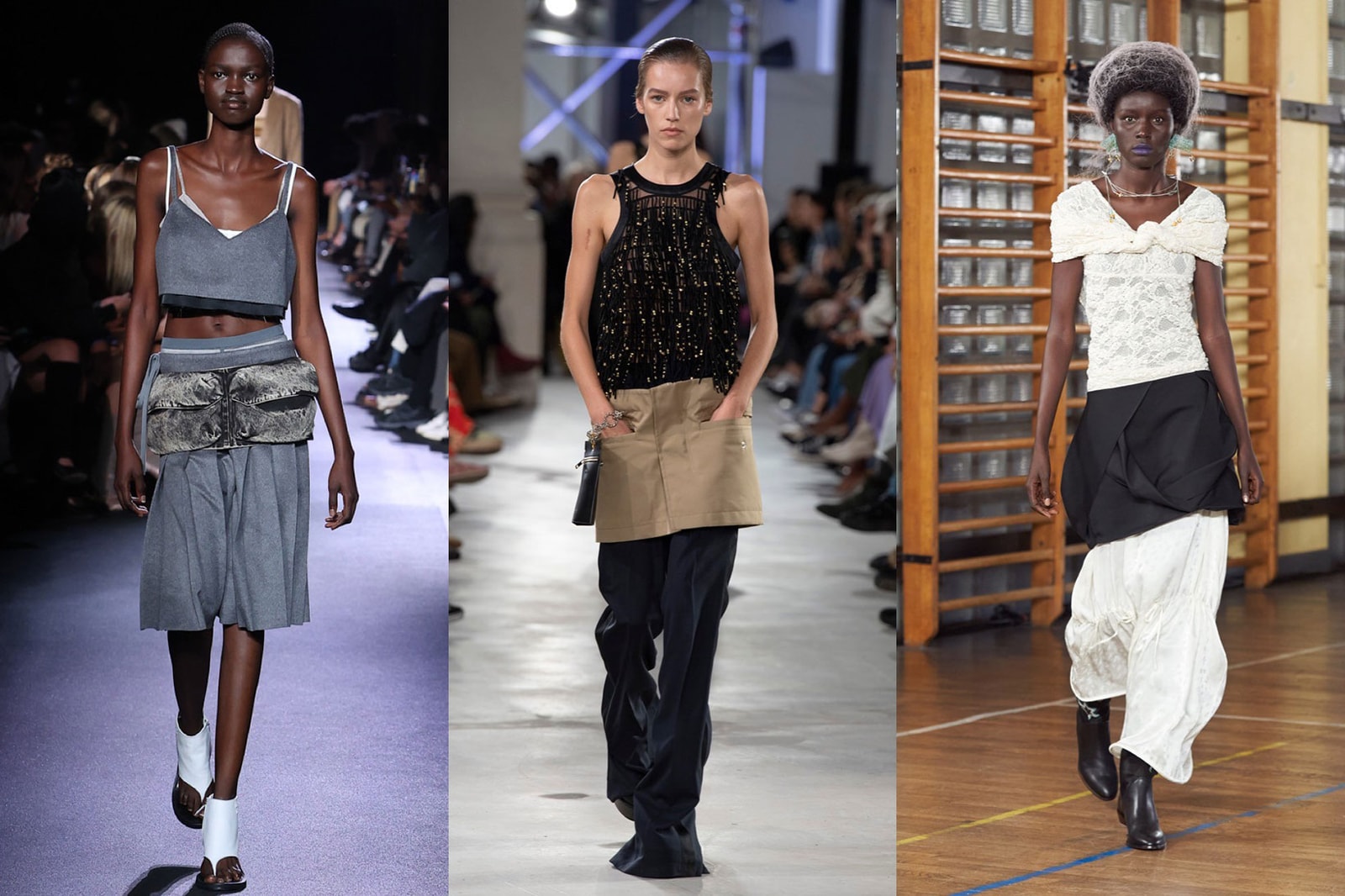 The low-rise trend is still alive and kicking, despite it not being the most inclusive one. That said, it appears that designers this season may well have taken that into consideration by offering fans of the trend a new way to wear it. By layering low-rise pieces on top of other garments, it creates the opportunity to show off visible waistbands, showcase a variation of silhouettes and be a comfortable trend for multiple body types. Evidenced through Miu Miu's low-rise belts, Sacai's statement skirts and Kiko Kostadinov's skirt and flares combinations, it's clear that fashion's favorite trend is going nowhere fast, but it's at least becoming a little more wearable.
Resourceful Fabrics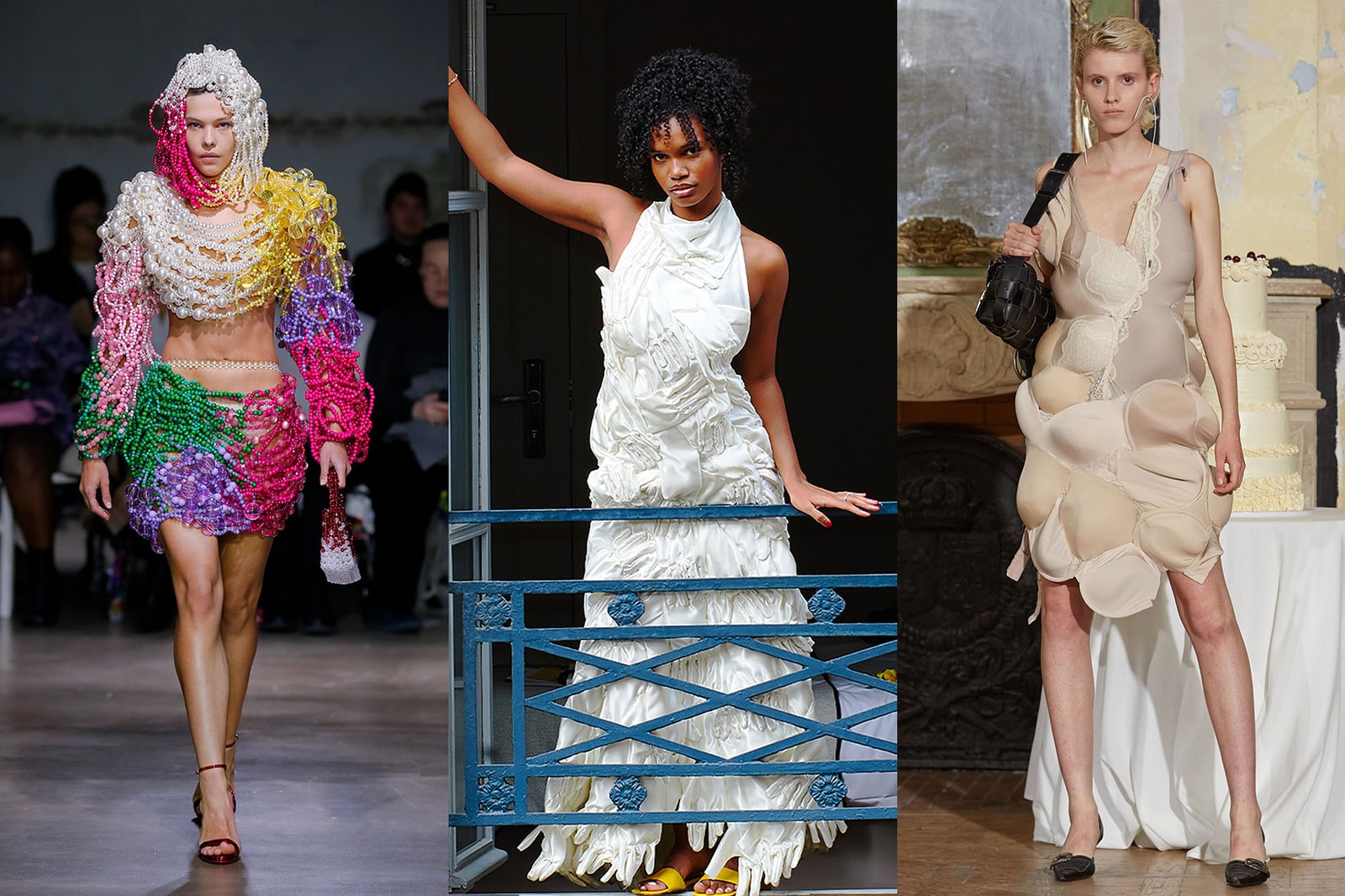 In the midst of looming recessions, the cost of living crisis and inflation, designers took it upon themselves this season to reduce, reuse and recycle like never before. From Germanier's upcycled bead co-ord to emerging brand T LABEL's coveted white glove dress, this season saw brands utilize existing objects to create newness without waste. Swedish designer Ellen Hodakova Larsson, of HODAKOVA, was one in particular as she utilized old bras to make dresses, vintage belts to make tops and shoes and military shirts to make mini skirts.
Anything Is an Accessory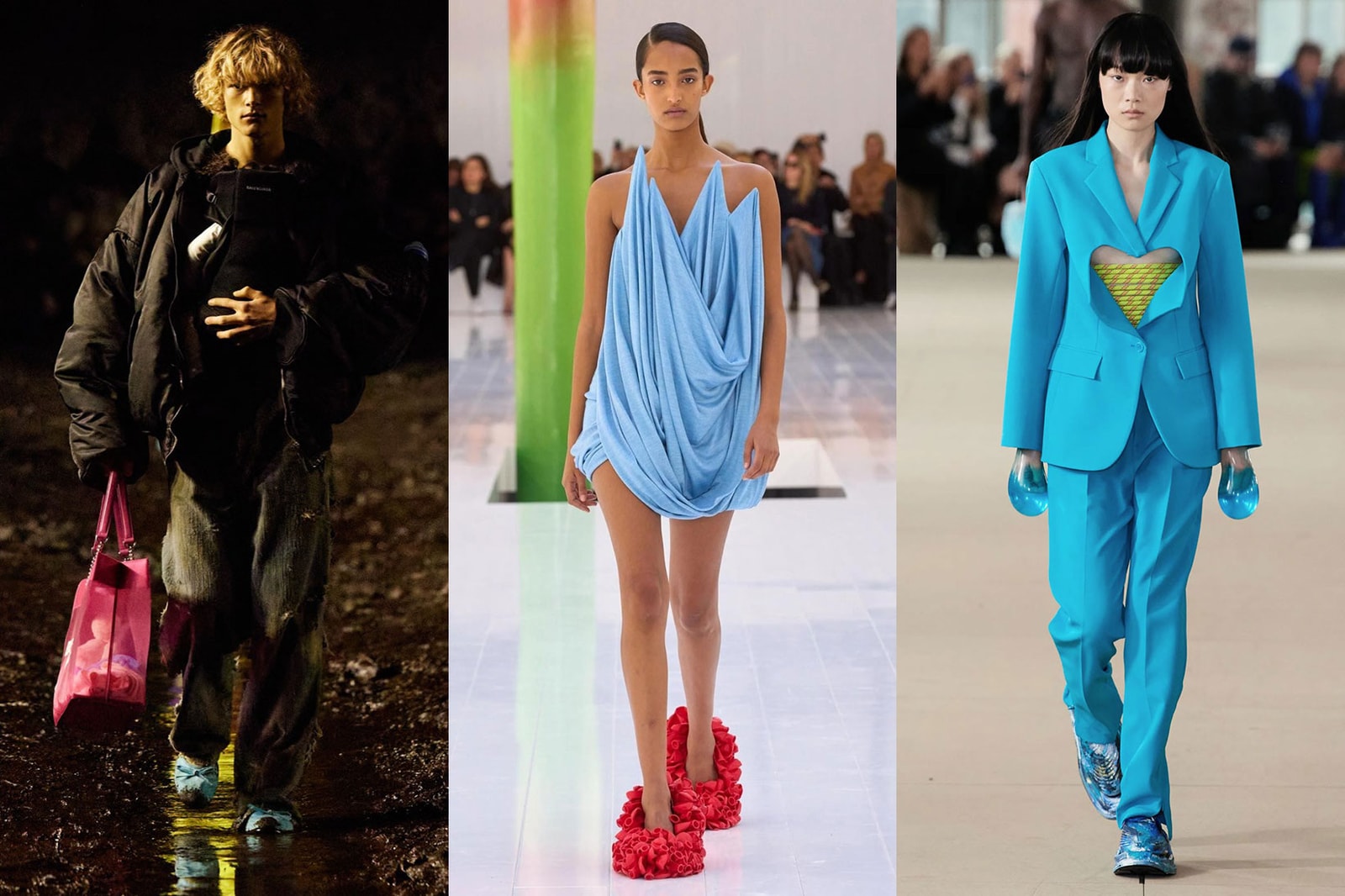 A possible continuation of the previous trend, accessories at PFW took on a whole new life (or old life, should we say), taking existing household objects and transforming them into statement pieces. From Balenciaga's fake babies in bags and Loewe's deflated balloon pumps to Botter's tongue-in-cheek condom gloves, this season showed us that with a little creativity, anything can be an accessory.
Femininity Reclaimed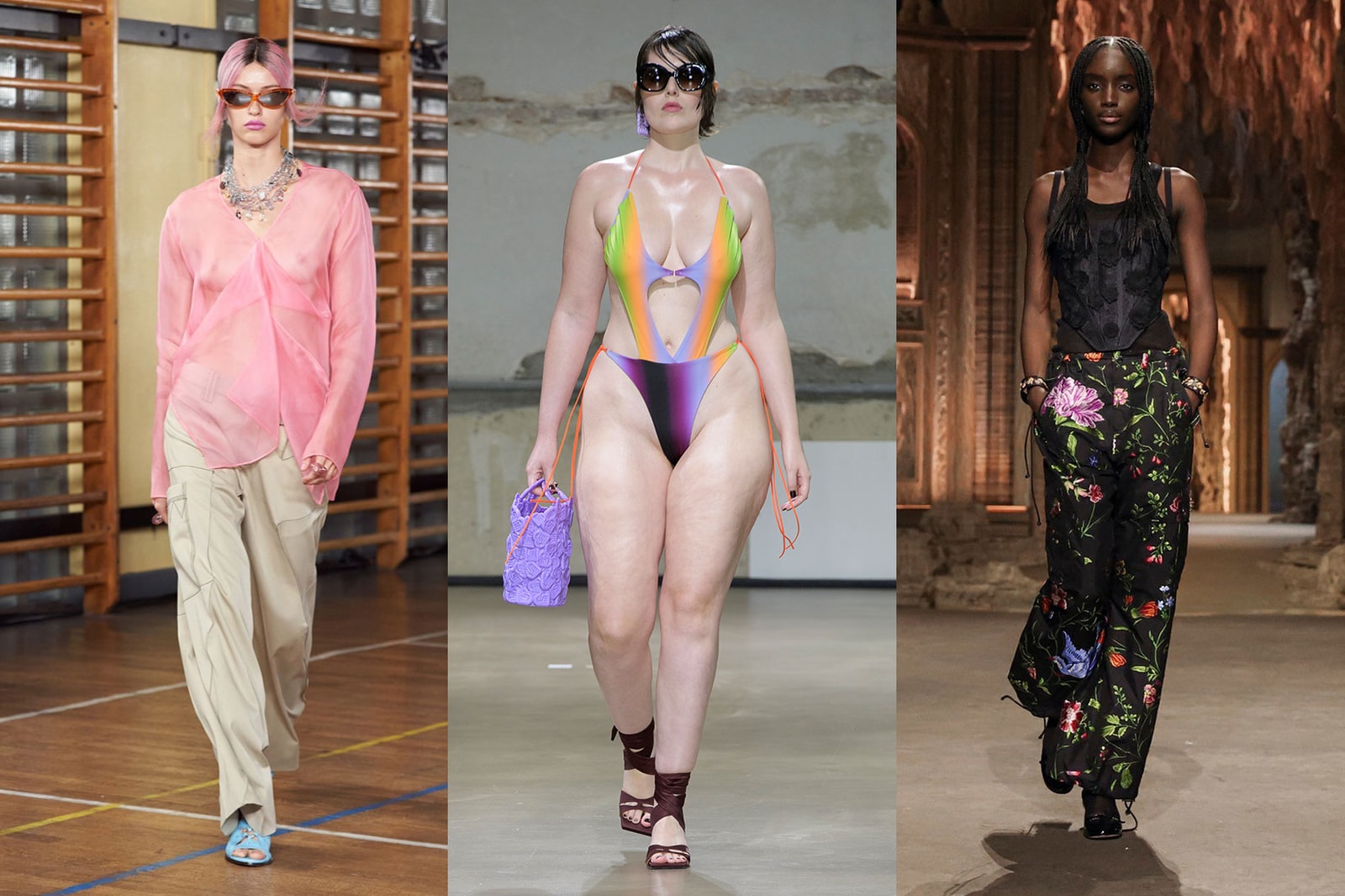 Celebrating all things womanhood, from corsets and heels to historical women, PFW saw a selection of designers pay tribute to and more importantly, reclaim the female form. Characterized through sheer, nipple-bearing fabrics, extreme cut-outs and revived corsetry, brands like Ester Manas, Kiko Kostadinov and Dior showcased their commitment to femme.
---
Share this article