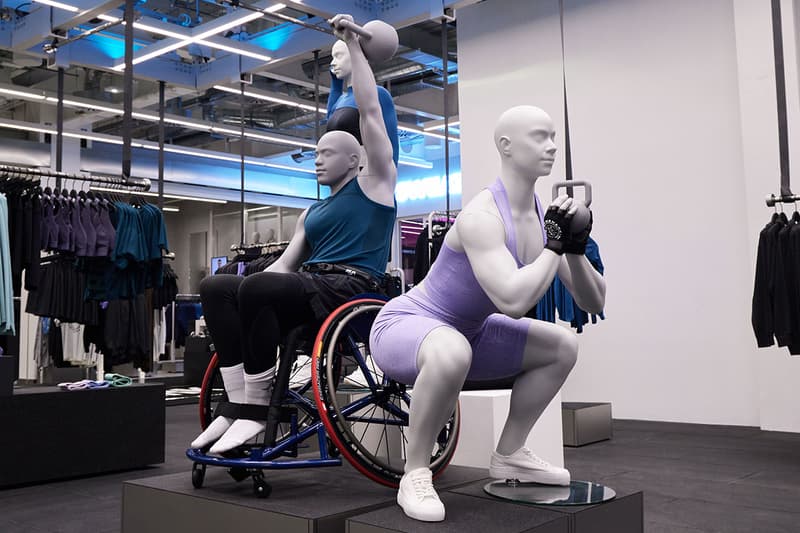 Culture
Gymshark's London Store Mannequins Are Inspired by Their Community, Literally
Developed through casting, scanning and 3D printing.
Gymshark's London Store Mannequins Are Inspired by Their Community, Literally
Developed through casting, scanning and 3D printing.
British fitness brand Gymshark recently opened the doors of its new London flagship and honestly, there's a lot to be impressed by.
Complete with a fitness studio, in-house Joe and the Juice and a community hub set to host podcasts and workshops, the new space features one particularly exciting addition. Each and every mannequin in the store is based on a real member of Gymshark's community. Through live-casting the brand's ambassadors, mannequins were developed through 3D printing to ensure they're as realistic as possible and showcase a genuine representation of what our bodies actually look like.
"Our mannequins are real people from our community or ambassador roster," says Gymshark's Chief Brand Officer, Noel Mack, in a statement. "Representation is everything but it's not easy to do, so we kicked off a long process of casting, scanning and finally 3D printing to ensure everyone can see themselves at Gymshark London."
The brand's fitness studio is set to host an ever-rotating program of classes, including sweat classes, community sessions gifted to its charity partners and a 'Sunday Brunch' event, hosted in partnership with a guest professional each week. Visitors can also experience the store's new 'Pro Bench,' a bar where Gymshark experts can share their fitness advice to the conditioning community. Guests can book complimentary appointments on anything from personal training to advice and mindset.
Gymshark's new London store is now available to visit.
In case you missed it, have a read of our interview with the founder of Peachy Den.
---
Share this article