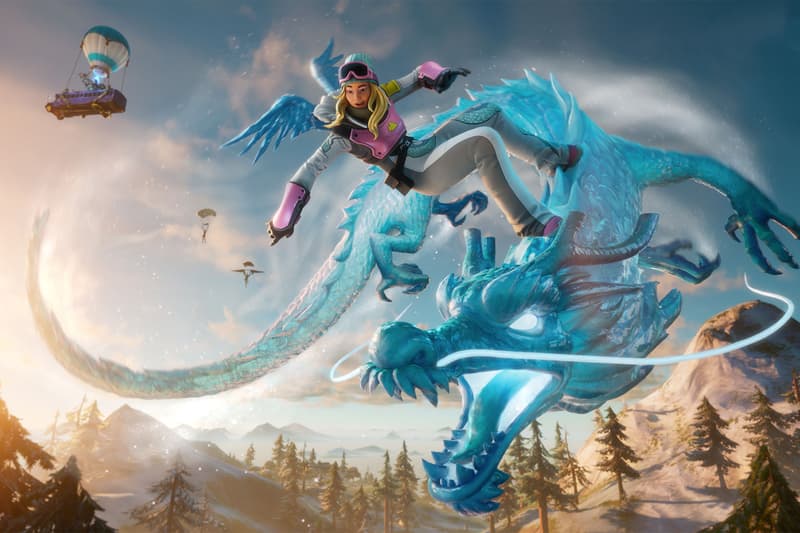 Tech
EXCLUSIVE: Chloe Kim on Bringing Snowboarding To Gaming in 'Fortnite' Icon Series Collab
The Olympic medalist speaks to Hypebae about designing accessories for the video game.
EXCLUSIVE: Chloe Kim on Bringing Snowboarding To Gaming in 'Fortnite' Icon Series Collab
The Olympic medalist speaks to Hypebae about designing accessories for the video game.
Last week, Epic Games announced Chloe Kim as the latest star to join Fortnite's Icon Series, which has featured names like Ariana Grande and Naomi Osaka in the past. The snowboarder, who won two gold medals at the Beijing Olympics earlier this year, launched a collection of outfits and accessories in the video game shortly after the Chloe Kim Cup tournament that took place on March 24.
The team-up is comprised of four outfits, a dragon Glider, icy wings, a frozen pickaxe and a Board Flair Emote. The dragon is a continuing theme throughout the range, referencing the 21-year-old's Chinese zodiac sign that her father consistently brought up throughout her childhood.
Kim admits that she's not the best at playing Fortnite, but was more excited than ever when she was invited to be a part of the collaboration. "It's been such an exciting experience and honestly, I want to say my favorite part was just working with the team because they're all so talented and creative. They really made my vision come to life," she tells Hypebae. She also talks about how she struggled to build forts as fast as other players, but it all comes in great timing as Fortnite launched Zero Build, a new, no-building game mode that is now permanent on Fortnite.
Read on for our interview with Kim. The athlete's limited-edition outfits and accessories are available at Fortnite's Item Shop until April 2.
View this post on Instagram
Congratulations on your gold medals at the Olympics. What have you been up to since?
I've just been hanging out. I've been soaking everything in, since it's pretty hectic every time you get back from the Olympics. I'm giving myself some time to celebrate on my own.
What's your experience with gaming? What were some games that you played growing up?
I've actually tried to play Fortnite for a few years now, but I'm just not good at it. I'm honestly waiting for Fortnite to send me a coach because I need proper training. But my boyfriend loves playing the game, so he's been playing a bunch in my outfit, which has been fun to watch.
I personally love games like Mario Kart, but I really do want to become good at Fortnite because it looks like so much fun. When my boyfriend plays, he gets so into it and I lose him for hours. I'll start my training soon to become the best Fortnite player in the world.
What was your reaction when you found out that you would be a part of the Icon Series?
I was so excited. We've been talking about it and working on it for a couple of years now. It's been such an exciting experience and honestly, I want to say my favorite part was just working with the team because they're all so talented and creative. They really made my vision come to life. Seeing everything launch and the feedback has been amazing. I'm super happy with it.
View this post on Instagram
You have major brand partnerships with Nike, Mattel and more under your belt. What made you decide to delve into the gaming space this time around?
I thought it would be a very unique experience for me, and an honor as well. Everyone plays Fortnite, it seems, no matter the generation. It's a game everyone wants to be good at. So when I got that email, I was just really excited and wanted to do it, because I know so many friends who love the game. They were so jealous that I got my own outfit. I think it's just one of those things where I just want to try something new and this opportunity was huge to me. The amount of excitement that came with it meant the world, so I just had to do it. There was no choice.
What are some of your favorite things about Fortnite?
I think I'm good at the shooting part. It's the building that's hard! If you can't build, you can't defend yourself — so that's why I don't stand a chance because everyone's so fast. You give them 30 seconds and they can build the craziest things, and I can't do that. If I can get myself to build well, I think I'll have a chance at winning. One time, when I played with my friends, I got the camouflaging Bush item that you can wear. I was just disguised as a bush the whole time and ended up getting third place. I didn't do anything, I didn't even have a gun.
How involved were you in the design process of creating the outfits and accessories? Where did you find inspiration for the designs?
I would say that I was pretty involved. I was very strong about the dragon. I really wanted my Glider to be a dragon, because I'm a 2000 baby and that's my Chinese zodiac sign. Growing up, my dad always made references to that so I knew I had to have a dragon somewhere. I'm so happy with the Glider because it's so sick. I remember talking to the Fortnite team about what that meant to me. When that came to life, it was so exciting. And honestly, I love designing stuff, so this was another one of those moments where I could get creative by working with a group of amazing, talented people who helped bring my vision to life. Honestly, I did the easiest part and the Epic Games team did the hardest part which is actually making everything happen. But I feel like I had something to do with it, so I feel good about myself.
My favorite outfit is the black and gold one, which is a surprise because it was a pretty last-minute decision after I won gold at the Olympics. I also love the Sub-Zero Flight Back Bling ice wings. Overall, the collaboration was about incorporating my sport and bringing that into the game. Being the first snowboarder on Fortnite is amazing, and I feel like it was a beautiful collaboration that was meant to happen.
With a video game added to your list of partnerships, are there any other areas that you'd like to dive into in the future?
I'm working on a few things at the moment. I do love design and I'm actually working on my next capsule collection with Roxy, which is amazing, being able to design snow outerwear. It's so much fun, I just love that creative process and coming up with ideas. I might even want to try acting one day. Or, I don't know, maybe I'll get really good at Fortnite and do that professionally.
---
Share this article