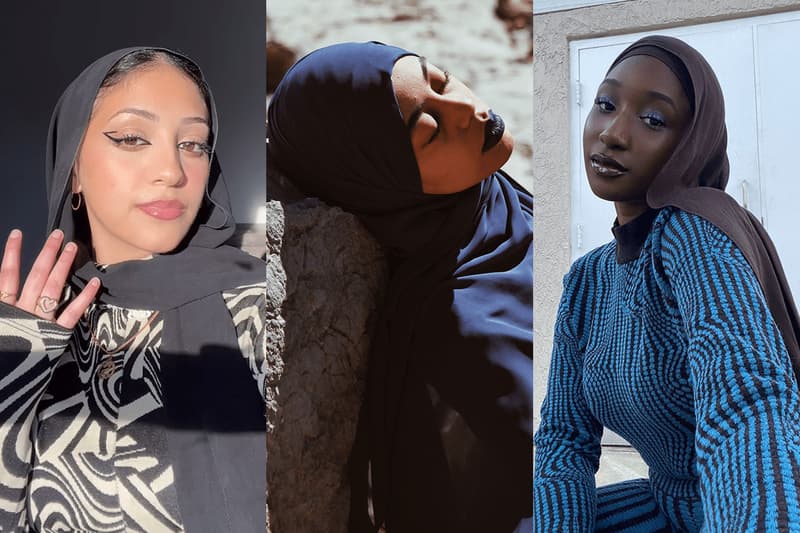 Beauty
Hijabi Women Around the World Discuss What Beauty Means to Them
In conversation with three "hijabaes" celebrating Muslim Women's Day.
Hijabi Women Around the World Discuss What Beauty Means to Them
In conversation with three "hijabaes" celebrating Muslim Women's Day.
With March being Women's History Month, this is a time for women everywhere to shine even brighter and share their stories even further. Leading into the month of Ramadan, we are celebrating Muslim Women's Day with Muslim Girl, the online platform championing Muslim women's voices.
In 2017, Muslim Girl proclaimed March 27 as Muslim Women's Day. This is the largest media day for the community, with a series of diverse and original stories being spotlighted on the internet. This special day honors Muslim women, encourages representation and engages with the wider community.
Hypebae spoke to three "hijabaes" from different backgrounds, Khadija Sillah, Junaynah El Guthmy and Shada Abdelaal, about beauty and how they use makeup to tell their stories, accentuate their favorite features and express themselves. Read on for our conversations.
Khadija Sillah
What's your earliest memory with makeup or beauty in any facet?
My earliest memories with makeup was my obsession with the kohl liner at the age of 13. I used to wear kohl and literally nothing else. I was obsessed with how it looked on some of my favorite Bollywood actors and celebrities, so I wore it every day to school, and I would always come home with it running down my face because it never stayed [Laughs.]
How do you use makeup to express your individuality?
I've always really loved and appreciated all colors and all their shades, but I don't always want to wear colored clothing. Makeup allows me to play with color in ways that connect to my inner child. As a kid, I was in love with mixing colors in my outfits because I was obsessed with rainbows. Now, I love adding a pop of color on my lids as an accessory to my outfit, because it takes me back to the days when I proudly wore colors that clashed with each other, because it made me happy.
View this post on Instagram
"Makeup allows me to play with color in ways that connect to my inner child."
When do you feel most beautiful?
I feel the most beautiful when I'm happy. That's not necessarily always directly tied to makeup or physical beauty, but if I'm happy with what I'm wearing and how I've done my makeup, I'm going to feel beautiful.
What's one product that you enjoy using to accentuate your favorite facial feature?
My favorite facial feature is my skin, and I am serious when it comes to protecting my inner glow. I cannot do it without Live Tinted's Hueglow. I wear it under my moisturizer or foundation religiously, because nothing helps me shine like Hueglow.
Junaynah El Guthmy
How old were you when you were introduced to makeup?
The first time I was ever really handed a bit of makeup to experiment with was during middle school. Some of my classmates were a couple of years older than me and grew up in much more festive households, so they'd bring back whatever their aunts and cousins would use when they dressed up for weddings or gatherings, and get changed in the school locker room at the end of the day just as they were about to go out.
Personally, I wasn't a makeup girl, but they'd always talk about how big my eyes were and what they would do if they had eyes like mine. Eventually, I let them put on a little mascara and eyeliner, thinking I had done myself up and loved that feeling. It was never about making myself prettier — it was more about being able to make my face as I knew it look however I wanted it to. Since forever, I've always felt a bit weird and uncomfortable being called beautiful, because I'd always think this is just my genetics. I had nothing to do with it. However, with makeup, I felt like yes, now I can claim a little credit to the compliment.
What's your earliest beauty-related memory?
My earliest memory with makeup is definitely stealing my mom's lipsticks when I was around 4 years old. To me, they were like prepped paintbrushes that I could draw with. And since I've seen mom paint on her face, that's the green light to use my face as a canvas.
View this post on Instagram
"I don't think I ever even related makeup to a thing of vanity. It really was just another fun and messy art form that was adult-approved."
How do you use makeup to express your individuality?
I'm someone that's constantly curious and observant, and I like my observations and evolutions to manifest themselves in physical form. So, if I've suddenly become fascinated with flamingos, I'd like to start wearing pink rings or lipstick. Similar to if I'm stressed or in an overtly confrontational mood, I usually wear more eyeliner, because that to me embodies the intensity of that emotion. So, to me, makeup is a way I can turn my thoughts and emotions into something I can physically see and show.
When do you feel most beautiful?
I feel most beautiful either when I've washed my face after a good day of sleep and the sun hits my face just right, so I can take in all that I've been blessed with. Or when I've done a really good no-makeup makeup look, because I have just enough on to recognize and accentuate my features, but not alter them.
Shada Abdelaal
When were you first introduced to makeup?
I was first introduced to makeup when I was 7 years old. I was at Chuck E. Cheese and they had makeup glitter boxes that included glitter lipstick, glitter eyeshadow and glitter blush. I played so many games and finally saved up all my tokens just to get one.
What's your earliest beauty-related memory?
I was 3 years old visiting Jordan, and my mom did my makeup for a family member's wedding. She did a classic Arab makeup look. Thicker brows, red lipstick, heavy blue eyeshadow and kohl liner.
View this post on Instagram
"Making sure I do my skincare routine so my skin is hydrated and taken care of makes me feel good."
How do you use makeup to express your individuality?
I do love being creative with makeup when expressing myself. Like matching my eyeshadow color with the colors of my outfits and doing abstract eyeliner looks. I also love using Pinterest as a way of being creative. I'm on Pinterest 24/7 looking for creative makeup inspiration I can try to recreate.
What's your favorite makeup product?
My go-to makeup product that accentuates my facial features has to be highlighter. Not only does it give my skin a brighter, dewy look, it also enhances my cheekbones, eyebrow bone, nose and chin, making them more defined and structured.
Share this article