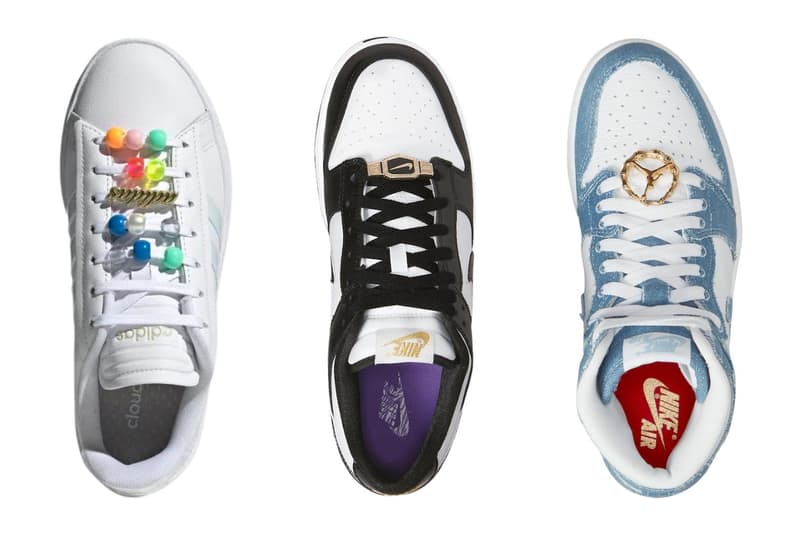 Sneaker Trend Spotlight: Embellishments
Lace locks, charms and more.
The sneaker world has a less than stellar reputation for catering to anything beyond the cismale audience. From a staggering lack of size equality to a gap in representation behind-the-scenes, it's only fair that the product offering designed to cater to women be looked at critically. While some progress has been made in these regards, they are in no way proportionate to the buying power of women nor are they to scale with women as the trailblazers and purveyors of trends at large.
As sneaker brands continue to court women, they tend to rely on the same devices — namely pastel colorways and feminized silhouettes — to varied success. Strategically, these approaches are more ideal for women entering the sneaker space, and less for purists who'd view a platform version of a classic as an abomination.
The latest women's trend causing contention is embellishment. From bedazzled Air Force 1s to diamante lace locks, the message seems to be clear — women care about details so why not accessorize from head to toe?
In its most successful, these adornments serve as furtherance for storytelling. Such is the case with the women's Air Jordan 1 "Denim," which features a bamboo-earring shaped detail that adds to the "'round the way girl" aesthetic mirrored in the sneaker's bleached denim upper.
At its worst, these bedazzling feel supplementary and erroneous. When the trendy iterations overshadow the classics, what's a purist to do except discard these add-ons without a second thought?
Whether or not one's personal aesthetic aligns with the big brands' need to decorate, the conclusion is clear. As an option? Yes. As a direction? Nah.
Share this article