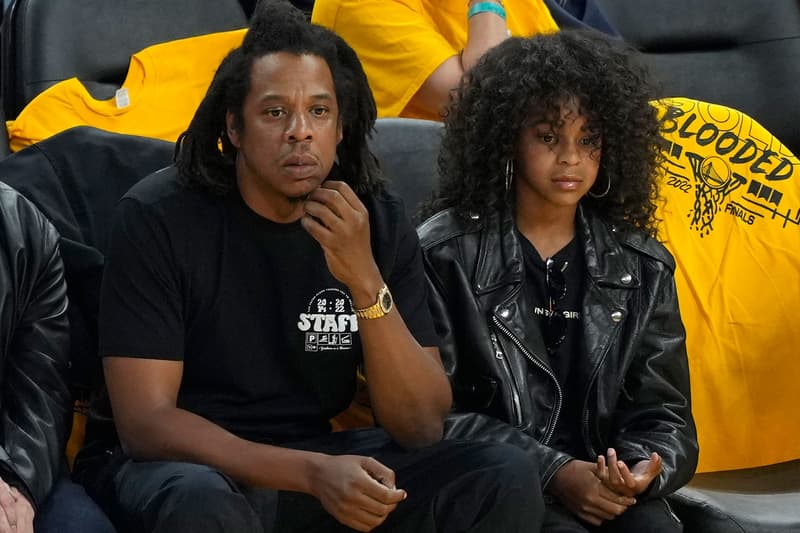 Entertainment
Blue Ivy Looks Just Like Her Mom Beyoncé Sitting Courtside at NBA Finals Game
"Beyoncé really copy pasted her looks on Blue Ivy."
Blue Ivy Looks Just Like Her Mom Beyoncé Sitting Courtside at NBA Finals Game
"Beyoncé really copy pasted her looks on Blue Ivy."
Blue Ivy Carter made a rare appearance with her dad Jay-Z, sitting courtside at the NBA Finals in San Francisco.
The 10-year-old took over the internet on Monday for her resemblance to her mom Beyoncé, with fans sharing side-by-side images of the two for comparison. "Beyoncé really copy pasted her looks on Blue Ivy," "Blue Ivy stole Beyoncé's entire face," users wrote on social media.
Blue Ivy, who made a special appearance with her mom at the Oscars earlier this year, attended the game wearing a motorcycle jacket and black joggers, pairing the look with gold hoop earrings. While on camera, Jay-Z went for a full dad moment, hugging and kissing his daughter as she's seen saying, "Dad, my hair."
Peep Jay-Z and Blue Ivy at the NBA Finals game above.
Share this article