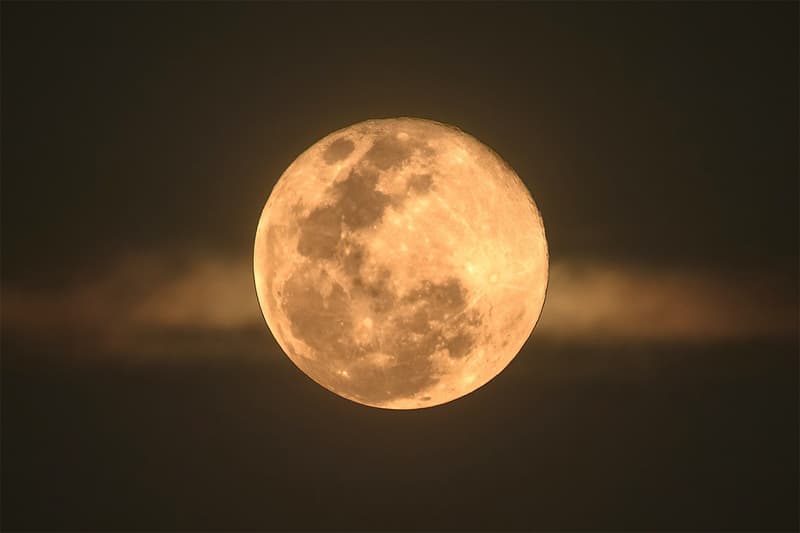 July's Leo New Moon Inspires Authenticity
Embrace the lion's main character energy.
Leo season kicks off with a cosmic bang as July 28 brings a New Moon in the confident and fearless sign. Known for their infectious energy and love of the spotlight, the next month will have you feeling more ready to walk in your truth and be your best, authentic self.
New moons represent new beginnings, so this is the perfect time to evaluate what's no longer serving you and what you need to let go of to walk through life feeling lighter. When the moon disappears from the sky, it is an invitation to look inward. This Leo New Moon won't be without its own obstacles as it coincides with a Jupiter retrograde. Embracing the bold spirit of the fire sign will inspire you to stand firm in your purpose, no matter how loud your inner or outer critics might be.
Continue scrolling to read your horoscope for the July New Moon.
The Leo New Moon falls in your gift house of creativity and pleasure, so establish a night routine that honors your inner child. Whether it's a solo picnic with water colors or a night of solo play, imitate Leo's brazen energy and just do what makes you happy, even if it doesn't make sense to anyone else.
La luna lights up your fourth house of domesticity, calling you to pay attention to how your environment may be affecting you. Our homes have a bigger impact on our mental health than we realize and it's important to not take that for granted. Along with refreshing your physical space, make sure to take care of your first home — your body. Opt for gentle movement or your favorite form of physical self-care.
Perfect for the zodiac sign that loves to chat, the July New Moon resides in your third house of communication. Use your natural gift of gab to reclaim your narrative. Whether it's through journaling or sharing your story with others, find a way to speak your truth and own it.
With the New Moon in your second house of income, July 28 presents a wonderful opportunity to create goals around your personal finances. It's okay to dream big. While the cost of living is going up, you can still plan for a comfortable future. Rid yourself of the shame and stigma that comes with talking about money. You deserve to live the life you can't stop dreaming about.
This is your moment. With the New Moon shining in your first house of identity, the cosmos are giving you full permission to take center stage and lean into that main character energy you're known and loved for. On the night of the New Moon, take the time to practice some indulgent self-care and reflect on what you want in the future. While it's absolutely okay and necessary to celebrate your wins, the best form of self-love can be setting your future self up for success.
The Leo New Moon rests in your twelfth house of the subconscious, encouraging you to attend to your inner world. As a hard working and pragmatic sign, you often find yourself stretched thin. Give yourself a break and hit the reset button by doing things that fill your cup and bring you joy. It's okay to rest.
Sitting in your eleventh house of groups, this month's New Moon plays to your strong social skills. You love being around your people and July 28 is the perfect time to host a sister circle or reach out to that old friend you've been meaning to reconnect with. You're a pro at small gestures and given the chaotic times we're living in, everyone could use a friend.
The New Moon shines in your tenth house of career, turning your attention to your work and passions. If you've been burning the candle at both ends, use the night of the New Moon to celebrate your achievements. Allow yourself to take up space. Channel Leo's energy and be courageous.
Activating your ninth house of travel, the Leo New Moon is giving you the itch to pack up your bags and get away from it all. Whether it's booking a solo honeymoon to the south of France or planning a staycation with friends, make an effort to take yourself out of your comfort zone by getting a change in scenery. A new environment and routine can totally shift your perspective.
Grace is the theme for your New Moon as the celestial planet is in your eighth house of intimacy and secrets. As an innately ambitious and goal-driven person, you're prone to being quite hard on yourself as you simply want the best. However, you can't reach your full potential if you're burnt out from running on anxiety. Implementing a daily practice to list three things you love about yourself or are grateful can help encourage positive self-talk.
As the idealist of the twelve signs, you're deeply community-oriented, so it comes as no surprise that the Leo New Moon is situated in your seventh house of partnerships. Use the energy of the New Moon to think critically about what you want and absolutely need from the relationships in your life. We're not saying you can manifest a partner, but you can gain some clarity on your must-haves and deal breakers, as well as finding genuine ways to put yourself out there. Soon enough, you'll be putting yourself in the orbit of like-minded people, which is a meaningful step in the right direction.
With the New Moon in your sixth house of daily routine, July 28 is a great time to reevaluate your everyday habits. We may find ourselves more motivated during the season of warm weather and sunshine, now is the perfect time to reflect on what small habits can not only bring us closer to our goals, but create a more abundant life as well. Head straight to Pinterest and make a vision board to get you going.
---
Share this article