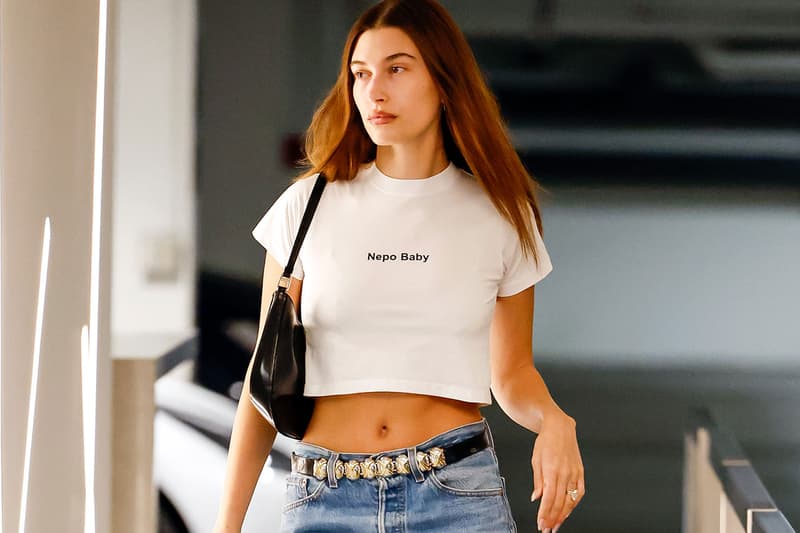 Hailey Bieber Is Proud to Be a "Nepo Baby"
According to her latest fashion statement.
Hailey Bieber is well aware of her "nepo baby" status and what's more, she's seemingly proud of it — if her latest fashion statement is anything to go by.
The model was spotted in Los Angeles wearing a pair of blue jeans and buckle loafers, paired with a white crop top which featured the words "Nepo Baby" on it. The statement tee was undoubtedly a reference to New York Magazine's viral "Year of the Nepo Baby" cover story, which landed in December of last year.
For those who aren't aware, Bieber is the daughter of actor and producer Stephen Baldwin, known for films like 8 Seconds and The Usual Suspects, alongside the niece of actor Alec Baldwin, known for It's Complicated, Beetlejuice and Along Came Polly. She featured in the New York Magazine article alongside the likes of Maya Hawke, Lily Collins, Jaden Smith and Lily-Rose Depp.
Numerous celebrities have made their thoughts known, with Gwyneth Paltrow responding with a "thumbs-up" emoji and Charli XCX saying "I respect the nepo baby T-shirt attempt." Naturally, fans have been quick to point out Charli's use of the word "attempt," suggesting that she's not as on board with the idea as she may seem.
Either way, Hailey Bieber remains truly unbothered.
In other news, Kylie Jenner and Travis Scott have reportedly split again.
---
Share this article