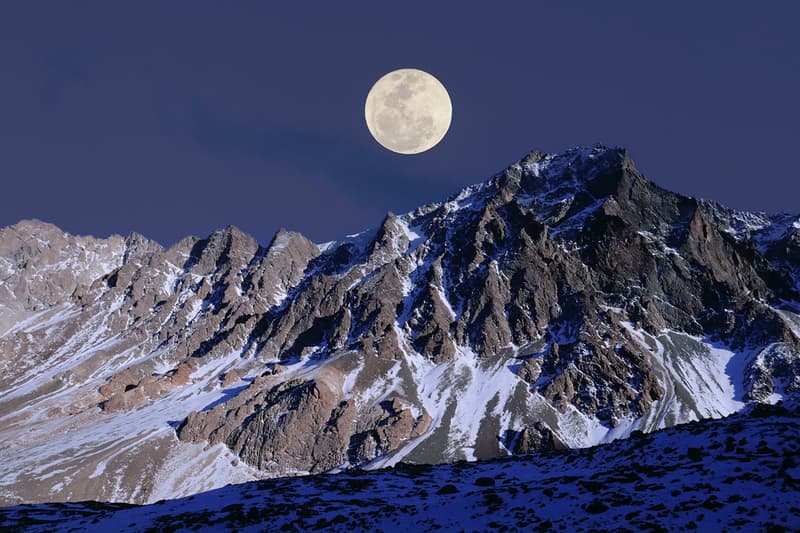 Culture
February's Leo Full Moon Inspires You To Be Bold and Brave
Make the only full moon in Leo this year count.
February's Leo Full Moon Inspires You To Be Bold and Brave
Make the only full moon in Leo this year count.
Although it's the shortest month of the year, February is looking to be one of the most impactful as it delivers a full snow moon in Leo. Thanks to The Old Farmer's Almanac, this month's full moon owes its name to the weather, of course, as this is typically the time of year that brings the most snowfall — and the wind chill outside does not lie.
Lighting up the night sky on Sunday, February 5, la luna sits in arguably the most confident sign in the zodiac. Represented by the lion, the full snow moon will inspire big and bold energy, encouraging you to embody the fire sign's fearlessness. However, it's important to remember that we're still in the midst of the Year of the Rabbit. Considering this is the first full solar month of the Lunar New Year, this weekend's upcoming celestial event will invite you to take calculated risks, marrying the rabbit's genial disposition with the lion's prideful roar.
To top it off, Earth's favorite (and only) satellite is squaring off with Uranus, a planet that symbolizes innovation, creativity and experimentation. Coupled with the fact that it is still Aquarius season, the desire to break out of your mold and embark on a new path is at an all-time high. Aquarians are known for their unconventional ways, as well as their innate drive to uplift their peers. Keeping in mind that Leos portray bravery, while rabbits depict community and gentleness, the February full snow moon pushes you to find balance. It's time to be daring and think outside of the box, while also discovering the strength in solidarity and sensitivity. If you've been feeling a sense of restlessness and a need to break out of a rut, the universe is most likely whispering in your ear, giving you that little nudge you need to shake things up.
Continue scrolling to read your zodiac's horoscope for February's full snow moon in Leo and don't forget to check your rising sign as well as sun for more insight.
Shining a light in your fifth house of creativity and romance, the full moon will be the artistic spark you need to fuel your passion projects. Carve out some time on Sunday evening to dive head first into your side hustles or treat yourself to a solo arts and crafts night to get the creative juices following.
The full moon is in your fourth house of domesticity, which is fitting for an earth sign. At times, your level-headedness can lead you to focus too much on your to-do list, so use this as an opportunity to shift your attention to work-life balance, slowing down before the work week.
The twins of the zodiac are blessed with the gift of gab, so it should be a welcome sight to see the full snow moon in your third house of communication. Your voice is your best quality. Use it to advocate for your needs and desires as no one will care about you the way that you do.
Taking up space in your second house of income, the Leo full moon asks you to take an open and honest look at your finances. While we are all struggling with the ever-rising cost of living, don't be afraid to examine how you can line your pockets and still stay true to yourself.
The full moon is giving you all the attention you could want as it rests in your first house of self. Make Sunday evening all about you and schedule in some much-needed TLC. It's time to break out the cucumber slices.
Your twelfth house of spirituality comes into full view as the full snow moon turns on your intuition. While you tend to err on the more pragmatic side, dive headfirst into you emotions, giving your mind and soul the rest it needs to keep crushing it.
As a social butterfly, you're in luck as the Leo full moon turns the lights on in your eleventh house of networking. Imitate the bouncing rabbit and host a sister circle to honor the crater-filled planet.
Sitting in your tenth house of career, the full snow moon asks you to put your best foot forward and be more proactive. Whether it's taking the leap into freelance work or asking for the promotion that you know you deserve, now is your time to be as bold as the lion of the zodiac and stand up and show out.
The moon is in your ninth house of adventure, encouraging you to add a heavy-handed helping of spontaneity and play into your daily life. You don't have to take an all-inclusive trip, especially when flights are getting cancelled left and right. Try to do something new everyday to keep boredom at bay.
Intimacy is on your mind as the moon is in your eighth house, bringing the Valentine's Day spirit a little bit early for you. Whether you're snuggling up with your boo or taking care of your needs, don't shy away from love.
Love is on the brain as the Leo full moon is in your seventh house of partnership. As the free bird you are, it's hard to tie you down, but while you are making sure that you're living your best life, don't be afraid to leave room for romance. Life is best shared with other people.
In your sixth house of wellness and daily routine, the full snow moon is an invitation to tend to your mind, body and soul, which will be extremely important as Pisces season starts in just a few mere weeks. As a highly emotional sign, you know how important mental health is, so put your phone on do not disturb and make Sunday night one for self-care.
---
Share this article