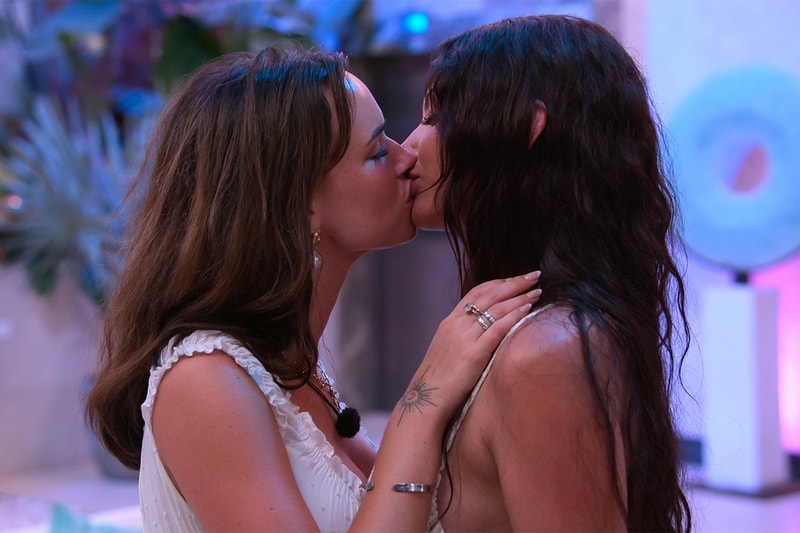 Sex & Dating
ICYMI: Netflix's 'Perfect Match' Is Officially a Queer Dating Show
Making Netflix history in the most villain-esque manner.
ICYMI: Netflix's 'Perfect Match' Is Officially a Queer Dating Show
Making Netflix history in the most villain-esque manner.
Netflix's Perfect Match, the dating series that gathers the platform's top cast members on a quest for love, has officially become the first Netflix dating experiment to explore sexuality.
Former catfisher, Ines Tazi, from The Circle: France, matched the house villain Francesca Farago with another woman, Twentysomethings: Austin's, Abbey Humphreys – despite the show never discussing queerness which caught everyone off guard. Francesca, who had already dated her top prospects in the house didn't seem to find an issue with it, however, she is in love with anyone who's in love with her.
In the same episode, Kariselle Snow expressed to her partner Joey Sasso how her bisexuality has been a dealbreaker in past relationships. Joey, however, made it very clear that her sexuality was attractive and she was free to bring a woman home any day she'd like — lowkey bordering on fetishizing her sexuality.
Episode 8 reveals a plot twist that every queer viewer has always dreamt about: what if all the women on this show say f-ck the guys, and just date each other? Or even better, what if male cast members felt comfortable enough to explore with one another? Or maybe… everyone?
However, reality dating series rarely explore this realm, which is no surprise considering they're still wrapping their heads around how to cast and match Black cast members. So much so, that the discussion of a queer The Ultimatum has been the talk of the town since 2022, to no avail.
However, according to Farago, the series welcoming queer storylines was essential. "I think that was something that I kind of guided towards during filming," Farago told Variety. Throughout the season, Farago clearly has an edge for making people think things are their idea, and it seems a queer cast was no different.
"I reached a point where I wasn't sure if I wanted to remain in the house anymore because I just didn't know if there was someone for me there," Farago continued. "I knew who was there, men-wise, and I was like, 'I don't know if I can waste anyone's time by continuing to match with these men that I know I'm not going to get along with.'"
She then found out about the "possibility of me being matched with a female, and I was like, 'In that case, I will stay for that.' I wasn't even sure if it was going to happen because it was a heterosexual show. But I'm glad that it happened, and I'm glad that that relationship happened as well. I kind of just switched up the game."
But, will this be a one-off queer storyline? Or will the chaotic dating show continue to show up for queers in the chat? With how manipulative the house is, strategy can change tomorrow. But we're keeping our fingers crossed for all the gay sh-t.
In other news, read this article predicting each couple's compatibility — by zodiac sign.
---
Share this article