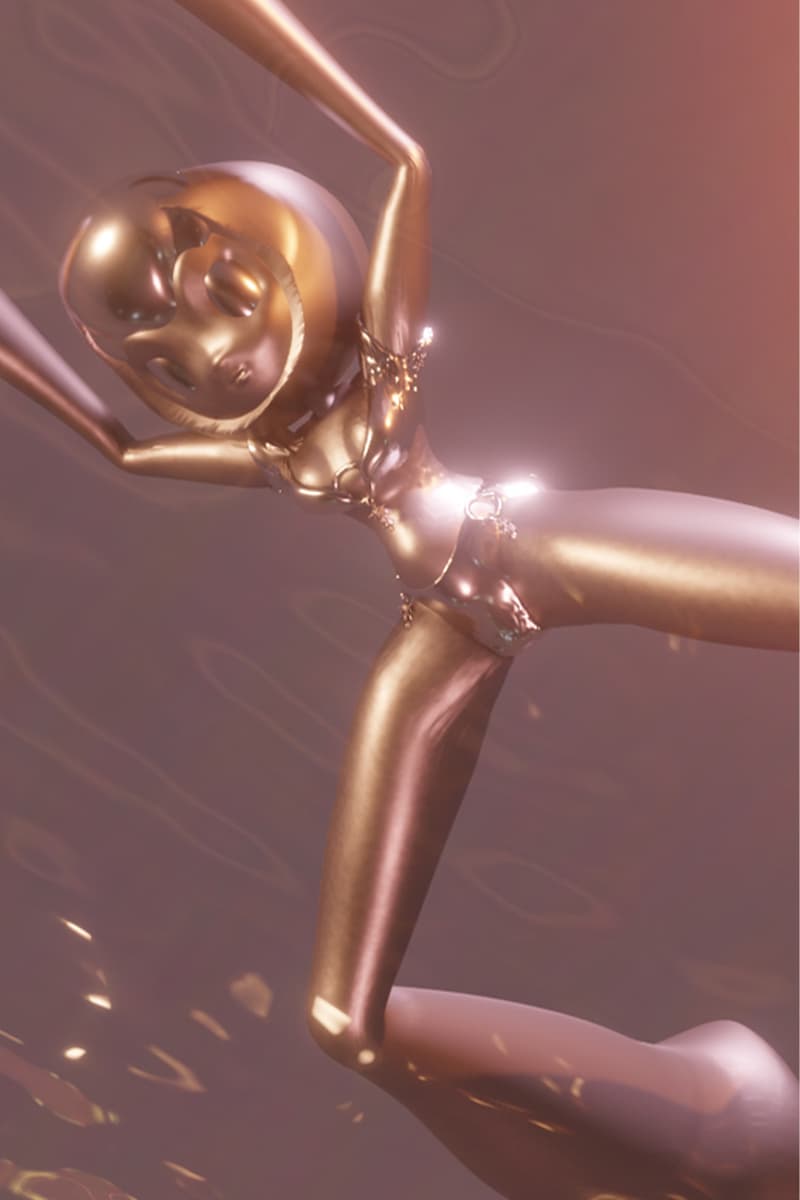 Diving Into Digital: Our Favorite Fashion NFT and Web3 Projects of March 2023
From Gucci and Yuga Labs' strategic multi-year partnership, to Gabrielle Rosenstein's 3D animation "Pure Escape."
Fashion
Diving Into Digital: Our Favorite Fashion NFT and Web3 Projects of March 2023
From Gucci and Yuga Labs' strategic multi-year partnership, to Gabrielle Rosenstein's 3D animation "Pure Escape."
The beginning of spring welcomed the highly anticipated Metaverse Fashion Week, in which brands offered their virtual communities token-gated access to immersive digital experiences linked to physical and digital rewards.
Moreover, luxury labels proved to be on the hunt for partnerships with Web3 pioneers, as we saw Balmain collaborate with Space Runners to bring its Unicorn sneaker silhouette into the metaverse and Gucci and Yuga Labs embark on a multi-year partnership. We also witnessed a rise in projects spotlighting divine femininity, such as the innovative social search engine Diem, which uses AI to answer women's personal questions that Google won't.
Continue scrolling to see our favorite cyber collections and Web3 initiatives this March.
Prada unveiled its tenth Timecapsule NFT, finishing its three-part series with photographer Enzo Ragazzini.
Prada dropped its tenth Timecapsule NFT early this month. The March edition of the Timecapsule shirt featured the final print from the label's three-part series with Italian photographer Enzo Ragazzini's '60s archive. First unveiled in 1969 for his exhibition at the Institute of Contemporary Arts in London (ICA), the design was made using an optical interference technique and later digitized in 2017. The physical version of the shirt is made from cotton poplin and sees the Prada triangle logo with "MARCH" on the back. As per usual, this month's NFT also serves as an invitation to join Prada's Crypted NFT community.
Gucci and Yuga Labs came together in a strategic partnership.
Gucci and Yuga Labs, Web3 pioneer and founder of Bored Ape Yacht Club (BAYC), CryptoPunks, Meebits and 10KTF, announced a multi-year partnership designed to extend the engagement between their respective communities, by exploring the intersection between fashion and entertainment in the metaverse. The first phase in the partnership gave a glimpse of Gucci's participation in Otherside, Yuga's gamified, metaRPG universe.
Balmain's Unicorn sneaker silhouette step into Web3.
Balmain tapped Web3 fashion brand Space Runners to bring its futuristic Unicorn sneaker into the metaverse. The creative partnership wanted to marry the physical and digital into crafted digital collectibles, which is why they are set to release a phygital series of the Unicorn silhouette in a new colorway. Although the price is yet to be specified, the option to register interest is already available.
Huntrezz Janos designed black avatars for her own version of the metaverse.
WePresent continued its ongoing partnership with A Vibe Called Tech, the creative agency operating at the intersection of Black creativity, culture and innovation, to commission LA-based experimental artist Huntrezz Janos. The Afro-Hungarian creative developed four avatars for her own version of the metaverse, including a jewelry-laden basketball player (or digiballer) who stands for Black Trans Visibility and a virtual therapist who works with his patients in an "Infinite Zen Garden" and meditates on clouds. Janos also presented a poet, lyricist and jazz improviser lead of her band of five and a metaverse DJ who spins her collection of augmented reality vinyl.
Gabrielle Rosenstein teased 3D animation Pure Escape.
Multi-disciplinary artist Gabrielle Rosenstein specializes in hyper-stylized depictions of the female form, using digital sci-femme fantasies to explore queer identity. Ahead of her first accessories collection, "Charm," set to launch early this summer, Rosenstein teased an upcoming 3D animation dubbed Pure Escape. The short film portrays Key, a character seeking a deeper connection beyond her isolated digital feed. Key can be seen wearing an accessory from the "Charm" collection, which exudes futuristic femininity and gives the concept of "cuteness" a whole new meaning.
Xtended Identity launched its first NFT-fused phygital jewelry collection.
London-based digital fashion lab Xtended Identity unveiled the "AViAN Capsule Collection," its first NFT-fused phygital jewelry range. The line-up comprised physical sterling silver jewelry, matching AR filters and a collectible NFT. On the idea behind releasing accessories blurring the lines between reality and virtuality, Xtended Identity commented: "This NFT-fused phygital collection with a unique opportunity for customers to engage with wearable assets in both physical and digital formats, granting them an innovative way to express their digital identity."
Clarins debuted its new luxury skincare range "Precious" in the metaverse.
Clarins ventured into the metaverse with the launch of its first-ever NFT collection. In partnership with leading Web3 female platforms My BFF and Hervisions, the luxury skincare brand unveiled a range of 325 NFTs linked to immersive augmented reality experiences and exclusive benefits, such as access to Clarins' new prestigious skincare range, "Precious." The label also co-created assets with ALTAVA Group and various female-identifying digital artists for the release.
Fashion tech futurist Cathy Hack launched an 18k solid gold wearable NFT with Simone Faurschou.
Latinx Godmother of the metaverse and Tech Futurist Cathy Hackl announced the launch of Frillz, a first-of-its-kind connected jewelry collection using near-field communication (NFC) technology. The drop comprises a bespoke, physical necklace and bracelet range linked to their digital twins. Frillz is the first capsule collection of Hackl's VerseLuxe label, in collaboration with renowned web3 jewelry designer Simone Faurschou and will open for pre-order in late April.
MERCURY DASHA launched a new integrated phygital collection: IN REAL LIFE 005.
"IN REAL LIFE 005" was MERCURY DASHA's first integrated phygital drop designed to be worn in virtual and physical worlds. The collection's first phase contained a streetwear piece featuring the label's signature maximalist urban aesthetic and wearable for both gaming environments (such as Roblox and Decentraland) and IRL. MERCURY DASHA then released the rest of the collection (phases 2 and 3) during Metaverse Fashion Week, where they hosted an event in collaboration with Renovi Hub in the label's Decentraland space BINARY BUILDING.
Sotheby's partnered with RLTY to present first NFT auction in the metaverse.
Web3 platform RLTY  partnered with Sotheby's during Paris Blockchain Week (Europe's largest blockchain conference) to present the first NFT auction in the metaverse; artists included Beeple, Anyma, Extraweg and many more. The immersive experience saw the world's biggest auction house holding a live NFT auction in RLTY World's digital space. Titled Oddly Satisfying Sale, the auction featured 66 pieces of NFT art from both established and up-and-coming digital artists and was also streamed live on screens at the Sotheby's auction house in Paris.
Saatchi Art released an exclusive NFT collection on SuperRare.
Saatchi Art has partnered with SuperRare, a curated NFT marketplace for unique digital art, to release a 10-work collection featuring 1/1 NFTs by artists from around the world. Dubbed Moments Past: Web3 & Memory, the exhibition saw, never before minted or exhibited ERC-721 NFTs from artists including Ukrainian artist duo Synchrodogs, an award-winning photographer and floral artist Flower Blocks, and Ireland-based painter and visual artist Anna Matykiewicz. In addition to being available on the SuperRare platform, Moments Past: Web3 & Memory debuted at The Other Art Fair in Los Angeles.
Dubai Now acquired Katie McIntyre's "Zenith Women," its first-ever art piece embracing divine female sexuality.
Feminine futurist and artist Katie McIntyre exhibited her largest work to date in Dubai during the BoulevArt festival, hosted by Art In Space Gallery. "Zenith Women" was a fully immersive art piece by McIntyre, curated by Auronda Scalera and Alfredo Cramerotti, with scents, wind, and music in a 360-degree gallery that transported the viewer into a peaceful, divine feminine realm, which featured a woman's legs opening and emanating light. To learn more about the installation and the artist, visit Hypemoon.
Diem uses AI to answer women's questions that Google won't.
Diem is an innovative social search engine created for women and non-binary individuals to conversationally answer their pressing, personal, embarrassing, funny and serious questions. When a user starts a Diem (aka a conversation in the app), they'll receive an AI-generated response that scrapes the internet for answers through a feminine lens and supplements those results with real-life anecdotes shared previously in the platform. Ultimately, Diem seeks to provide women with a safe space, in which they can feel validated and supported.
Heisman Cobain presented 3PLP: Origin film screening and exhibition.
Recording artist Heisman Cobain unveiled 3PLP a virtual character and abstract embodiment of his persona, to support the upcoming release of his "3rd Person" single and debut album No Game, No Life. Seeking to offer the opportunity of interacting with 3PLP in both 2D and 3D, Cobain hosted a multidimensional experience in Soho, London. Coincidingly, the exhibition presented an adventure-discovery film titled 3PLP: Origin, which was also on display in the VR Room at Red Eye Magazine x Black
Carpet Awards' Milan Fashion Week showcase. Watch the film below:
---
Share this article