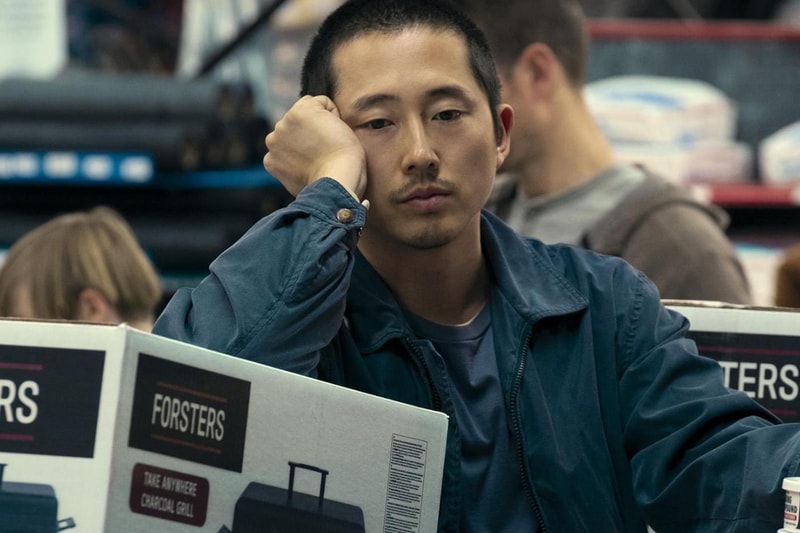 Film & TV
Everything Leaving and Coming to Netflix This April
Including John Mulaney's new special and A24's 'Beef.'
Everything Leaving and Coming to Netflix This April
Including John Mulaney's new special and A24's 'Beef.'
We're well into the first week of April and our Netflix queues are starting to look a little different.
The Walking Dead's Steven Yeeun joins Ali Wong in A24's BEEF, premiering alongside John Mulaney: Baby J and My Name is Mo'Nique, the comedian's first Netflix stand-up special. Meanwhile, season two of All American offers late night escapism, joining Indian Matchmaking: Season 3.
Hilarious favorites like New Girl and Scott Pilgrim vs. the World will be leaving, so tune in while you can.
Continue scrolling for the full list below.
Coming To Netflix

Coming Soon
Ex-Addicts Club — NETFLIX SERIES
A support group of five quirky strangers try to move on with their lives after breaking up with their respective exes.

Welcome to Eden: Season 2 – NETFLIX SERIES
With new threats on the island and no way out, the rebellion ignites an intense battle for freedom while Astrid carries out her plans for the New Eden.

Avail. 4/1/23
28 Days
A League of Their Own
American Hustle
Battleship
The Birds
Born on the Fourth of July
The Bourne Identity
The Bourne Supremacy
The Bourne Ultimatum
Charlie Wilson's War
Conan the Destroyer
Dr. Seuss' The Cat in the Hat
Dr. Seuss' The Lorax
Friday Night Lights
Hatfields & McCoys: Season 1
Hoarders: Season 12
Hotel Transylvania
How to Lose a Guy in 10 Days
How to Train Your Dragon
I, Frankenstein
Inception
Inside Man
The Land Before Time (1988)
Marnie
Matilda (1996)
The Negotiator
Not Another Teen Movie
Psycho (1960)
Puss in Boots
Shark Tale
Shrek Forever After
Smokey and the Bandit
Smokey and the Bandit II
Spider-Man
Spider-Man 2
Spider-Man 3
Thomas & Friends: The Mystery of Lookout Mountain
Zombieland

Weathering — NETFLIX FILM
After losing her baby and nearly her life during labor, a journalist unravels amid disturbing visions and chilling attacks as she grieves alone at home.

Avail. 4/2/23
War Sailor: Limited Series — NETFLIX SERIES
When WWII erupts, two sailors on a Norwegian merchant ship face brutal conditions as they fight to survive a conflict they were never asked to join.

Avail. 4/3/23
Magic Mixies: Season 1
Surviving R. Kelly Part III: The Final Chapter: Season 1

Avail. 4/4/23
My Name Is Mo'Nique — NETFLIX COMEDY
You think you know Mo'Nique? From staring down a racist teacher to her grandmother's sex warning, the comedy legend spills all in this stand-up special.

The Signing — NETFLIX SERIES
In this reality show, young Latino artists must impress music legends like Lex Borrero, Tainy and Rauw Alejandro to score the contract of a lifetime.

Avail. 4/5/23
Lewis Capaldi: How I'm Feeling Now — NETFLIX DOCUMENTARY
This intimate, all-access documentary chronicles Lewis Capaldi's journey from a scrappy teen with a viral performance to a Grammy-nominated pop star.

Avail. 4/6/23
BEEF — NETFLIX SERIES
A road rage incident between two strangers — a failing contractor and an unfulfilled entrepreneur — sparks a feud that brings out their darkest impulses.

The Last Stand

Avail. 4/7/23
Chupa — NETFLIX FILM
While visiting family in Mexico, a lonely boy befriends a mythical creature hiding on his grandfather's ranch and embarks on the adventure of a lifetime.

Holy Spider

Kings of Mulberry Street: Let Love Reign — NETFLIX FILM
When Granny Chetty is abducted by an evil ex-cop, Ticky and Baboo return for a wild rescue mission, complete with a prized necklace and a musical show.

Oh Belinda — NETFLIX FILM
A young actor's perfect life takes a madcap turn when she agrees to star in a commercial — and suddenly gets transported to her character's world.

Thicker Than Water — NETFLIX SERIES
A journalist's life devolves into chaos when she shields her brother from the law, inadvertently entangling her family in a drug lord's merciless scheme.

Transatlantic — NETFLIX SERIES
Two Americans and their allies form a scrappy rescue operation in 1940 Marseilles to help artists, writers and other refugees fleeing Europe during WWII.

Avail. 4/8/23
Hunger — NETFLIX FILM
A talented young street-food cook pushes herself to the limit after accepting an invitation to train under an infamous and ruthless chef.

Avail. 4/10/23
CoComelon: Season 8 — NETFLIX FAMILY
Fun and learning go hand and hand in this kid-friendly compilation featuring familiar tunes like "Yankee Doodle," "Skip to My Lou" and "Hokey Pokey."

Avail. 4/11/23
All American: Homecoming Season 2

Leanne Morgan: I'm Every Woman — NETFLIX COMEDY
She loves Jell-O salad, her three kids and her brawny grandbaby. Leanne Morgan shares stories about her life as a wife, mother and wearer of big panties.

Avail. 4/12/23
American Manhunt: The Boston Marathon Bombing — NETFLIX DOCUMENTARY
The 2013 Boston Marathon bombing paralyzed a great American city on what was supposed to be its happiest day. Ten years later, this three-part series delves into the massive manhunt that followed the tragedy, as remembered by the law enforcement officials who brought the bombers to justice and the survivors caught in the crossfire.

CELESTE BARBER Fine, thanks — NETFLIX COMEDY
Actor and comedian Celeste Barber takes the stage in Sydney to get personal in public about marriage, mental health, celebrity-branded sex toys and more.

Operation: Nation — NETFLIX FILM
A member of a nationalist group in Warsaw begins a forbidden romance with a passionate, left-wing activist, leading to a series of surprising events.

Smother-in-Law: Season 2 — NETFLIX SERIES
After some time in prison, nosy Isadir returns to her now-growing family — and to new friends, lovers and chances to cause trouble for Carlos and Alice.

Avail. 4/13/23
The Boss Baby: Back in the Crib: Season 2 — NETFLIX FAMILY
After exiting Baby Corp, the Boss Baby and Tina form a fledgling startup to corner an untapped market: "difficult" babies who are the hardest to love.

Florida Man — NETFLIX SERIES
A disgraced cop in debt is forced to return to his home state of Florida for a shady mission only to get swept up in a wild — and deadly — treasure hunt.

Obsession — NETFLIX SERIES
A respected London surgeon's affair with his son's fiancée turns into an erotic infatuation that threatens to change their lives forever.

Avail. 4/14/23
Phenomena — NETFLIX FILM
Three middle-aged women who investigate paranormal events are put to the test when their leader Father Pilón disappears. Inspired by the real Hepta Group.

Queenmaker — NETFLIX SERIES
After a crisis of conscience, a powerful fixer uses her skills to propel a civil rights lawyer's mayoral campaign — and take down her former employer.

Queens on the Run — NETFLIX FILM
Four best friends — and their newfound pet chicken — finally take the road trip they planned in high school. Will they manage to steer clear of trouble?

Seven Kings Must Die — NETFLIX FILM
In the wake of King Edward's death, Uhtred of Bebbanburg and his comrades adventure across a fractured kingdom in the hopes of uniting England at last.

Avail. 4/15/23
Doctor Cha — NETFLIX SERIES
Twenty years after leaving her medical career, a housewife returns as a first-year resident — struggling to find her footing in a job full of surprises.

Time Trap

Avail. 4/16/23
The Best Man Holiday
The Mustang

The Nutty Boy Part 2 — NETFLIX FAMILY
Nutty Boy is an out-of-the-box kid with big ideas who loves involving everyone in his adventures — even though they don't usually go as planned!

Avail. 4/17/23
Oggy Oggy: Season 2 — NETFLIX FAMILY
From the ski slopes to under the seas, Oggy Oggy and his cute kitty friends stick together through any adventure and make sure everyone's all smiles.

Avail. 4/18/23
Better Call Saul: Season 6

How to Get Rich — NETFLIX SERIES
Money holds power over us — but it doesn't have to. Finance expert Ramit Sethi works with people across the US to help them achieve their richest lives.

Longest Third Date — NETFLIX DOCUMENTARY
When Matt and Khani match on Hinge, sparks fly. So much so that they spontaneously fly to Costa Rica for their third date — and get stuck as the world shuts down in March 2020. An extended stay in paradise becomes the ultimate test of compatibility.

Avail. 4/19/23
Chimp Empire — NETFLIX DOCUMENTARY
From the Academy Award®-winning co-director of My Octopus Teacher and the team behind Rise of the Warrior Apes, Chimp Empire explores the fascinating world of the largest chimpanzee society ever discovered as they navigate complex social politics, family dynamics and dangerous territory disputes. Narrated by Academy Award® winner Mahershala Ali.

Mighty Morphin Power Rangers: Once & Always — NETFLIX FILM
When Rita Repulsa returns, the Power Rangers are the only ones who can stop her! But after 30 years, can the team still be the heroes the world needs?

Avail. 4/20/23
The Diplomat — NETFLIX SERIES
In the midst of an international crisis, a career diplomat lands in a high-profile job she's unsuited for, with tectonic implications for her marriage and her political future.

Tooth Pari: When Love Bites — NETFLIX SERIES
A rebellious vampire with a broken tooth falls for a shy dentist on the streets of Kolkata — but will human and mystical forces keep them apart?

Avail. 4/21/23
A Tourist's Guide to Love — NETFLIX FILM
Work brings an American travel executive to Vietnam, where a free-spirited tour guide helps open her eyes to a beautifully adventurous way of life.

Chokehold — NETFLIX FILM
Evading a scandal, a couple from Istanbul starts over in a town on the Aegean coast — but quickly discover the locals are determined to get rid of them.

Indian Matchmaking: Season 3 — NETFLIX SERIES
From London to New Delhi, matchmaker Sima Taparia helps more marriage-ready singles find romance while providing plenty of reality checks along the way.

One More Time — NETFLIX FILM
On her 40th birthday, Amelia makes a fateful wish to be 18 again back in 2002 but soon regrets it when she's stuck reliving the day over and over again.

Rough Diamonds — NETFLIX SERIES
When a prodigal son sends his family's empire into crushing debt, his estranged brother returns to Antwerp's diamond district to pick up the pieces.

Avail. 4/22/23
Ada Twist, Scientist: Season 4 — NETFLIX FAMILY
Ada, Iggy and Rosie add a new friend to the science squad this season: technology whiz-kid Benny B. He's got great ideas — and a super-cool robot dog!

Avail. 4/25/23
The Hateful Eight
The Hateful Eight: Extended Version: Season 1

John Mulaney: Baby J — NETFLIX COMEDY
Emmy-Award winning comedian, writer and actor John Mulaney is back with a brand new Netflix special, John Mulaney: Baby J, premiering globally April 25th.

Avail. 4/26/23
The Good Bad Mother — NETFLIX SERIES
A tragic accident leaves an ambitious prosecutor with the mind of a child — forcing him and his mother to embark on a journey to heal their relationship.

Kiss, Kiss! — NETFLIX FILM
Convinced he can charm any woman, a tenacious flirt sets his sights on a headstrong bride-to-be engaged to the son of an ambitious politician.

Love After Music — NETFLIX SERIES
No one can and no one should live without love. This bioseries traces the passionate life and career of iconic Argentinian rock star Fito Páez.

Workin' Moms: Season 7 — NETFLIX SERIES
In an emotional final season, Kate and her friends seek a balance between professional wins and personal fulfillment. It's hard — but laughter helps.

Avail. 4/27/23
Firefly Lane: Season 2 Part 2 — NETFLIX SERIES
For Kate and Tully, no obstacle is too big when it comes to their lifelong friendship. But is there one mistake that could tear them apart forever?

The Matchmaker — NETFLIX FILM
When an office worker becomes powerfully infatuated with his office's beautiful intern, he follows her to a desert resort beset by bizarre forces.

The Nurse — NETFLIX SERIES
A new nurse at a hospital begins to suspect her colleague's desire for attention may be tied to a series of patient deaths. Based on a true story.

Sharkdog: Season 3 — NETFLIX FAMILY
Sharkdog loves being a part of Max's family, but he wonders if there are more Sharkdogs out there like him — and goes on a wild adventure to find out!

Sweet Tooth: Season 2 — NETFLIX SERIES
Gus and his fellow hybrids are held captive by the Last Men in order to find a cure for the Sick. To save his friends, Gus must find new strength as he uncovers the origins of The Great Crumble.

Avail. 4/28/23
AKA — NETFLIX FILM
A steely special ops agent finds his morality put to the test when he infiltrates a crime syndicate and unexpectedly bonds with the boss's young son.

InuYasha: Season 6

King of Collectibles: The Goldin Touch — NETFLIX SERIES
Ken Goldin and his savvy team run the thrilling action in this series that goes inside a leading auction house specializing in rare collectibles.

Leaving Netflix

Leaving 4/1/23
Turbo FAST: Seasons 1-3

Leaving 4/3/23
What Lies Below

Leaving 4/7/23
Hush

Leaving 4/9/23
New Girl: Seasons 1-7

Leaving 4/11/23
Married at First Sight: Season 10

Leaving 4/12/23
The Baker and the Beauty: Season 1

Leaving 4/18/23
Cuckoo: Seasons 1-5

Leaving 4/20/23
The Mr. Peabody and Sherman Show: Seasons 1-4

Leaving 4/23/23
We Steal Secrets: The Story of WikiLeaks

Leaving 4/24/23
Bill Nye: Science Guy

Leaving 4/25/23
The IT Crowd: Series 1-5

Leaving 4/27/23
Señora Acero: Seasons 1-5

Leaving 4/28/23
Ash vs. Evil Dead: Seasons 1-3

Leaving 4/30/23
Den of Thieves
Empire State
Leap Year
Road to Perdition
Scott Pilgrim vs. the World
---
Share this article