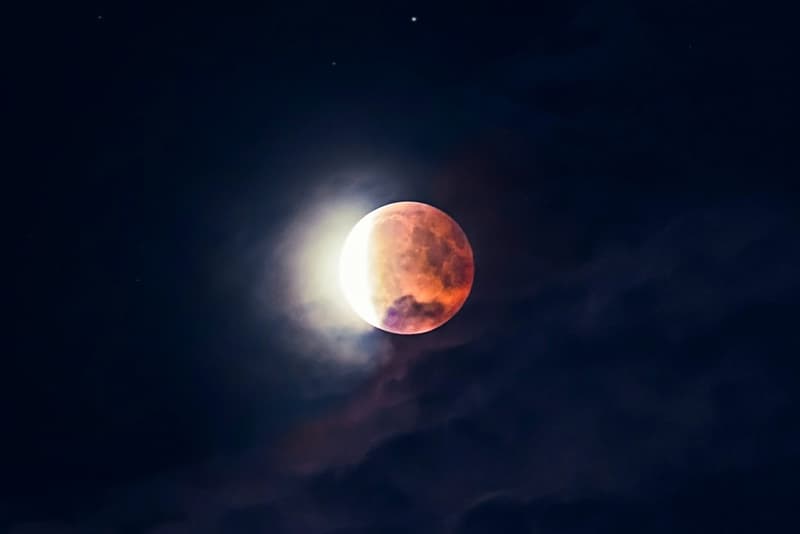 May's Scorpio Full Moon Lunar Eclipse Brings the Dark to Light
It's time to shed your skin.
The first week of May is not holding back any punches as Friday, May 5 delivers a lunar eclipse and full moon in Scorpio, pushing you into the deep end of your emotions.
The first and only full moon in the introspective sign will bring up a lot from the past, encouraging you to look at feelings and situations you've suppressed so that you can move forward into the rest of spring with a clearer head and heart.
Scorpios are notoriously emotional and moody as the water sign is ruled by Pluto, the planet of transformation and reinvention. The Wednesday Addams of the zodiac sign isn't afraid to isolate and go inwards in order to correct course. Use this as inspiration for your full moon ritual and take solace in solitude. Shedding your skin is this cosmic event's creed. Full moons are a culmination of the past season, while a lunar eclipse adds fuel to the fire, resulting in the opportunity to super-charge your shadow work.
May's lunar eclipse is the last in a trio of eclipses on the Taurus-Scorpio axis with the first taking place in November 2021 and the second occurring in May of last year. Thinking about how you've grown during this period and any significant obstacles or achievements you've experienced.
A full moon lunar eclipse in Scorpio will usher in a huge wave of change, so brace yourself for some chaos. Sometimes, things need to fall apart in order to come back together.
Continue scrolling to learn what's in store for your zodiac sign.
Resting in your eighth house of intimacy, the Scorpio full moon lunar eclipse is dialing up your desire. You may feel a huge spike in your libido, but now may not be the best time to give into your urges. Channeling your heightened emotions into a night of self-care and TLC will prevent you from getting caught in any complicated entanglements during the eclipse.
With the full moon falling in your seventh house of partnership, your attention is focused on the bonds that are either energizing you or draining you. Are there people in your inner circle that you're just not vibing with anymore? Releasing with love may be the way to go as you'll free up more room in your life for those who truly align with your authentic self.
Working on your fitness is top of mind as the full moon lunar eclipse shines a light in your sixth house of well-being. With your season around the corner, be honest with yourself about how seriously you've been taking your health. It is your most precious asset and if you've been putting your own physical, emotional and mental health on the back burner, use the eclipse to re-prioritize.
It's time to put on your favorite rose-colored glasses as the moon gets cozy in your fifth house of creativity and romance. You're a deeply sensitive sign and arguably one of the most loving. Harness the energy of the Scorpio full moon lunar eclipse to reflect on how you may be giving out the love you deserve too freely. If you're on the search for a mate, be intentional with what you're looking for and take your time. What's right for you will always be there.
The full moon is in your fourth house of domesticity, shifting your attention to your environment. You may be itching for a change of scenery and a full moon lunar eclipse is the perfect opportunity to hit the reset button on your space. Decluttering your home will also clear out the mess in your mind, giving you the fresh start you need to walk out of the fire anew.
It's time to speak up as the full moon falls in your third house of communication, bringing past conversations to the surface. Ask yourself — were you silent or were you silenced? In the heat of the moment, it can be easy to find your back against the wall, feeling the pressure and suddenly go mute. Don't beat yourself up for freezing at times when you wanted to scream. Reflect on these scenarios on May 5, so that when difficult dialogues arise, you have the confidence to voice your opinion.
The Scorpio full moon is in your second house of income. While money can be a great stressor for many, la luna is encouraging you to rewrite any toxic narratives you've learned. Examine how you might be self-sabotaging any money-making opportunities. You absolutely deserve to be in your bag.
Illuminating your first house of self, the full moon and lunar eclipse in your sign gives you full permission to make Friday night all about you. The universe is handing you a golden ticket to a season of transformation and growth. Think critically about how you might be holding yourself back from your true potential and highest self.
The full moon is in your twelfth house of subconscious and spirituality, urging you to sit down with your thoughts and feelings. Oftentimes, it's easy to dismiss your heart's deepest desires because they may not come from a seemingly logical place, but if you don't take the time to listen to what your spirit is telling you, your head may not have the divine guidance it needs.
Taking up space in your eleventh house of networking, the Scorpio full moon invites you to curate your crew — something you're already skilled at. As a natural-born leader and ambitious sign, you know the value of a strong network. Opening your mind and heart to potential business partners, while maintaining a discerning eye will serve you well.
The full moon is shining in your tenth house of career, giving your business a boost. Setting new professional goals and taking calculated risks will help you activate the celestial planet's supercharged power. You may not be able to quit your day job just yet, but use the power of the lunar eclipse as a catalyst for change.
The Scorpio full moon lunar eclipse is in your ninth house of travel and adventure, putting the wind you need in your sails to embark on a new journey. Tap into that yearning wanderlust and make those daydreams about far-off tropical places a reality. If taking a trip to Saint Tropez isn't feasible at the moment, plan a staycation to give you the new perspective you need.
---
Share this article