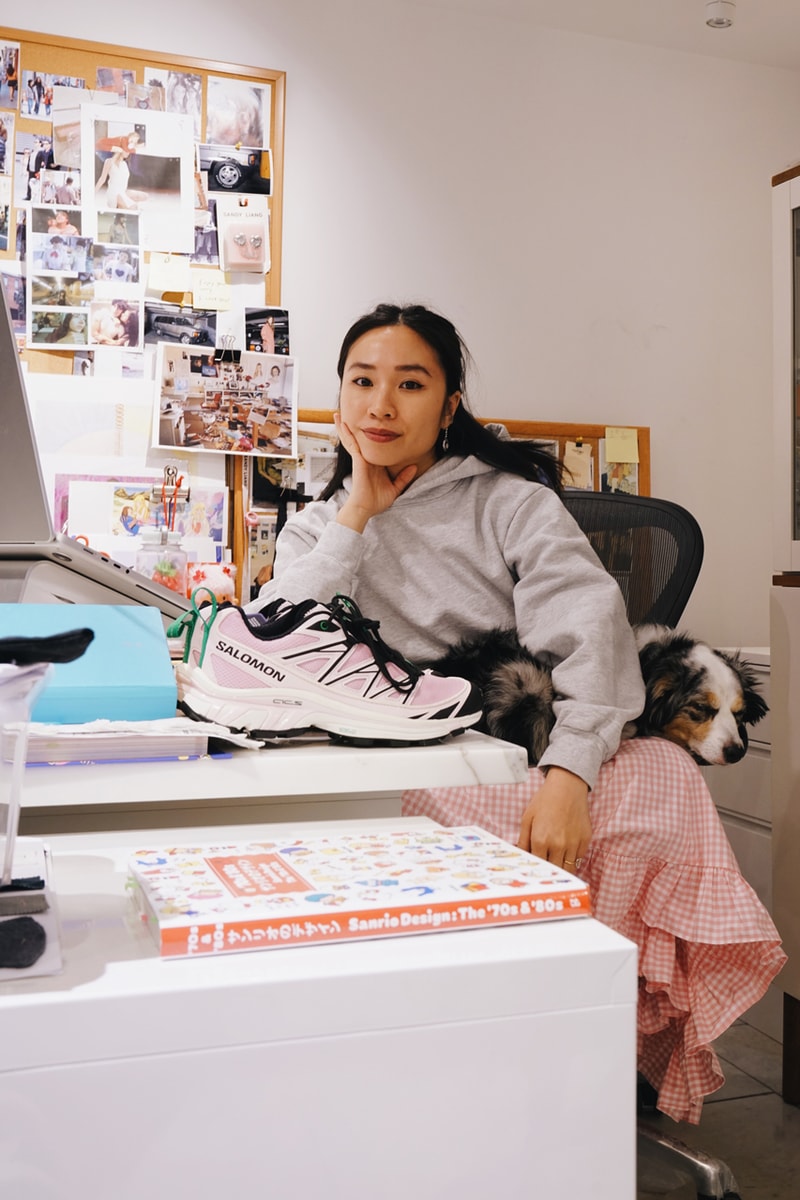 INTERVIEW: Sandy Liang x Salomon
Liang discusses her XT-6 Expanse and RX Moc 3.0 collaborations, her creative process and more.
Footwear
INTERVIEW: Sandy Liang x Salomon
Liang discusses her XT-6 Expanse and RX Moc 3.0 collaborations, her creative process and more.
(Editor's note): The original interview can be found on HYPEBEAST.
It's just before noon on a breezy spring Tuesday in New York City and Sandy Liang is feeling serene. Her highly-anticipated XT-6 Expanse and RX Moc 3.0 collaborations with Salomon are releasing via a pop-up in her Lower East Side store later in the week and she and her team are chugging away on a litany of other exciting projects as well. She's got a trip to Japan on the books in the coming weeks and her beloved dog Timtam — a mini Australian Shepard, who, yes, is named after the chocolate biscuits — has decided he wants to be a part of her Sole Mates interview, nestling himself into the cushions of the couch we're sitting on in her LES office and atelier. "You can rest your phone [which is being used to record the interview] on Tim," says Liang. "I don't think he'll mind." (He doesn't).
Liang may be an ever-busy designer with an exponentially-growing brand and a unique creative perspective, but her aura is genuine and welcoming. She's remarkably light-hearted and open, willing to freely share her process and inspirations — and this easygoing vibe permeates both her eponymous brand and her above-mentioned Salomon collection. In her installment of Sole Mates, Sandy Liang touches on the inspiration she garnered growing up in NYC, when she first became aware of Salomon, what the process of creating her collection was like and how the collection is both aspirational and reflective of the things she loves.
Hypebeast: What got you into sneakers?
Sandy Liang: Growing up in New York in the '90s, sneakers were such a big deal. There was no alternative. You went to school, you wore sneakers. You went to go hang out with your friends, you wore sneakers. The first time a specific silhouette felt important to me was in the early '00s though. It was the Air Force 1 in all white and that was because of the music video for Nelly's "Air Force Ones." I wanted to have so many brand-new pairs after I saw that! A little while later, SB Dunks started getting big — and my older brother, who was in high school at the time, put me on to them, which was my introduction to sneaker "culture."
What were you wearing at the time?
Well, the first shoe I recall coveting was a really specific pair of Sketchers. The first "nice" shoe I had was a Reebok, one of Allen Iverson's signature models.
You've said in prior interviews that you were taught to feel guilty for wanting clothes when you were growing up, and that probably made you love them more than you would have otherwise. Did that extend to shoes as well?
Definitely. My parents would always be like "Growing up in China, we got one new pair of shoes every five years and you American kids think you can have multiple pairs?!" [laughs]. I'd get one new pair of shoes a year and that was during back-to-school shopping. Maybe I'd get a second pair during the holidays if I was lucky.
When did Salomon enter the picture for you?
My first pair was the RX Moc 3.0 in all-black. I took a leap of faith and bought them online, having not seen them in person yet, but I loved how they gave off sneaker vibes without being a sneaker. I would see a lot of people around the Lower East Side wearing models like the XT-4 and XT-6, but I didn't really think about it until we were styling my Spring 2022 ready-to-wear show back in 2021. We couldn't figure out what shoes to put the models in and I hadn't launched my own shoes yet (Editor's Note: Liang's famous Mary Jane ballet pointe flats, her first in-line footwear design, dropped in September 2022). Someone walked into our office wearing a pair of XT-6s, and Deacon, my stylist, was like "we need to use Salomons for this show."
I had no idea how to get in touch with Salomon at the time. I remember DMing them and emailing their corporate website to no avail. Eventually, we reached out to our buyers at KITH who put us in touch with the team over there, and we were off to the races.
As someone who's such a figure in the Lower East Side, you had a front-row seat to witness Salomon's growth into a fashion powerhouse. Why do you think they caught on the way they did?
The people who work at my store told me they'd see a lot of people walk in with Salomons on, and after the Spring 2022 show people would come into the store looking to buy Salomons as well. Personally, I always saw them around the neighborhood but never really thought about it much until we did the show. After we did the show, I found myself noticing them everywhere. I think they took off because they were under the radar at the time, and had a very specific feel — they're a statement-making shoe but don't always feel that way because they're so utilitarian, which is a unique blend.
"It's hard to come by a shoe that's not overly branded or overly associated with a specific style of dressing, but a lot of Salomon silhouettes manage to thread that needle."
They're bold, but not gaudy.
Exactly. It's hard to come by a shoe that's not overly branded or overly associated with a specific style of dressing, but a lot of Salomon silhouettes manage to thread that needle. Plus, they're just really comfortable.
Now that you've sent their shoes down your runway and done a collaboration with Salomon, do you view the brand differently now than you did when you got that first pair?
Not really. They're a big company, but they still feel "small" in the best way possible. Everything they do seems very careful and considered. They're not trying to be everywhere all the time, which is refreshing because every "big" footwear brand wants to be everywhere all the time these days. I got to go to their headquarters in France last summer and saw firsthand how everything is done under one roof and how performance is a key piece of all their products, even the lifestyle-driven ones.
And now you have some Salomons of your own coming out: the XT-6 Expanse and the RX Moc 3.0. How did you land on the silhouettes for your collab and did you know what you wanted to do right away?
Salomon approached me to do a collab after the runway show, and originally it was just going to be the XT-6 because they wanted me to help introduce the Expanse. I begged them to let me do the Moc as well because I loved it so much and wanted more people to know about it. Design-wise, whenever I work with a brand that's as established as Salomon is I go off of a gut feeling and it's pretty seamless. My goal here was to do something that might not be traditionally Salomon but would be representative of me and I knew that my room to play was with the colorways.
I put together a mood board for the collection that had everything from [the Pokémon] Mew to a vintage Sanrio toy, and the color palette that was coming through was pink, green and this buttery yellow. That got edited down to pink with some pops of green for the XT-6 Expanse. For the moc, I originally wanted to do all black because we're working on a mesh Mary Jane and I loved the idea of seeing your toes through the mesh. When we did the prototype, though, the mesh wasn't as prominent as I wanted it to be, so I was like "What if we just did white mesh and you could really see everything?" That worked like a charm, and it was a happy coincidence that it kind of calls out to our previous Mary Jane pointe shoes as well.
What's your favorite feature of each design?
I really love the color palette on the XT-6 Expanse and on the RX Moc 3.0, it's how we applied the mesh. For the collection as a whole, though, I like how you see the flower graphic when you're about to step into the shoe. That was an important part of the design for me — Salomon was like "where do you want your logo hit and the co-branding?" and I was like "I don't really need my name to be featured prominently on the shoe." I just thought it would be cool if the shoes were lined up next to each other and you'd see two flowers from the aerial view.
You've worked on a lot of footwear, both in-line and collaborative. How different is the thought process when you're working on something like this Salomon collection or one of your past collabs with Vans as opposed to your in-line footwear and is there any carry-over in the way you go about it?
It really depends on how much freedom a collaborative partner gives me. I actually work better when I have guidelines in place, and it's almost too much for me when a brand is like "Do whatever you want! Redesign this shoe from the ground up!" For this project, I was mainly tasked with doing the materials and colors, so I appreciated the clarity I was given and felt like it was a good first foray into the relationship with Salomon. I've had a lot of fun working with them. There's a smaller number of people I have to talk to and I feel like I get heard a lot more, which is really nice.
"Salomon has a bit of that aspirational feel to it because the brand makes so much high-end outdoor product."
You've mentioned that you love the idea of a woman wearing a dress for whatever she's doing, even if it isn't something you'd traditionally do in a dress, like play basketball. That thought was continued on the campaign for this collab, which showed women hiking in dresses. Do you feel like that inspiration of using a product for everything, not just its "intended purpose," cuts both ways here, as Salomons are high-performance trail shoes that are now used for literally everything?
I'm 100% aligned with you there and think that's a perfect way to describe it. I'm always after that feeling — like, I want to wear a long skirt but want to be outdoors, in the mud and in the grass. It's an aspirational, carefree feeling, and Salomon has a bit of that aspirational feel to it because the brand makes so much high-end outdoor product. That's part of what makes them so cool.
Last but not least, why are sneakers important to you?
Because sneakers are just so comfortable, and when you don't wear comfortable sneakers you have a bad day and you're mean.
You'll find no argument from me there.
Yeah! Nobody wants to be grumpy.
Share this article