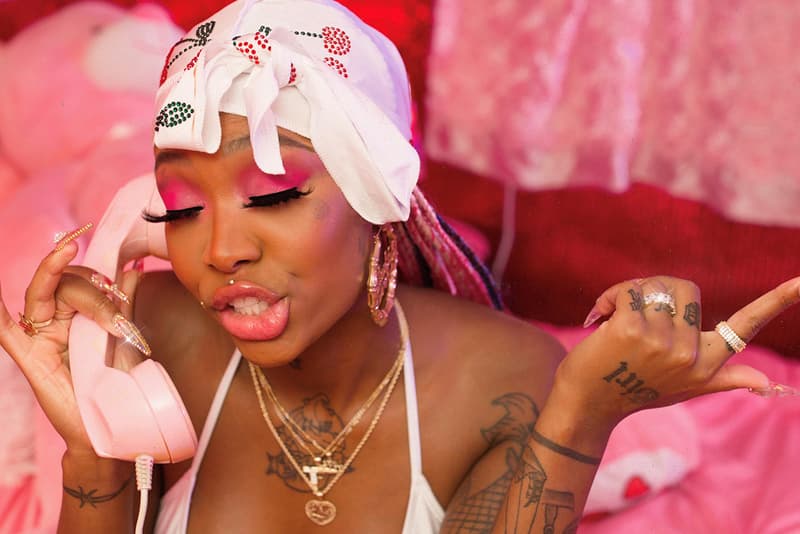 Music
Best New Music of October: Summer Walker, FKA twigs, Halsey and More
Here are the top new tracks to add to your playlist.
Best New Music of October: Summer Walker, FKA twigs, Halsey and More
Here are the top new tracks to add to your playlist.
Post-summer blues is a real thing, but with exciting new music from the likes of Summer Walker, Travis Scott and FKA twigs dropping over the past few weeks, we think we've found the cure. Apart from bops from the Atlanta songstress' debut album Over It, Scott's latest single "Highest in the Room" and twig's "home with you," October has brought us new tracks by Halsey, Tiffany Young, Camila Cabello, Sabrina Claudio and more.
Below, check out our favorite tracks from the month of October so far.
BTS – "Make It Right" ft. Lauv
K-pop supergroup BTS has returned to unveil its collaboration with Lauv. In this version of "Make It Right," the independent singer-songwriter puts his spin on the love song with new lyrics written in English.
A great addition to your spooky season playlist, Hayley Kiyoko's "Demons" is an upbeat bop embedded with an important message. "I wanted to sing about mental health and battling the inner 'demons' many of us struggle with," says the artist. "But with a heavy upbeat track that everyone can sing and support you with. It's so important for people struggling to realize that they're not alone and I hope this song can play a part in sparking that realization."
As she gears up for her Magnetic Moon North American tour, Tiffany Young has dropped a powerful anthem with a catchy chorus perfect for arenas. Reminiscent of the music from Lady Gaga's The Fame Monster era, the Fernando Garibay-produced track is an addictive banger.
It might be getting cold outside, but Raveena's angelic vocals in her new track "Petal" will make you feel like it's springtime. Watch the artistic visual creative directed and conceptualized by the singer herself above.
Halsey – "Graveyard"
Offering a glimpse at Halsey's new album Manic, slated to release on January 17, 2020, "Graveyard" tackles the heavy subject of an unhealthy, self-destructive relationship. Watch the metaphorical visual above starring Euphoria actress Sydney Sweeney and Hallsey herself.
Penned by Cyrus herself, "Lonely" perfectly depicts the yearning for human connection. In the black and white music video, Noah is seen floating around in the air despite having company in the room. "Sometimes there can be dozens of people around you but you still feel lonely," the artist explains. "I wanted the video to show what it could really feel like."
Lifted from FKA twigs' upcoming sophomore album MAGDALENE, the hypnotizing track "home with you" was released alongside a stunning vignette where the singer is seen driving through the night to return to the countryside. In the artist's own words: "You can take the girl out of the suburbs but you can't take the suburbs out of the girl. 'home with you' reinforced my reoccurring suspicion that when I'm in doubt, I should follow my gut and go home."
For those who love discovering new R&B artists, you'll probably have heard of Summer Walker by now. The Atlanta singer's long-awaited debut album Over It is finally here, and it doesn't disappoint. With features from Jhené Aiko and PARTYNEXTDOOR among other big names, the 18-track record is filled with addictive, soulful songs of love and heartbreak, including the chart-climbing title "Playing Games."
La Flame has returned with his first single release of 2019. Titled "Highest in the Room," the track drops alongside a cinematic music video directed by Dave Meyers and the rapper himself. The lyrics are cryptic, but one line in particular leads fans to believe that Travis is referencing his now-ex, Kylie Jenner: "She fill my mind up with ideas / I'm the highest in the room." Back in April, Travis teased the song in a Kylie Cosmetics ad.
If you feel like you've been overusing the phrase "Hot Girl Summer" on social media over the past two months, Gucci Mane's new collaboration with Megan Thee Stallion may give you some ideas for your new favorite Instagram caption. Hit play to listen to the catchy bars with lyrics like: "She's a walking bag of money/ She's a masterpiece."
Hot on the heels of her "Shameless" and "Liar" single releases, Camila Cabello is back to reveal her latest track, "Cry for Me." Co-written by Cabello, Ryan Tedder, Lou Bell and Frank Dukes (who also worked on the singer's hits "Havana" and "Never Be the Same"), the song is an upbeat breakup anthem: "I want you to cry for me, cry for me/ Say you'd die for me, die for me."
For something soothing to listen to, check out Sabrina Claudio's new album, Truth Is. From the title track to a duet with Zayn, "Rumors," bless your ears with the songbird's breathy, seductive vocals and vulnerable lyricism.
88rising's Rich Brian has linked up with K-pop star CHUNG HA for their dance-inducing new song, "These Nights."  Complementing the '80s-inspired beats of the track, the visual sees the Indonesian rapper and his collaborator cruising in the dark on a motorcycle.
In her new song "Far Away," Canadian singer-songwriter Jessie Reyez sings about the painful realities of lovers being separated by borders: "Been feeling like the government wants us to break up/ iPhone XXX FaceTime saves us." With the release of the track, Reyez has asked her listeners to "be a part of the solution" by supporting a list of charitable humanitarian organizations — head to the artist's website to learn more.
---
Share this article