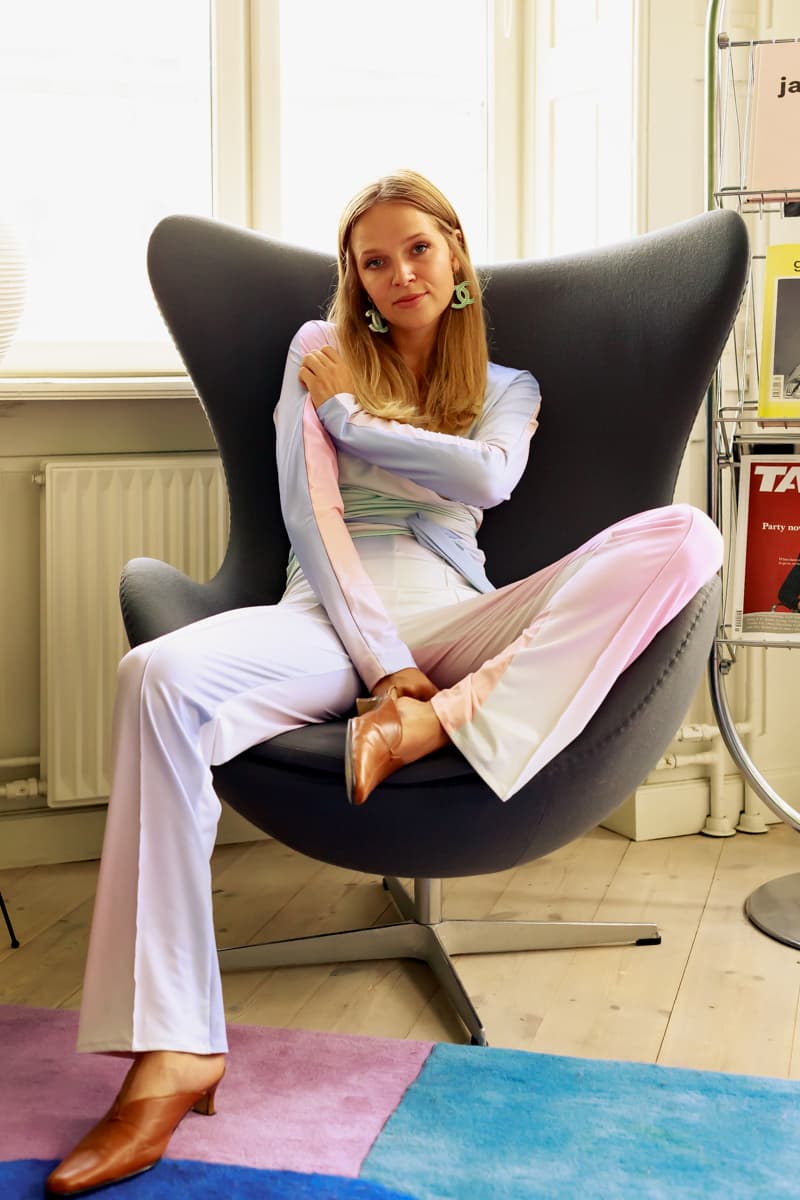 1 of 2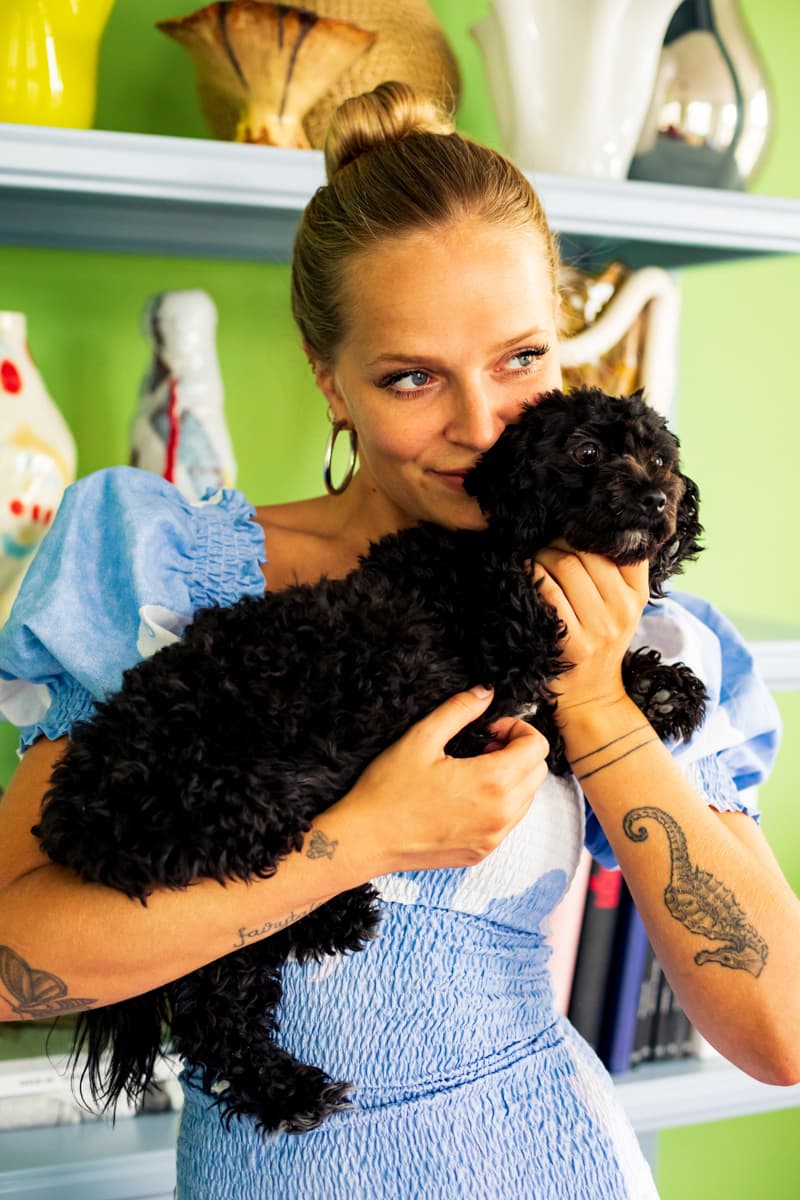 2 of 2
Beauty
Marie Jedig Shares Her Best Skincare Tips for Surviving the Danish Winter
The Copenhagen-based style influencer breaks down her beauty essentials.
Marie Jedig Shares Her Best Skincare Tips for Surviving the Danish Winter
The Copenhagen-based style influencer breaks down her beauty essentials.
With her Twiggy-esque lashes, effortlessly groomed hair and her impeccable Scandi-cool style that fuses the latest designer items and colorful vintage finds, Marie Jedig is easily one of our favorite street style stars in Copenhagen. As colder weather approaches, Jedig has recently welcomed us to her picture-perfect abode to show us some skincare products that she swears by for surviving snowy Danish winters.
From Jedig's skincare must-haves and her minimalist makeup routine, to where she draws inspiration for her retro beauty looks and how she interprets the Danish approach to beauty, read our conversation below to learn more.
For more skincare tips and tricks, check out the rest of our Beauty Essentials series.
Marie Jedig's Beauty Essentials
Skincare
Glossier Milky Jelly Cleanser: A cleansing face balm that I rub in and wash off my face every night to clean off makeup and dirt from the city.
Aesop Parsley Seed Facial Cleansing Oil: The most amazing oil that I use on days when my skin feels dry.
Hexomedine: My pimple rescuer. It was recommenced in a YouTube video and I found it at a French pharmacy. Just add a little on a swap and dip on the pimple before going to bed, and voilà, your pimple is gone the next day.
Weleda Skin Food Light Nourishing Cream: I'm the biggest fan of Weleda's sustainable and organic products, and I use this as my day cream.
Weleda Skin Food Original Ultra-Rich Cream: This one feels a little heavier [than Skin Food Light] and is perfect for dry areas around the face and body.
Origins Retexturizing Mask with Rose Clay: I'm lucky enough to have a bath tub and for the longer baths, I love spending a great deal of time to take care of my skin. I use this face mask on my nose and chin two times a week to get rid of clogged pores.
Homeoplasmine Lip Balm: Another French pharmacy favorite of mine and the best lip balm ever. Instead of using it several times a day, I put on a thick layer before going to bed like a lip balm mask. It works, especially in the winter period where my lips tend to dry out.
Makeup
Max Factor 2000 Calorie Mascara: I almost always get my lashes done, but I love a really dramatic, '70s lash look, and this mascara is the best for my lower lashes.
Glossier Boy Brow: I don't use that much makeup, but I love to define my brows a little with this new classic.
MAC Studio Finish Concealer: All of my friends use this concealer. It works wonders for red spots or dark circles around the eyes.
Haircare
Olaplex No. 6 Bond Smoother Reparative Styling Crème: Since the invention of Olaplex, I've become addicted to the product. I don't dye my hair so I rarely go to the hairdresser, but I like taking care of my hair at home with this hair cure.
Fragrance
Le Labo AnOther 13 Eau de Parfum: I've used the same perfume for many years but decided to change my scent last year to try something different and more mature. This perfume has a more unisex scent to it, and I receive compliments everywhere I go. Finding the perfect fragrance can be quite hard because the smell changes from person to person.
Deodorant
Bioderma Créaline Déo Fraîcheur: I'm constantly on the run and a great deodorant is essential.
As someone who has a keen eye for design and fashion, what does the word "beauty" mean to you?
Beauty is a weird concept because it's so technical and subtle at the same. My own perception of beauty changes all the time, but I do recognize the conclusive ideals. Beauty can be found everywhere and in everything and at the same time it's the viewers' role to look for it. I'm looking for beauty everywhere and I'm able to find it quite often in my daily life.
What's your favorite beauty era?
I'm a big fan of the beauty scene in the '60s and '70s when women really made an effort to translate political statements into their looks. I get a lot of this inspiration through movies, and Tarantino's newest Once Upon a Time in Hollywood is a great example of that (even though I didn't necessarily liked the movie, but that's another conversation). Margot Robbie as Sharon Tate never looked better. Tom Ford's A Single Man is a great example as well. Also, classics such as Valley of the Dolls, Bonnie and Clyde and Breakfast at Tiffany's make me want to cut my bangs and wear lashes bigger than life.
How would you describe the typical Scandinavian approach to beauty?
Relaxed. The ideal is not to look polished or too thought-out. Wear your hair in a tight, low bun and wear no makeup other than your brow fixer, and you're good to go. But this is the Danish ideal, not that of the Scandinavian. There are huge differences on beauty approaches across Scandinavia, and my understanding is that the Norwegian and Swedish beauty ideals take a lot of inspiration from Hollywood glamor and the massive impact the Kardashians have made.
What are some of your favorite beauty parlors or spas in Copenhagen?
We have a lot of really great hairdressers here in Copenhagen. Gun-Britt and Dennis Knudsen among the most popular. My friend Anne always gets her hair cut whenever she travels and maybe that's a great tip for visitors in Copenhagen — try to make an appointment!
What are the secrets to achieving your feathery lashes?
Eyelash extensions. I've worn eyelash extensions for the last four years and I'm totally addicted to them. As I mentioned earlier, I get a lot of inspiration from the era when fake eyelashes really dominated the beauty scene. And getting my lashes done makes going through my beauty routine so much easier in the morning.
What are your go-to haircare products to combat a bad hair day?
Put on a headband or hat. I love hair accessories and wear them every chance I can get.
Can you share any hairstyling tips and tricks with us? What are some of your favorite ways to style your hair when you want to spruce up an outfit?
I love a natural, curly look and to achieve that, I'd curl my hair in small sections with a thin curling iron, then brush the hair roughly when finished with my Mason Pearson hairbrush. It gives a really natural yet dramatic curly look and spices up my dance moves on a Friday night out.
Were you inspired by any particular beauty trends on the runway or on the street during the recent Copenhagen Fashion Week SS20?
Slicked back hair, nude lips and braids.
The weather could get pretty harsh in Copenhagen during wintertime. How do you usually maintain your skin from head to toe during the colder months of the year?
I make sure to moisturize two times a day every day, and preferably an hour before going outside so the wet skin does not freeze.
---
Share this article