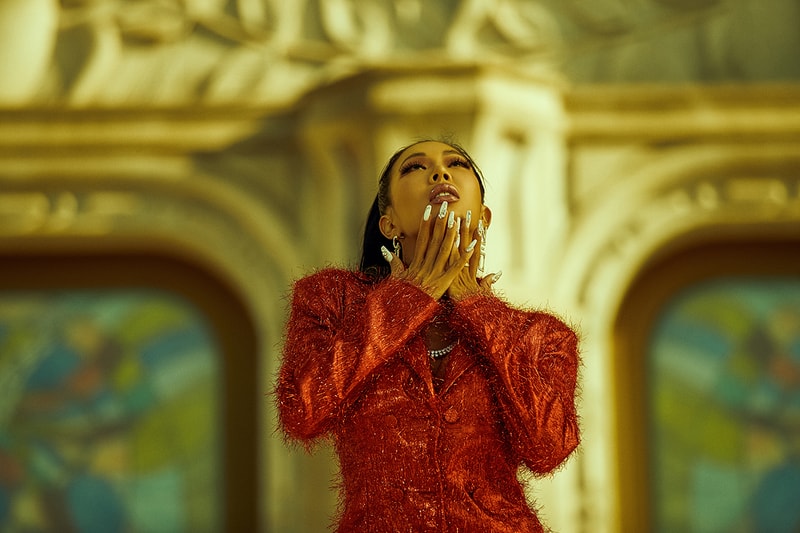 Music
Jessi on Her Love for Hip Hop and Making Money Moves
The rapper spoke to HYPEBAE about her new music and signing with PSY's P NATION.
Jessi on Her Love for Hip Hop and Making Money Moves
The rapper spoke to HYPEBAE about her new music and signing with PSY's P NATION.
Jessi has always known that she wanted to become a hip hop artist. "I started when I was 14 and it definitely wasn't easy, especially since I naturally gravitated towards hip hop and rap as a female artist," she explained to HYPEBAE. Born in New York and raised in New Jersey in the '90s, the rapper recalls her childhood as the "golden era" of the hip hop genre, a time when she was exposed to some of the greats in music.
"For me, it wasn't about being an Asian or not — I wasn't looking at color. I was looking at the artistry and the musicians I loved. I fell in love with Biggie, Lauryn Hill, JAY-Z, TLC, Mariah Carey, Whitney Houston, Destiny's Child, and then with bands like Nirvana and Green Day, the list goes on and on."
Despite her love for music and determination to pursue her path as an artist, navigating the industry was challenging for the rapper in the beginning of her career. After moving to Korea as a young teen and releasing her debut album in 2005, she'd spend the next decade or so creating music as a solo artist (under the moniker Jessica H.O), and for two brief years, a part of hip hop trio Lucky J.
"For myself, it took a lot of trial and error because female rappers didn't really exist in Korea and it was even harder in America. I just persisted doing what I loved, and thankfully I received a lot of support with an amazing fan base."
Jessi's first big break came in 2015, when she appeared on Mnet's reality TV series Unpretty Rapstar. On the show, she competed against other female rappers and was crowned a winner by audience vote. From there, her music career really began to take off. From her collaboration with J.Y. Park, "Who's Your Mama?," to her 2017 single "Gucci," her songs climbed up the charts.
It's clear that Jessi has big dreams of carving out a career in music, and more importantly, she's an artist who won't be pigeonholed.
"Well, I take pride in being a female, and being an artist, and being Asian. It was God's plan for me to happen to be Korean and female who loves Hip Hop. I love and embrace my culture, but I don't like to be categorized simply by race and gender when it comes to my talent. Last time I checked, the Grammys don't give out best new Asian artist. But yes, I'd love to see more Asian females who rap in mainstream media."
Last year, Jessi became the first signee of P NATION, a new entertainment agency founded by PSY of "Gangnam Style" fame. "PSY has been very supportive of my creativity and musical direction I'm headed. Because I felt that P NATION was committed to providing me my artistic freedom, it was a good direction to go," the rapper told us.
Dropping bars about doing big things, ignoring haters and making money moves, Jessi made a fierce comeback in September with her single, "Who Dat B," with lyrics co-written by Double K, Brian Lee and herself.
"I'm constantly evolving with my sound and wanted to show my fans a side of myself that's about self-confidence and not giving a f*ck about what people think, and sharing that energy with them. I wanted my fans to feed off of my positive energy."
When asked when she feels the most confident, Jessi said without hesitation, "when it's showtime, baby! I love being on-stage and feeling the energy from the crowd."
Echoing the message of "Who Dat B," her latest track "Drip" — featuring fellow rapper Jay Park — is all about keeping it real and creating her own legacy.
For fans who are longing for more new material from Jessi, keep your eyes peeled as the artist revealed in our interview that new songs are on the way. "I have a lot of music you haven't heard yet. I'm finishing up a few singles and have a lot more coming. Stay tuned."
"I like to challenge myself as an artist and explore material from R&B to hip hop, to K-pop, and give it my best," she spoke of her creative process.
As someone who raps about powerful women that "take it all," ultimately Jessi is most inspired by the woman that has shaped her into the unapologetically authentic and ambitious artist she is today.
"Truth is, my biggest inspiration in my life is my mother. She may be a small Korean lady, but she is mighty and holds down the fort. She is the embodiment of strength, courage, patience, love and character. In my eyes, my mom is the closest thing to perfection."
---
Share this article