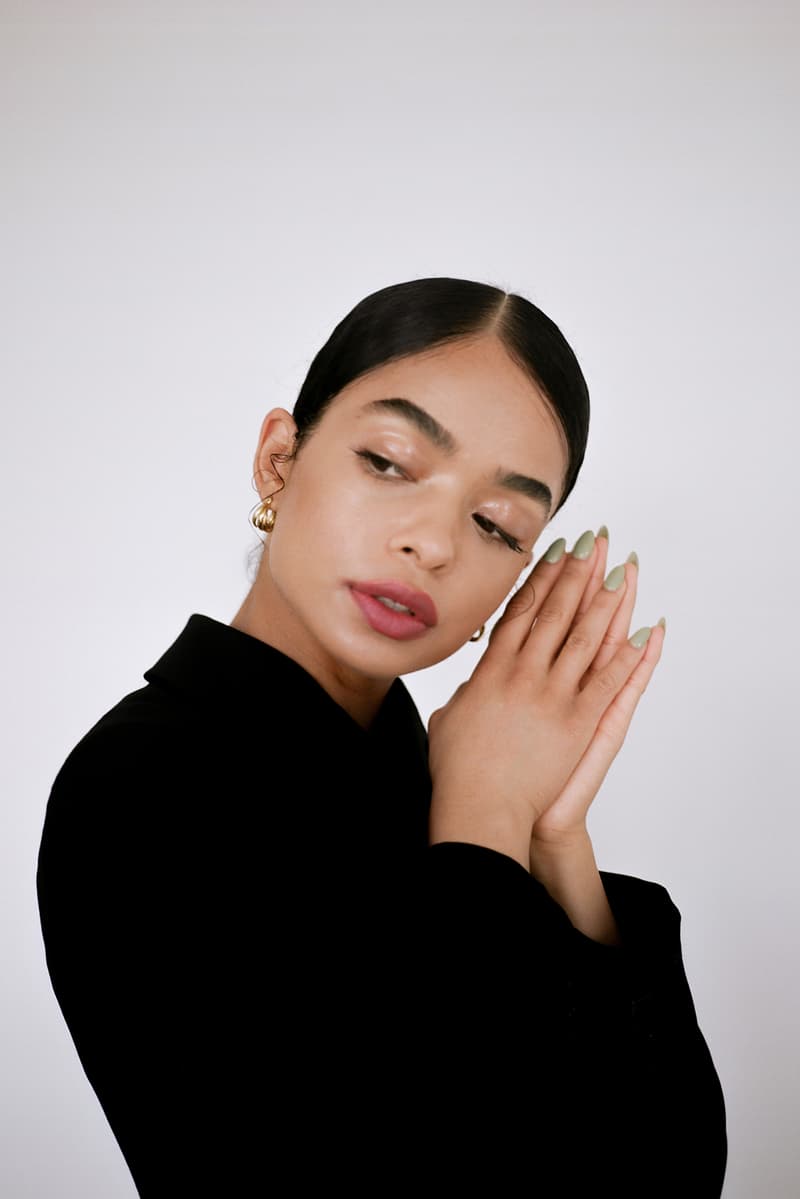 1 of 2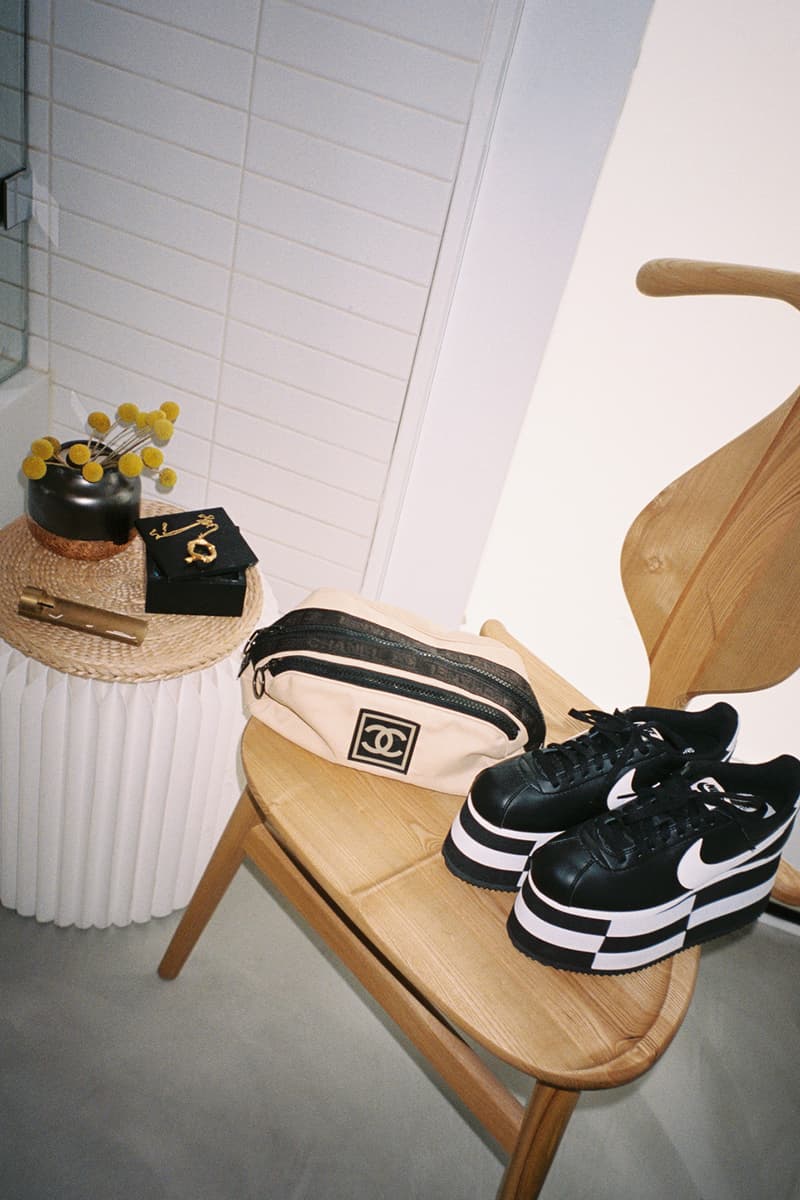 2 of 2
Beauty
Alexis Quintero Shows Us Her Beauty Essentials and How She Achieves Dewy, Glowy Skin
We talk to the Los Angeles creative about her beauty philosophy.
Alexis Quintero Shows Us Her Beauty Essentials and How She Achieves Dewy, Glowy Skin
We talk to the Los Angeles creative about her beauty philosophy.
A tastefully designed Nike collaboration launched earlier this year has brought Alexis Quintero to our attention. As the creative force behind Fruta de Dulcé, an online retailer of vintage designer collectibles for "the sporty chic femme," the Los Angeles-based model and consultant seeks beauty in old and good design. Her enviable personal style is a perfect blend of pre-loved Issey Miyake pleated pants and covetable, hot sneakers releases. And while we could go on an on about how much we're inspired by her well-curated wardrobe, during our recent encounter with Quintero, we got to talk to her not only about her impeccable sense of style, but also her beauty philosophy.
From her signature glowy makeup look to her minimal skincare routine, continue reading to learn all about Alexis Quintero's beauty essentials.
Alexis Quintero's Beauty Essentials
Fragrance
Chanel N°5 Eau de Parfum: My mom used to use this perfume when I was young. I used to love playing dress up in her clothes and shoes and putting on her makeup hoping one day to be a woman like her. I think it's pretty amazing I get to wear it now. It makes me feel beautiful and feminine.
Maison Margiela Replica Tea Escape, Music Festival, Jazz Club: My other favorite fragrances. They all have a different smell — some soft, bold or unisex. I like to switch them up with my outfits and how I feel.
Diptyque Large Tubereuse Candle: The large candles come in such a beautiful ceramic like engraved vase. It lasted me so long and makes my room smell amazing even when it's not lit. It's a great accessory to any room.
Skincare
Heritage Store Rosewater & Glycerin Spray: I spray this on after a shower and before serum or makeup application. It smells so lovely and it wakes me up and keeps me hydrated. I also use it to refresh my face during the day.
Honey Girl Organics Regenerating Face Serum: This is my favorite product to use. It is the key to glowy skin. I make sure to put the most under my eyes and on cheekbones for a natural glow, and under my makeup for a dewy and glowy look.
Chanel Le Lift Eye Mask: The cutest eye masks. I love to put these on and light candles and read a book or disconnect when I need a pick-me-up.
Pacifica Kale Charcoal Ultimate Detox Mask: I love Pacifica because it's a vegan skincare line that doesn't do too much, but just enough. And it's super affordable. I use the kale line to help manage my breakouts.
Makeup
NARS Radiant Creamy Concealer: This is my favorite concealer I've ever used. I don't care too much about foundation, I usually go with a light, natural coverage one. But, I do love to use this concealer. It's creamy with great buildable coverage. I use it under my eyes, and a tiny bit on my nose and upper lip area. It doesn't look cakey at all and also helps with the natural glow look.
Glossier Boy Brow "Clear": I naturally have very thick eyebrows and Boy Brow helps make them look their best and stay in place.
Glossier Lash Slick: I also have naturally long lashes. Lash Slick accentuates them, doesn't look thick or clumpy and lasts all day and night without getting dry or flaky. It doesn't feel like I have mascara on which I love.
Glossier Balm Dotcom "Rose" and "Original": My favorite thing to keep around. I have one in my bag, my car, by my bed and in my bathroom. I use the original on my eyelids or cheekbones sometimes for a more glowy look. The rose one smells amazing. It's also great for flights — I put a little on my knuckles when they're dry.
Chanel Rouge Allure Ink Matte Liquid Lip Colour "Serenity": I use this on my cheeks for a blush. It goes on wet then dries up a bit. It's super thin and lightweight. The perfect natural color for me.
Chanel Rouge Allure Velvet Luminous Matte Lip Colour "La Sensuelle": My go-to red lip. It's the perfect mix between red and burgundy.
Chanel Highlighting Powder Compact "Ivory Gold": If I want an extra highlight, I use this on the point of my nose and corners of my eyes.
What are your secrets to achieving your near-perfect brows?
*Blushes* My brows are naturally super thick and dark. I don't do much but get them waxed to tame them every two weeks. I use Boy Brow to hold them in place and sometimes I use MAKE Beauty's Brow Sculpting Duo for the ends of my brows to make them a bit longer.
You have such nice, glowy skin. Besides your skincare regimen, what are some things you do regularly to take care of your skin inside out?
My Honey Girl Organics Serum really helps my skin stay glowy. I talk about it a lot because it's really one of my favorite products. I do get stubborn breakouts when I'm stressed or eat junk food. It's so clichéd but I notice the difference in my skin when I'm drinking loads of water. I also take collagen, probiotics, Counter Attack (vitamin C and a bunch of other amazing things) here and there to avoid getting sick or when I travel, magnesium (not sure if it helps my skin, but it helps me sleep and helps with cramping). I get all of these products at Whole Foods. They are honestly lifesavers. When I'm healthy overall, my skin is very happy.
How does someone with a great eye for style and fashion like yourself approach the concept of beauty? 
I like my makeup to complement my outfit, but not overpower it. So I normally go with a natural look and try not to layer my makeup too much. I also love to do a deep red, brown lip for a bold look every once in a while. I've always loved beauty and makeup, and always felt I wanted to be pretty and look pretty. As I got older I realized true beauty comes from within. This also sounds clichéd, but I think it's true. There's something really beautiful about a confident woman. When you're happy and confident you have a beauty that radiates from the inside out.
What are the biggest influences on your personal style?
I'm really inspired by Japanese designers, bright colors, vintage and tech, art, music, interior design and just my culture and upbringing. I like when clothes spark a feeling instead of just wearing something to wear it.
Do you go for facials or other beauty treatments at all?
I do try to go to get a facial every once in a while. I think that is key to help manage breakouts, so I try and get facials to do a deep clean when I can. I normally just like anything with extractions that helps clear my skin, but I would love to find a place I can feel dedicated to going to every month or two.
What does your haircare routine look like?
I brush my hair with a dual boar bristle brush to detangle and hold it down. I use Pantene conditioner for my curls and I set my hair with OUAI Finishing Crème. It holds my hair so well and smells so lovely. I just let my hair air dry when I'm done.
Favorite nail color at the moment?
That's tough! I usually get whatever color I'm feeling the day I get them done. But I'm really loving brown or a pale pink right now.
What perfume are you wearing today? And what does the scent remind you of?
I love perfume. I have a couple I switch between depending on the vibe I'm going for. I'm wearing Maison Margiela Replica perfume in Tea Escape today. It smells like sweet green tea and reminds me of a wonderful vacation I took two years ago.
You've started off 2019 with an exciting collaboration with Nike. What's next for you? Are you looking to work on more design projects in the future?
I definitely want to do more designing and partnerships. It's really something I enjoyed doing and had so many ideas I wanted to do. I want to explore more this year and push my creative limits.
---
Share this article