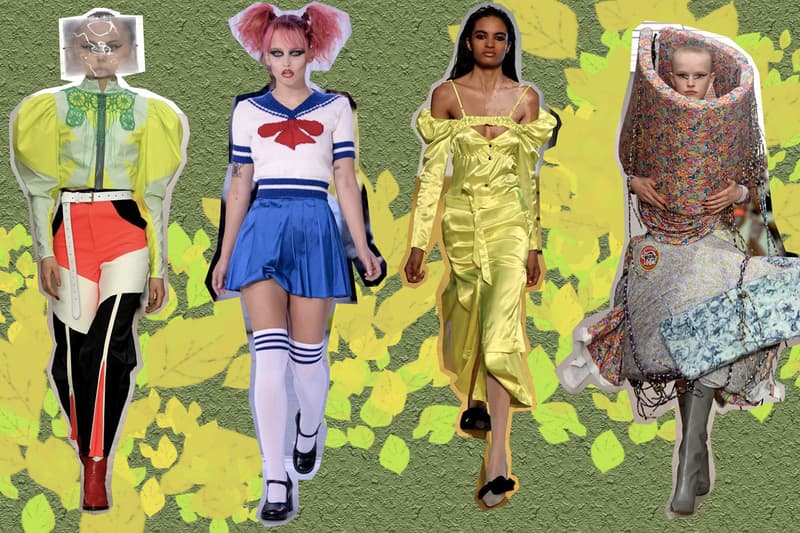 Fashion
These Are the Emerging Designers to Watch at London Fashion Week
Ancuta Sarca, Rejina Pyro, Matty Bovan and more.
These Are the Emerging Designers to Watch at London Fashion Week
Ancuta Sarca, Rejina Pyro, Matty Bovan and more.
London Fashion Week is in full swing. Fashion's elite has landed in the British capital, and we're gearing up for all the best shows and events that you can't miss throughout the week. Whether you've been looking forward to shows by Burberry and JW Anderson, or labels like ASHISH and Molly Goddard, this season's LFW schedule is packed with unmissable events.
Being half-way through the week, we've compiled a handful of emerging designers that are turning heads at London Fashion Week this season. Keep reading below to learn more about the creatives to keep an eye on, because they're guaranteed to be the future of fashion.
Mimi Wade debuted her first collection with Fashion East in February 2016, and this year she's presenting her on-schedule SS20 collection at LFW. Having graduated from Central Saint Martins, the British American designer has already built up a following internationally, with retailers like Selfridges, Isetan an Opening Ceremony stocking her creations.
Her cute and quirky aesthetic has made her a favorite, and this year she teases her upcoming collection inspired by her grandmother, 'MimiMount.'
Conceptual designer Gareth Wrighton showcased his SS20 collection as part of Fashion East this season, having previously been a part of the initiative for his FW19 range. The designer isn't afraid to experiment and often works with a wide range of materials, and develops intricate concepts and themes around his pieces. For his graduate project at Central Saint Martins the designer created an online store dubbed "the Maul," which was a dystopian take on luxury e-commerce. The project is being relaunched later this year, and explores Wrighton's ongoing commitment to sustainable fashion and his commentary on fast fashion. He's also the designer behind Dua Lipa's bunny ear hat on her latest cover of The Face.
This season Gareth Wrighton became one of the most talked about collections at LFW, where he debuted a wide selection of pieces ranging from Anime-inspired get-ups to cheeky T-shirts with the slogan "My other T-shirt's a cum rag."
Now New York-based Matty Bovan graduated from Central Saint Martins in 2015, and has since become one of the biggest talents to watch. He won the L'Oréal Professionel Creative Award as well as the
LVMH
Graduate Prize in 2015, and was placed as a Junior Designer under
Nicholas Ghesquière
at
Louis Vuitton
. Prior to his career at LV, he was also invited by
Katie Grand
to work with
Marc Jacobs
in NYC.
This season marks Matty Bovan's third stand-alone show at London Fashion Week. The designer showcased a handful of structural haute couture pieces that were expertly crafted to combine fashion and art. Combining beautiful fabric with out-of-the-box shapes and silhouettes, the collection was bold and eye-catching and proved that Matty Bovan is a force to be reckoned with.
Korean label PushBUTTON is led by designer Seung Gun, who debuted his first collection in 2010 at Seoul Fashion Week. With experience as a singer, stylist and model, the designer pulls from his own encounters to create his unique label. Inspired by everything from his roots, to '80s and '90s fashion, creating pieces that have become favorites for celebrities throughout Korea and China, and he's also collaborated with 10 Corso Como, PUMA, Selfridges and more.
The designer will be hitting the runway on September 17, the last day of London Fashion Week.
Drawing from her Indian roots and British cultural identity, Supriya Lele has established herself as one of the names to watch in the British fashion scene. The designer has previously showcased her work as part of Fashion East, and did her first standalone presentation at London Fashion Week Summer 2019 after being awarded the British Fashion Council's NEWGEN sponsorship.
Supriya Lele will bring her lo-fi and intricate aesthetic to the London Fashion Week runway this season on September 16.
You may recognise Ancuta Sarca's kitten heels that she crafted from old
Nike
trainers, but the designer is much more than that. A pioneer when it comes to sustainable fashion and upcycling, the designer has been working on her own label after working as a designer for ASHISH in London following her graduation. As a part of this year's Fashion East lineup, Ancuta Sarca will be showing her debut collection at London Fashion Week.
The designer brought even more iterations of her famous kitten heels, as well as sporty apparel bridging the gap between sportswear and high-end design through silhouette, material and shape.
Share this article