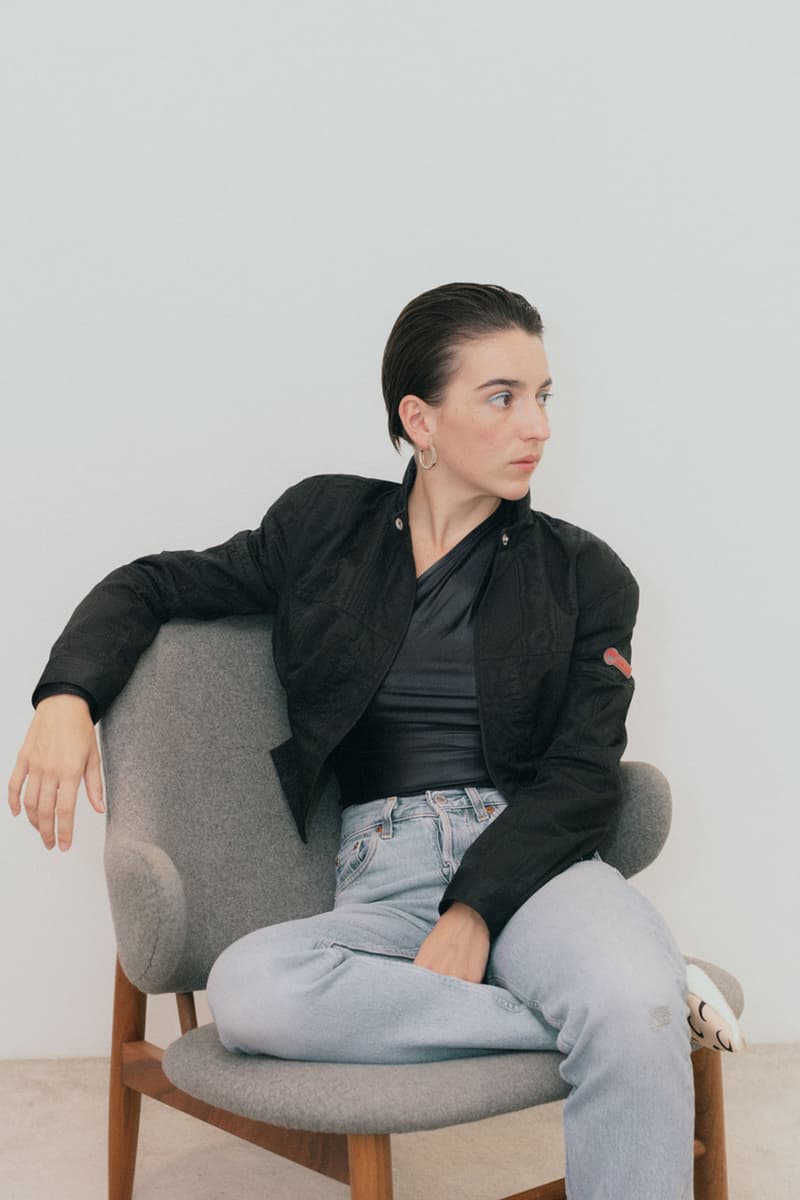 Marine Serre Is Challenging Fashion as We Know It, One Catsuit at a Time
We speak with the designer in Hong Kong as she launches her new Joyce capsule.
Fashion
Marine Serre Is Challenging Fashion as We Know It, One Catsuit at a Time
We speak with the designer in Hong Kong as she launches her new Joyce capsule.
A full-body catsuit in a nude palette, covered with black crescent moons. A runway presentation dubbed "Radiation" that comments on the ecological crisis, held in a wine cellar deep in the Parisian suburbs. A series of collaborations with the likes of Converse and Nike. On the surface, it would seem as if Belgian-French designer Marine Serre has knowingly filled her rising career with a slew of head-turning moments, prompting endless chatter amongst fashion lovers both inside and outside the industry. However, as you start to discuss the process of creation with the designer, the seemingly calculated stream of successes quickly dissolves into an organic journey that quite beautifully reveals itself as a genuine pursuit of creativity and, most importantly, change.
Marine Serre won the LVMH Prize in 2017, while she was still a design assistant at Balenciaga. She was 25-years-old at the time. Right out of the gate, the designer was dubbed by onlookers as a raw visionary who thoughtfully inserts important socio-political conversations into her designs in the most abrupt ways possible. Her LVMH Prize-presenting collection "Radical Call for Love" commented on the terrorist attacks that took place in Brussels and Paris between 2015-2016, and she regularly integrates textile "waste" into her couture designs – a practice of upcycling that is as relevant as ever in our world of over-consumption. As we have quickly discovered, there is much to learn from the garments of Marine Serre.
As we sit down with her in Hong Kong to learn about her exclusive collection with Joyce, we cannot help but draw parallels to our first conversation with her back in 2018. Her process is still energizingly organic. She is inspired by the world around her and with the people that she surrounds herself with. She isn't concerned about whether people will be put off by her use of reused materials – she is here to create exceptional clothing and she will continue to do just that. And lastly, we experience firsthand how the thoughtfulness behind her Joyce capsule is exactly what attracts audiences to her designs in the first place. Read on to read our conversation with Marine Serre and find out how despite the fact she has only been creating collections under her namesake label for two years, she is undoubtedly one of the most exhilarating designers to watch right now.
So you've collaborated with Converse, Nicholas Kirkwood and most recently Nike earlier this year. How have these collaborations changed your label and what are some challenges you faced in the process?
I think I've learned from each of the experiences. They are obviously much bigger brands than us, so working with bigger groups is always a challenge because communication is, of course, much longer when you are in a small team like us. However, I think it was really good for the brand and also for me to work with another type of designer. For example with Nike, what was important for me was to really work for sports and for a community that revolves around sports. Sport has been a part of my life because I used to play competitive tennis for 15 years and my dad used to play football. So I think that sports today is a huge community that reaches everyone and it just makes people believe in things. It's super easy for me to collaborate with sports brands because I feel quite comfortable with it.
You're currently preparing to showcase your upcoming collection for Paris Fashion Week. How have you grown as a designer since your first show and where is your inspiration going to come from this time?
It's always the same for every show. Basically after each one, I don't really have a different inspiration but more of a long story of what the brain is trying to do and also how the world is moving today. All my shows link to what's happening around us. The next one will also be what's happening today and what's around us.
Can you tell us a little bit more about why the aspect of upcycling is so important in your work and your designs? How does it relate to you design-wise, and also personally?
It actually started when I won the LVMH Prize, when I was a designer but also an entrepreneur at the same time because I had just started a brand. So it started from the simple question of, "What could make me stay until the end at my own house and also in 10 years, so that I will not be bored and want to change my job and do something else?"
I am someone who is really fidèle, someone who is really loyal, and upcycling is really that. Well of course, first of all, I had my internship at Maison Margiela – I had things that I started to do, but they never went into production. At the time I also didn't have any money, so I took what I had and transformed it into something else. This mentality has been incorporated in my works for quite a long time, certainly being in Belgium and being used to this kind of process.
When I finished my Masters and won the LVMH prize it occurred to me that I had to really think about what I was going to do with my brand and how I would show it to the world and the people. You can't just show up with a nice house and make new skirts with a new color. I don't care and no one will care. The first thing that came to me was that I wanted to make garments that people will desire, so that the people would look good and they are well-made and you will keep it for life. But also, I wanted to change the way to produce garments.
Like today, it is just la merde as we would say in French. It's really not okay and we are all closing our eyes on this and being super naive. Of course, it's now become a trend to talk about being "green" but then greenwashing quickly becomes an issue. Even for me it's hard now because we started upcycling two years ago and people are now trying to make a green line by just using pure ecological cotton, but who cares? It's super easy to use pure ecological cotton today.
It was something that was really important to me. When I started the first collection, I decided to make more than 30 percent of the collection out of upcycled material in the first show. The idea was that I would do the show just like everyone else, but then I wouldn't tell people that it was upcycled. So they would only see the show and people would like the style and what it means. Not only until the showroom and presentation did I finally reveal, "By the way, all of that is upcycled. Do you still want it?" It was a good time. People were ready to engage with unique pieces and with pieces that had a story.
What was really important for me was the process of transformation because I really believed that in the huge circle of consumption that we are in today, the important thing is basically to create a circle, meaning you take something and you transform it into something new. You make it progress and this cycle can basically never stop. I just think that transformation is a world and a way that we are all living with today.
Do you encounter any people that are reluctant to wear pieces that are upcycled?
Actually, no. We have not had this problem with the brand because along the way, I really spent a lot of time transforming things and I'm really thinking about it – I'm not just giving you a piece of what is old and putting you in it. Everything is a long process of transformation and even if it is in the identity of the brand, I never want people to buy it just because of that. I want people to buy it because it fits well, it's comfortable and they look gorgeous in it. Upcycling shouldn't be the reason to buy the piece. I always say that everyone should upcycle actually, but that shouldn't be the reason to buy something. It should just be something normal that we all think about today.
How did you find your aesthetic when you were first creating your label and how long did it take for you to find it?
I think you can see it on the way and for yourself in my "Radical Call for Love" collection that was my master collection that went directly to Dover Street [Market]. I think in finding its identity, it was already there. I was quite young and I think it's coming from the fact that I left my parents' place really early at 13 years old. I had to grow up by myself and I discovered a lot of things, changing with the city and reconstructing yourself every time – in Marseilles, in Belgium. I think that made me grow up quite fast.
Also interning with all types of different houses: Margiela, [Alexander] McQueen, Balenciaga and working there later on. Even if I was quite young, that gave me a lot of background on the reality of fashion by actually working in the industry and not just studying it. All that brought me knowledge along the way and of course with this knowledge, it was easier for me to construct myself. You construct yourself by making mistakes, so eventually it was quite clear for me when I made "Radical Call for Love" where I wanted to go. It was really clear that I wanted a garment that is at a time taking the past, bringing it to the present and making it become something that is like the garment of the future. I've never been someone that erases 19th century garment – I like merging and mixing that with sportswear. So I think in the beginning when I started, this was quite new actually, and then it's slowly become a trend now. It feels super normal to people now. However, it was not that obtuse when I started.
Why is it important to you to always specifically step out of the box when it comes to runway shows? How do you come up with these concepts and what has been your favorite memory so far?
Contrary to what people think, I'm not trying to disturb them. I'm just trying to be super real with what I think is the world. When I put babies on the runway it's just because I think it's super nice and I just enjoy women carrying their baby on the street. I don't understand why they should not have the right to be in fashion shows. Same for the place I choose. For example, this show "Hardcore Couture" which was on this huge bridge in the North of Paris, obviously no one will ever do a show there because it's too creepy. So I quite like bringing people where they never have been before or to bring fashion there.
I think it's really interesting because fashion is something that talks to everyone. It's not like 50 years ago, where maybe you are this imagination and this leaking image of fashion. Hopefully I can represent that also for the new generation coming. It's important for people to understand that making fashion is not easy, but that doesn't mean it's not nice.
What are the standout pieces for you and what was the process like designing this capsule?
When I designed this capsule I was actually thinking about Hong Kong because I've never been here. The funny story about it is that when you look at the capsule it's only lilac and purple, and a kind of orange and grey. So it's really like the sky of Hong Kong. That's what I thought of in terms of colors and actually, the night when I first arrived, the sky was totally pink and purple. So it made a lot of sense. And then after, I really simply tried to think about how people can dress. Especially with the weather because I know it's super warm here, so I tried to also make garments that were easier for people to dress while still keeping its femininity, which is something I try to do all the time. That was the big goal for this capsule, to target a special place.
Being a young designer, what's the biggest challenge that you face in starting your own label and making a name for yourself in the industry? Do you have any advice for other young designers that are looking to follow a similar path?
I don't really like to tell people what they have to do, but what I can say is that I think it's really important to do something that you really deeply like and feel invested in. Don't do it because you're asked to, but do it because you think it's important and if you have this drive, you'll be able to manage whatever comes your way. I think that's the most important thing for me, which made this brand exist. Three years ago I was nothing, so it's really also by knowing exactly what you want to do that makes things possible.
Contributing Editor

Tora Northman/Hypebae
---
Share this article