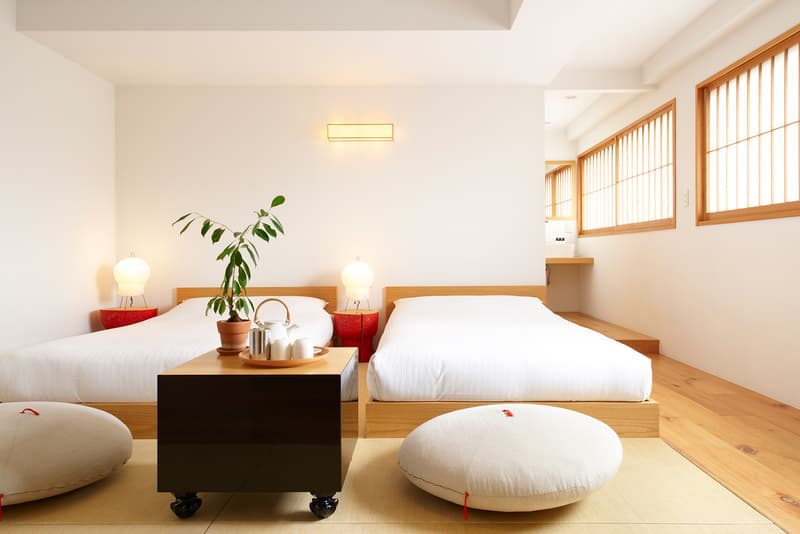 Culture
These Are the 7 Best Boutique Hotels in Tokyo
Discover the coolest places to stay in the capital of Japan.
These Are the 7 Best Boutique Hotels in Tokyo
Discover the coolest places to stay in the capital of Japan.
Tokyo, perhaps the most dreamlike destination on the planet, is unsurprisingly brimmed with hotels. Surprisingly, the wildly creative hub's hotel world is lacking in the quality-over-quantity department like the business hotel chains. Then there are the overpriced establishments that greet you with massive chandeliers and bellboys waiting to attend to your needs in the grandiose lobby. Meanwhile, budget capsule hotels are not for everyone. The same goes for fuschia-lit love hotels or a room-with-a-view at Park Hyatt to reenact your favorite scenes from Lost In Translation.
For those who would like to stir away from the norm, we've rounded up the best boutique hotels in Tokyo that are within budget. From eccentric art hotels in the hippest of neighborhoods, to a 70-year-old geisha-training house recently reborn as a hidden hotspot, we've got you covered on where to stay in the bold and beautiful capital of Japan.
While you're here, don't forget to check out our list of the most Instagrammable hotels in Los Angeles.
Situated not too far away from the Shinjuku madness is Apartment Hotel Shinjuku. This unique boutique boasts two-nights-at-a-capsule-like prices and just as much personality as a love hotel. Close your eyes and picture this: You're sipping on an Asahi beer on the porch, which is strewn with antique items – benches, ashtrays, a birdless birdcage – and taking in the calming sounds of an occasional bike zipping by and the symphony of buzzing cicadas. However, this particular establishment doesn't feel – or look – like a hotel. It was once a Japanese Inn, rebuilt in the '70s – hence its Instagram worthy '70s-style red-tiled roof – and opened as Apartment Hotel Shinjuku in 2010.
Though the rooms are tiny, its personalities are gigantic – walls are brightly painted, the interesting light fixtures look as if they were designed from recycled parts found on Bedford Avenue. The room rates are reasonable for the location, so don't expect the typical five-star amenities. For example, there's no cleaning service, but there is a washer-dryer machine on the first floor, and you'll be given clean towels every morning. There is also no room service, but each room has a kitchenette. For those looking to keep the holiday weight off, there is no fitness center, but the downright gorgeous – particularly during sakura season – Shinjuku Gyo-en National Park is barely a ten-minute jog away. One of the largest metro railways in Tokyo, Shinjuku Station, is even closer.
Location: 4 Chome-4-10 Shinjuku, Shinjuku City, Tokyo 160-0022, Japan
BnA HOTEL Koenji is the coolest hotel in all of Tokyo. Located in one of the city's hippest streets lined with vintage clothing shops, Koenji is removed from the chaos that goes down in the center of the city. Instead, the location offers a lot of café joints, mom-and-pop stores and record shops. Back in the '70s, Koenji was home to Japan's punk scene; and since early 2016, it's been home to a boutique unlike any others in Tokyo.
The "BnA" in BnA HOTEL Koenji stands for "Bed and Artist," and the art hotel's mission is all about supporting and showcasing awesome Japanese artists. This is done through a revenue share system where a percentage of each room booking is direct income for the artists who have designed the hotel's two art rooms. You read that right, there are only two art rooms here, so book in advance. If you aren't able to do so, this location is also known for its popular café and bar, FRONTDESK, or visit its basement gallery called BACKROOM. Both are perpetually packed with local artists and musicians, and feature art made by local artists that you can purchase.
Location: 2 Chome-4-7 Koenjikita, Suginami City, Tokyo 166-0002, Japan
Just like its older sibling, BnA STUDIO Akihabara gives the artist a percentage when the room he or she designed is booked. Here, there are five spacious studios to choose from. All occupy their own floor and come with a nicely-sized kitchen, a washer-dryer machine and Dr. Bronner bath products. Additionally, all are designed in a memorable manner.
The standout room would be ZEN GARDEN, which occupies the top floor. The creators of ZEN GARDEN, 51.3 G-WAVE, took traditional Japan zen elements and collided them with bright lights and big-city energy to create the electrifying interior. The space features a metal fence, a violet fluorescent light displaying the Japanese kanji symbol for "zen," floor pillows, a glowing Japanese rock garden, a hanging flat-screen television and a floor and ceiling made of cement.
The art hotel's aura is all around chill. Don't expect a traditional hotel lobby when stepping into the unassuming grey building which sits on a hilly residential street corner. The ground floor acts as a co-working space and it's where you check-in via an iPad. You must at some point take a short walk down the hill and explore the thrilling neighborhood, where you'll happen to stumble upon a sea of manga stores and maid cafés.
Location: 6 Chome-3-3 Sotokanda, Chiyoda City, Tokyo 101-0021, Japan
CLASKA started as a renovation project of an old hotel and eventually opened its doors as the glistening CLASKA in 2004. It is now considered Tokyo's first design-boutique hotel. Situated in the Nakameguro district, the establishment sits exquisitely on Meguro Dori – a stylish street known for its second-hand furniture stores.
Other than its twenty rooms, CLASKA is home to a popular French restaurant, as well as a handful of galleries and studios where many fashion and art shows, photo and movie shoots, seminars, dance parties and more have taken place over the years. The CLASKA team really knows how to throw a memorable event, including custom-made weddings that takes place on a stunning rooftop terrace featuring cinematic city views. To top it off, CLASKA's design team can also renovate your house, shop, restaurant or office and create bespoke furniture. Make sure to visit CLASKA's showroom, just a minute walk away from the hotel, to make your interior decorator dreams come true.
Additionally, its famed lifestyle store, which slightly resembles a MoMA Design store, includes a curated selection of Japanese-made crafts, art and design gifts. As for the rooms, a slew of Japanese architects and designers created all twenty of them, which are categorized into four design themes: Modern, Tatami, Contemporary, and Story.
Location: 1 Chome-3-18 Chuocho, Meguro City, Tokyo 152-0001, Japan
Trunk (Hotel) is made of modern design hotel dreams courtesy of Mount Fuji Architects. The two four-storied buildings that make up Trunk (Hotel) look like artfully stacked Jenga blocks with a striking Japanese Zelkova tree acting as the outdoor courtyard's Instagrammable centerpiece. There's an abundance of greenery scattered throughout the eco-conscious hotel including several potted palm trees in some rooms and the large lounge.
While waiting for your room, guests can hang out in the lounge that offers coffee during the day and cocktails at night. You can also choose to explore its restaurant offerings ranging from traditional American, French and Japanese cuisines. The 15 guest rooms resemble luxe urban apartments that have been designed by Jamo Associates. The "LIVING SUITE," in particular, comes with two beds, a projector, a record player, plants, a minibar stocked with locally-made treats and more.
Location: 5 Chome-31 Jingumae, Shibuya City, Tokyo 150-0001, Japan
Located down a secluded backstreet in Tokyo's central Kagurazaka neighborhood, Trunk (Hotel)'s sister hotel Trunk (House) is a one-bedroom hotel that was originally a geisha-training house for 70 years. The interior of the traditional wooden house, which fits up to four people at a time, is an immaculate mix of traditional and modern Japan. The aesthetics of the airy living spaces are on the comforting minimal side that features a white puffy mattress placed on a low wooden platform, while the tatami tea room comes with leather cushions and tea utensils by Tom Sachs.
Additionally, there's a deep cypress wood bath, a sunken fireplace, sunshine-inviting windows with peaceful views of the greenery-packed courtyard and an open kitchen where chefs serve traditional Japanese dishes to guests. Akin to its older Shibuya-based sibling, Trunk (House) is also home to the "world's smallest disco," where guests can dance on an illuminated floor, order as many cocktails as they want at the private bar, and do karaoke under moody red lights and a disco ball.
Location: 3 Chome-1-34 Kagurazaka, Shinjuku City, Tokyo 162-0825, Japan
Wired Hotel calls itself a "local community hotel" which houses a café and bar called Zakbaran. Ever since Wired opened its doors back in 2017 in the tourist-free Asakusa neighborhood, locals have been making it their go-to spot to work and enjoy a cup of coffee. Its interior features hipster-inspired furnishings that appear to be purchased from a Brooklyn vintage store due to the hotel being branded by Portland-based OMFGCO – the same creative agency known for the mega-successful Ace Hotel chain.
Perhaps the most enticing community aspect are the varying room rates. Sleeping on a bunk bed in one of the five dormitories or in a "regular" single room is worth every penny. The suites, on the other hand, come with amazing views, fancy furnishings, zany art, floor-to-ceiling windows, giant bathtubs, TOTO toilets and more.
Location: 2-16-2 Asakusa, Taito City, Tokyo 111-0032, Japan
Share this article